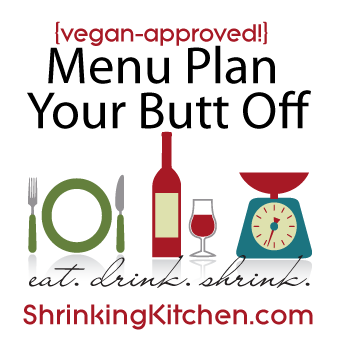 Sunday is my favorite day. Around our house, we typically make it "our lazy day". As in, stay in pajamas all half the day, sip on coffee, and catch up on all the things we don't have time to do during our insanely crazy weeks. I want everyone to have a day like this, so this week I will be doing your menu plan for you. You're welcome. You can surely take a few more hours to do something you love, instead of wasting time thinking about what the heck you are going to make for dinner every day! We even write a grocery list for you! We accept gifts and cash.
Pssssst… I'll let you in on a little secret. We do this each and every week. Yup. You can subscribe up over there <——- to have fresh, hot meal plans delivered to your inbox every Sunday. To see recipes from other week's meal plans, click the "more menus" button below. VOILA!
MONDAY:  Soba Noodles with Shiitake Mushrooms and Snow Peas. This meal is completely delicious and EASY! I <3 it.
TUESDAY:  Black Bean and Veggie Enchiladas.
WEDNESDAY: Breakfast for Dinner… Pancakes with Sauteed Apples! Drool. Top with real maple syrup.
THURSDAY:  Curried Quinoa Wraps with Avo-Citrus Slaw.
FRIDAY: Pizza Night! Try this whole-wheat vegan crust, spread on some hummus, and load with assorted veggies.
SATURDAY: Hurry Up Alfredo.
SUNDAY:  Christie O's Vegetarian Chili. If you can't find the spices, make your own "taco" seasoning or add a taco seasoning packet instead.
SNACKS & DESSERTS: Apple & Banana Muffins, Cherry Almond Energy Bars, Roasted Red Pepper Hummus.
For Your Grocery Shopping Pleasure…
{remember, a lot of these items you will already have in your shrinking pantry, so check before you leave for the store!}
PANTRY:
Carroll Shelby's Chili Mix OR packet of taco seasoning OR your own spice mix
dark red kidney beans, 2 cans
red beans, 2 cans
tomato sauce, 1 15oz can
Rotel diced tomatoes and chilis, 1 can
whole wheat flour
baking powder
cinnamon
agave nectar
unsweetened natural applesauce, 1 1/2 cups
raw almonds, 1 cup
chickpeas, 2 15oz cans
red bell peppers, 3
garlic cloves
lemon juice
sea salt
toasted sesame seeds
vegetable broth
soy sauce
Kalamata olives (optional)
black olives
Muchi Curry
extra virgin olive oil
quinoa, 2 1/3 cup
salted cashews, 1/2 cup
raw, unsalted cashews, 1/3 cup
rice vinegar
tahini
maple syrup (or agave)
nutritional yeast (optional)
pepper
liquid smoke (optional)
brown sugar
cinnamon
ground flax
white whole wheat flour
all-purpose flour
active dry yeast
sugar
salt
dijon mustard
paprika
nutmeg
whole wheat shell pasta
Soba noodles
1 can black beans
10-12 flour tortillas
PRODUCE:
apples,3
bananas, 2 ripe
pitted dates, 3/4 cup
dried cherries, 1 cup
sweet onion, 1/2 cup
satsuma or seedless tangerine, 1
chopped mint, 1/4 cup (optional)
lemon juice
orange juice
avocado
shredded or matchstick carrots, 1 cup
shredded lettuce, 1/2 cup
onions
zucchini
carrots
FROZEN:
frozen peas, 1 1/2 cups
MISCELLANEOUS:
apple cider or orange juice, 1/2 cup
pita chips
vegan margarine
coconut milk
vegan sour cream
soy milk
1 block firm tofu
vegan shredded cheese