Woooo! I'm so excited about this week's Hot Dish! Why? It's a surprise. You'll need to read to the end…but no cheating! You don't want to miss all the awesomeness in between!
I won't keep you waiting…dive right in!
Food I'm Coveting
Chili Lime Shrimp Bowl:
Holy guacamole (as my five year old is fond of saying). This looks incredible. I'd serve it with some brown rice or quinoa to make it even healthier!
California Sandwich:
The chive spread really makes this sandwich sound interesting! I love all the ingredients and this would make an really healthy lunch.
This Week's Blog Crush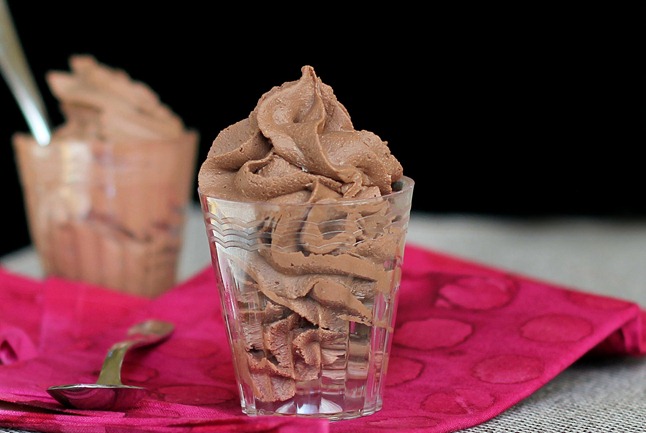 Chocolate Covered Katie is a healthy, vegan dessert blog. Take a look around the site and you'll be literally drooling all over yourself. I'm particularly enamored by the Chocolate Frosting Shots, pictured above. Seriously? Healthy frosting? YESSSSSS.
What's on My Nightstand
Going to be honest here. I haven't read squat this week, way too busy. What are YOU reading?
Cooking Tip of the Week
Store spices in a cool, dark place, not above your stove. Humidity, light and heat will cause herbs and spices to lose their flavor. Also, replace your herbs and spices fairly often – here's a great article on how to determine if they're still good.  My favorite way to buy spices is out of a bulk bin at the market. Then you can get only what you know you'll use, rather than a whole bottle.
Sweet Kitchen Find, a Recipe and a Giveaway!
I told you to read to the end…now you're here! And you won't be sorry!
I am super excited to introduce you all to a great company that is local to me called Barlean's. I first became familiar with Barleans products because of their fabulous coconut oil. It is hands down the best I've ever used. I contacted Barleans to see if they'd be interested in doing a giveaway for our readers, and they agreed! So first, I'm going to share with you what I've tried, with a recipe, then we'll talk loot.
Barlean's was kind enough to send me Barlean's Chocolate Silk Greens, which is a wonderful (and delicious) supplement powder that packs in 5 servings of fruits and veggies per serving,  and their Organic Chia Seeds, which are a nutritional powerhouse.
How did I use these ingredients? In a smoothie of course! Here's the simple recipe: Add 1 scoop Barlean's Chocolate Silk Greens, 1 tablespoon Barlean's Organic Chia Seeds, 1 cup unsweetened plain almond milk, 1 tablespoon sunbutter (or almond butter), 1 small banana and a handful of ice cubes. Turn your blender on high and whizz it up until the ice cubes have disappeared. Pour into a glass and enjoy!
I love this smoothie and have one almost every morning!
Now, for the giveaway! One lucky reader will win a container of Barlean's Chocolate Silk Greens AND a package of Barlean's Organic Chia Seeds.  Just enter using the Rafflecopter below!
a Rafflecopter giveaway

I hope you enjoyed this week's Hot Dish! If there's anything you think I need to know about, speak up! Leave me a note in the comments or shoot me an email at heather at shrinkingjeans dot net.
xoxo
Heather
Disclosure: This giveaway is sponsored by Barlean's. They provided me with products to sample and enjoy. As always, all opinions are completely mine. MINE.