I started back to school shopping this week. Actually, it's not 'back' to school. It's first time to school. My son starts Kindergarten in the fall. It has been a surreal experience finding the 'perfect' backpack, printing out the two page supply list (I wish I was kidding), and coming to the realization that I will be down to one kid for six hours a day starting in September (squee…I mean I'm so sad).
What does this all mean?  Summer is winding down. Time to enjoy the warmth. Go play more. Relax. Find a hammock. And cook some delicious, healthy food!
May I suggest:
Food I'm Coveting
This recipe is from our girl Rosemary's own blog, No Milk Monday.  Sriracha in a healthy cream sauce? Genius!
Zucchini Pasta with Sausage, Cherries & Ricotta
What an inspired combination of flavors from Running to the Kitchen – perfect for summer!
This Week's Blog Crush
Cookie & Kate is one of the most gorgeous blogs I've had the pleasure of running across. The fare is vegetarian and I pretty much want to eat every single thing she posts. Okay, not pretty much. I totally want to try it all!
Sweet Kitchen Find
When I was pregnant with my son, I took a business trip to San Francisco and had the opportunity to try this  incredible olive oil  when I visited the Ferry Building Marketplace. I remember being offered a simple piece of bread (sourdough, of course) and being invited to test the oil – and oh my goodness. It was unlike any olive oil I'd ever tried. Fruity and fresh. Amazing. I bought a bottle on the spot. It's not cheap, but it's not for cooking. I use it on salads or just for dipping.
Cooking Tip of the Week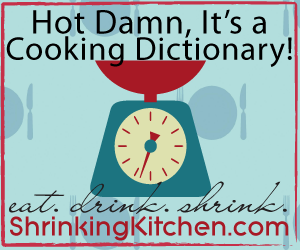 Not to toot our own horn…well, okay, I'm totally going to do just that…but did you know we have a super duper helpful cooking dictionary right here on Shrinking Kitchen? True story. It'll help you decode all those fancy cooking terms. Check it out!
I hope you enjoyed this week's Hot Dish! If there's anything you think I need to know about, speak up! Leave me a note in the comments or shoot me an email at heather at shrinkingjeans dot net.
xoxo
Heather