This recipe for our Tex-Mex Rice Bowl is pantry cooking at it's finest! I'm pretty sure most of you have these ingredients in your kitchen right now. Or at least a variation. Make it as the recipe reads and everyone will cheer, but this recipe begs to modified and spiced up to fit your needs and the ingredients you have on hand. Personally, I like to add more zing with some extra chili powder and cumin, and I will definitely double it because this recipe begs to be packed for lunch the next day! (Look closely at the picture and you will see the pleading look). Top it with a spinkling of cheese, some yummy salsa, use up a rotisserie chicken in place of the beef, or throw in some pinto beans if you're not a fan of black beans. A dollop of sour cream or Greek yogurt will give it a chill, and if you're looking for something a little more colorful, dice up some green and red bell peppers. Any way you slice it, this bowl is sure to please even the pickiest eater at your table.
A one pot wonder, this Tex-Mex Rice Bowl will have everyone cheering for more!
Make this recipe your own by modifying based on what you have readily available! As is, it was a tad bland for my taste, but that's nothing a little chili powder and extra pico couldn't cure!
Gather
1 (8.8-ounce) pouch precooked brown rice (such as Uncle Ben's)
8 ounces ground sirloin
1/4 cup water
1 1/2 tablespoons 40%-less-sodium taco seasoning (such as Ortega)
1/2 cup frozen whole-kernel corn
1 (15-ounce) can organic black beans, rinsed and drained (I used kidney beans)
1 cup fresh pico de gallo
1 jalapeño pepper, minced (remove the seeds to remove the heat)
4 teaspoons chopped fresh cilantro (why limit yourself! Cilantro is meant to be used liberally)
Tortilla chips for garnish and crunch!
Step by Step
Heat rice according to directions.
Heat a large skillet over medium-high heat. Add beef; cook 3 minutes or until done, stirring to crumble. Stir in 1/4 cup water and taco seasoning; bring to a simmer. Stir in corn and beans; cook 1 minute or until heated. Stir in rice. Top with pico de gallo and jalapeño. Sprinkle with cilantro.
Yeah, it's really that ridiculously simple!

For Fresh Pico:

Dice equal amounts of onion, jalapeño (remove seeds to remove heat), tomato, and cilantro. Squeeze fresh lime juice and add a dash of salt, and voila! Fresh pico in less than 5 minutes.
Nutrition
WW PP 8: Calories: 306 Fat: 7.6g Saturated fat: 2.5g Monounsaturated fat: 2.5g Polyunsaturated fat: 0.3g Protein: 18.1g Carbohydrate: 44.4g Fiber: 4.3g Cholesterol: 37mg Iron: 2.7mg Sodium: 503mg Calcium: 28mg
http://shrinkingkitchen.com/tex-mex-rice-bowl/
Copyright Sisterhood of the Shrinking Jeans LLC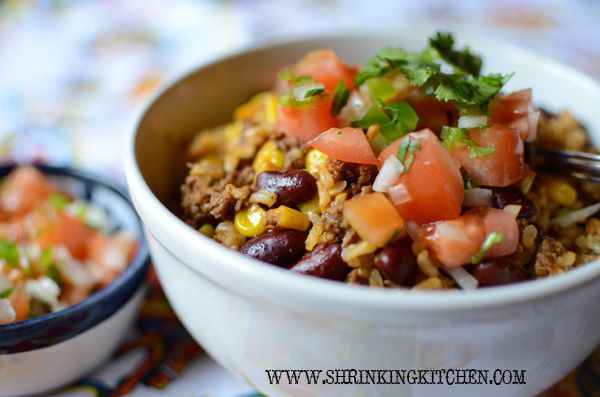 Tex-Mex Rice Bowl Original recipe from Cooking Light.