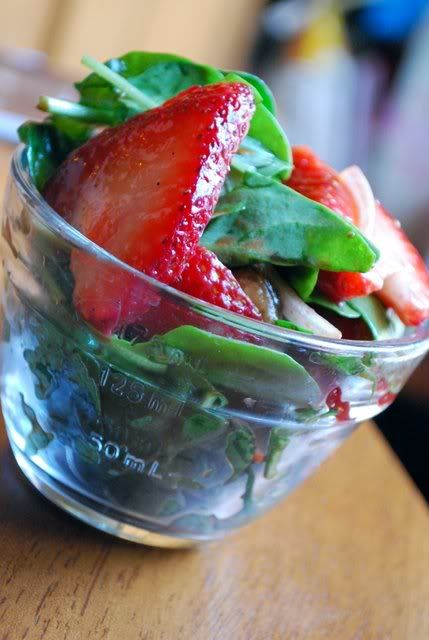 Strawberry-Basil Salad with Balsamic Vinaigrette
A salad everyone will love! Guaranteed!
Gather
3 tablespoons olive oil
3 tablespoons balsamic vinegar
1/2 teaspoon salt
1/8 teaspoon freshly ground black pepper
8 cups torn romaine lettuce
2 cups sliced strawberries (1 pound)
1/2 cup vertically sliced Vidalia or other sweet onion
1/4 cup torn fresh basil
Step by Step
Combine olive oil, balsamic vinegar, salt, and black pepper in a large bowl; stir well with a whisk. Add romaine lettuce, sliced strawberries, sliced onion, and torn basil; toss gently to coat. Serve salad immediately.
Nutrition
WW PP 3; Calories 102; Fat: 7.2g (sat 1g); Protein 1.5g; Carbohydrate 9.1g; Fiber 2.9g; Cholesterol 0.0mg; Iron: 1.1mg; Sodium 206mg; Calcium 41mg
http://shrinkingkitchen.com/strawberry-basil-salad-with-balsamic-vinaigrette/
Copyright Sisterhood of the Shrinking Jeans LLC