Everyone, meet Kristina! She'll be posting from time to time and I'm SO excited. She's hilarious, health conscious AND an amazing cook. I mean seriously – this pasta looks divine. I can't wait to see all the yumminess she cooks up!
Last month on my birthday card, my nine-year-old stepson wrote "You are a really good lookin – I mean cookin – stepmom."  So when he came home after a weekend with his mom raving about the chicken farfalle she made, I KNEW I had to replicate it.  Why would I care?  Well, let's just say that every quality I possess is not an enviable one.  For starters, the one his mom made was frozen – all she really did to "cook" it was to warm it up.  I'm a bit of a food snob and whole-heartedly believe that anything home-cooked will blow its frozen counterpart out of the water.  Secondly, I'm a bit competitive.  My stepson's and mine relationship is founded upon the fact that I love to cook and he loves to eat.  I just HAD to make a version that was better than his mom's!
I found a starter recipe online and tweaked it to cut the fat and calories and increase its nutritional value.  I've made it twice now and it's a hit with all of us!  Oh, and my stepson declared it was better than his mom's.  My rightful place as food queen has been restored!
Chicken and Spinach Farfalle
Gather
1 pound cooked chicken breast, chopped into bite-sized pieces
1/4 teaspoon salt
1/4 teaspoon ground black pepper
10 oz uncooked farfalle (bow tie pasta)
1/2 tablespoons butter
2 garlic cloves
3/4 cup non-fat milk, divided
1 tablespoon all-purpose flour
1/4 cup prepared pesto
6 tablespoons half & half
1/2 cup shredded fresh parmesan cheese
2 cups fresh spinach, coarsely chopped
Step by Step
Cook pasta according to package directions.
Reserve 2 Tbs of cooking liquid prior to draining.
Meanwhile, heat butter in a medium saucepan over medium heat.
Add garlic to pan and cook 1 min, stirring occasionally.
Combine 1/4 cup milk and flour in a small bowl, stirring with a whisk.
Add milk mixture to pan, stirring constantly with a whisk.
Cook this roux down for a minute or so and then add the pesto. Gradually add the remaining 1/2 c milk and half & half, stirring constantly with a whisk.
Cook 5 minutes or until sauce thickens, stirring frequently.
Add the 2 tablespoons of reserved cooking liquid, salt, pepper, and spinach.
Cook until spinach wilts and then add the cheese. Stir until cheese melts.
Add chicken and pasta to sauce, tossing well to coat.
Serve immediately.
Nutrition
WW PP 7; Calories 287; Total Fat 7.2g; Saturated Fat 2.4g; Trans Fat 0.0g; Cholesterol 62mg; Sodium 445mg; Total Carbohydrates 29.4g; Dietary Fiber 1.5g; Sugars 2.9g; Protein 26.6g
http://shrinkingkitchen.com/spinach-and-chicken-farfalle/
Copyright Sisterhood of the Shrinking Jeans LLC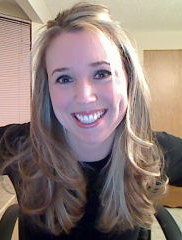 Kristina is a contributing writer for Shrinking Kitchen. When not with her husband and picky-eating children (ages 11, 9, & 9) or in the kitchen, she makes a living as a registered nurse taking care of people who are mostly reaping the consequences of their poor lifestyle choices. Determined to not have the same fate for herself and her family, she cooks meals that are both healthy and delicious and makes a point for the entire family to find time for exercise. She loves the flavor of ethnic cuisines – mostly Indian and Thai – and loves the challenge of revamping recipes to make them cohesive with her healthy lifestyle. This to-the-bone foodie decided to share her recipes on Shrinking Kitchen instead of just teasing her friends and family with the pictures on her social media site!