We've inventoried our kitchens and come up with a master list of 'must haves' for shrinking. These are ingredients we *actually* have in our kitchens (no, we totally aren't hoarders) and use on a regular basis – things that have definitely helped us shrink. No, you don't need them all, and we're not telling you to run out and get all of them right.this.very.minute, but if you buy one or two of these things each week, you'll build up a nice Shrinking Pantry!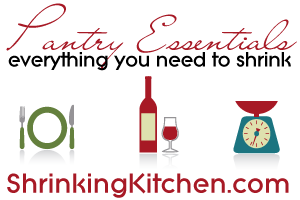 Dry Goods
Whole Wheat Flour
White Wheat Flour
All-Purpose Flour
Quinoa
Brown Rice
Whole Wheat Pasta
Steel Cut Oats
Rolled Oats
Flour Tortillas
Corn Tortillas
Dried Beans (Black, Pinto)
Lentils
Peas
Sugar (White & Brown)
Flax Seeds
Cocoa Powder
Cous cous
Panko Bread Crumbs
Corn Meal
Baker's Chocolate
Condiments
Olive Oil
Canola Oil
Balsamic Vinegar
Active Yeast
Mustard
Fresh Salsa
Ketchup
Apple Cider Vinegar
Real Maple Syrup
Cooking Sherry
Low Sodium Soy Sauce
Green and Red Salsa
Olives (green and Kalamata)
Sesame Seeds
Sesame Oil
Light Mayonnaise
Hot sauce (Franks, Crystal, Tabasco)
Dry White Wine
Chili Paste (for Asian cooking)
Curry (red or green)
Fresh Produce
Potatoes
Yams or Sweet Potatoes
Onions
Garlic
Lemons
Limes
Ginger Root (store in a tightly sealed baggie in freezer)
Apples
Oranges
Bananas
Spinach or Baby Greens
Baby Carrots
Green Onions
Bell Peppers
Lettuce (the darker green, the better)
Mushrooms
Dairy
Skim Milk (or dairy substitute like Almond or Soy Milk if you don't do dairy)
2% Milk (low-fat milk)
Butter
Light Sour Cream
Light Cream Cheese
Block Cheddar Cheese
Block Parmesan Cheese
Low-fat or Nonfat Greek Yogurt (plain and flavored)
Eggs
String Cheese
Laughing Cow Wedges
Protein
Lean Ground Beef
Ground Turkey Breast
Chicken Breasts
Bacon
Tofu
Lean Pork
Frozen Shrimp
Frozen Fish (tilapia, salmon)
Freezer
Frozen Veggies (Corn, Peas, Green Beans)
Frozen Berries/Fruit
High Fiber or Whole Grain Bread
Light English Muffins
Frozen Shelled Edamame
Frozen Diced Veggies (onions & bell peppers – dice and freezer yourself to save $$)
Spice Rack
Sea Salt
Kosher Salt
Fresh Ground Pepper
Red Pepper Flakes
Cumin
Cayenne
Chipotle Pepper
Curry Powder
Dried Basil
Dried Oregano
Dried Rosemary
Cinnamon
Montreal Steak Seasoning
Tumeric
Bay Leaves
Sage
Smoked Paprika
Chipotle Chili Powder
Chili Powder
If you have ingredients you think we should add to our list, please leave a comment below!