Good Sunday morning! If this is your first visit here to the Shrinking Kitchen, we put together a weekly menu plan that is published every Sunday morning. It includes healthy meals, with links to recipes, for each day of the week PLUS a printable grocery list. And it's FREE. You're welcome ;)
If you've been here before, then I won't waste anymore of your time! Here's is this weeks delicious and simple menu plan.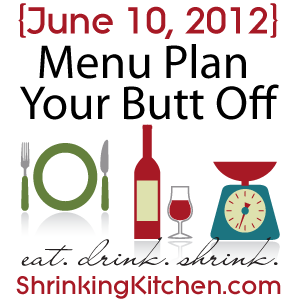 Monday: Light Buffalo Chicken Wraps. It's all there – protein and veggies rolled up whole grains! Yum.
Tuesday: Throw some chicken on the grill and have some yummy Rataouille to go with it. If grilling chicken scares you a little (I've been there!), then check out these great tips on how to grill chicken to perfection!
Wednesday: This Reuben sandwich. Trust me. It's amazing. Make it a meal with this Hearty Vegetable Soup. If you're counting calories or points, you could go with a half sandwich and soup, and it would be a filling meal. Don't forget the kosher dill!
Thursday: This One Pan Goulash comes together quickly and is a great way to, ahem, hide some veggies. Not that you have to do that or anything. *wink* Plus, hello, a one pan meal! I'm all about easy this week.
Friday: GO OUT or eat leftovers (meh). You definitely deserve a break from the kitchen.
Saturday: Be a hero and make some Mini Corny Dogs served with Baked Home Fries (click over for great tips on how to make the perfect home fries. Be sure to throw on some steamed broccoli so your family knows who's boss! (note: if you don't have double ovens, this meal might not work out for you since there are two things that need to be baked at different temps and times. You could definitely make the corny dogs ahead of time and reheat in the oven while the fries are cooking.).
Sunday: Take a weekend trip to Morocco with this Slow Cooker Moroccan Chicken. Okay not really, but you can throw this in the slow cooker, and go about your Sunday business and grocery shopping (with our handy grocery list!) and come home to an amazing meal. Serve over couscous and you're golden. If you're not sure about couscous because it sounds a little foreign, it only takes 10 minutes and is as simple as boiling water.
Snacks/Desserts:
Whip up a quick batch of this Honeyed Yogurt Dip and serve it with fruit, pretzels, or graham crackers! Yum!
Make a batch of these yummy Snickerdoodles – only 90 calories each!
And here is your bonus shopping list! It might look like a lot, but I'm sure if you scan through it, you'll already have a lot of the items! Have fun :)
Menu Plan Your Butt Off Grocery List:
Perishable:
Cream cheese, 2 ounces
Fat free plain Greek yogurt, 1 1/4 cups
Blue cheese, crumbled, 2 ounces
Butter, 1 1/4 cup
4 eggs
Fat free buttermilk, 1 cup (you could use milk with vinegar or lemon)
Light cream cheese, 8 ounces
Swiss cheese (shaved), 3 ounces (1/4 cup)
Sauerkraut, 1 cup (I used Bubbies brand from Whole Foods – found near yogurt)
Produce:
Dried apricots, 1/2 cup
3 medium onions
2 medium red bell peppers
Bag of medium carrots
2 cups arugula
1 bunch celery
3 zucchinis
1 package cherry tomatoes
1 bunch broccoli
1 pound russet potatoes
Mushrooms, 1 cup
Assorted fruit – strawberries and apples are good! (for dipping)
Garlic
fresh thyme, 1 tablespoon (could use dried)
Protein:
1 1/4 pounds boneless skinless chicken breasts
5 boneless, skinless chicken breast
1 package Hebrew National reduced fat hot dogs, or Apple Gate Farms for no preservatives/nitrates
4 ounces lower-sodium corned beef, thinly sliced (such as Boar's Head corned beef, top round, cap-off)
Frozen:
1 cup frozen peas
Pantry:
8 (3/4-ounce) slices rye bread (I used a wonderful Prussian Rye)
4 whole grain, high fiber tortillas (I used La Tortilla Factory)
Unsweetened applesauce, 1/4 cup
2 can (14 oz) diced tomatoes, no salt added
28 ounce can of tomato sauce, no salt added
Vegetable or chicken broth, low-sodium, 2 1/4 cups
99% fat free chicken broth, 1 1/4 cups
1 (15-ounce) can garbanzo beans, rinsed, drained
Low sodium beef broth, 2 cups
Tomato paste, 4 tablespoons
Couscous, 1 cup
Uncooked whole wheat elbow macaroni, 2 cups
Chili sauce (like Shriracha), 1 tablespoon
Dill pickles, kosher
Worcestershire sauce, 1 teaspoon
White vinegar, 1 teaspoon
Cider vinegar (could use white vinegar)
Frank's Red Hot Sauce (or your favorite wing sauce), 3 teaspoons
Canola mayonnaise, 1/4 cup
Olive oil
All purpose white-wheat flour, 1 cup
All purpose flour – 2 3/4 cups
Sugar, 2 1/4 cups
Baking soda, 1 1/2 teaspoon
Cornmeal, 1 cup
Cornstarch, 2 tablespoons
Paprika, 2 teaspoons
Cream of Tartar, 2 teaspoons
Curry powder, 1 teaspoon
Red chili flakes, 1/2 teaspoon
Ground cumin, 3/4 teaspoon
Ground cinnamon, 3/4 teaspoon
Dry basil, 1/2 teaspoon
1 bay leaf
Honey, 1/4 cup
Vanilla extract, 1/2 teaspoon
Dried Italian herbs (basil, rosemary, oregano), 2 tablespoons
Printable Grocery List from the Shrinking Kitchen – shrinkingkitchen.com – 06/10/12