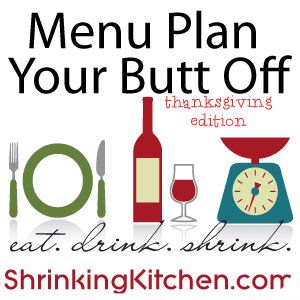 So, Thanksgiving is tomorrow. I trust, if you're in charge, you've got the turkey handled. As in, if it hasn't been thawing for days, you'd better figure something else out.
But what about the rest of the meal? Have you planned that all out yet? Are you stuck? Are you about to head out to the grocery store? Hold on just a second, have I got a gift for you! A menu plan, just for Thanksgiving, WITH A PRINTABLE GROCERY LIST. Not only that, it's a light Thanksgiving menu.
Seriously.
I put this grocery list together a little differently than our traditional Menu Plan Your Butt Off list. Instead of one big list divided by types of groceries, I've grouped the ingredients by recipe, so you can easily pick and choose what you want to make – and what you need to pick up at the supermarket.
I hope this takes some guesswork out of your Thanksgiving! Enjoy.
*****
Appetizer & Starter:
Creamy Jalapeno Cranberry Dip

Healthy Roasted Butternut Squash & Shallot Soup (from Cooking Light)

Sides:
Lightened Up Mashed Sweet Potatoes

Balsamic Brussels Sprouts with Cranberries & Pecans

Light & Tasty Green Bean Casserole (from peas&crayons.com)

Roasted Rosemary Sweet Potatoes

Apple Cranberry Stuffing

Skinny Buttermilk Mashed Potatoes (from skinnytaste.com)

Maple Rosemary Roasted Acorn Squash

Dessert:
Pumpkin Chocolate Torte with Pumpkin Whipped Cream
Grocery List – all recipes serve 4 unless noted – adjust recipes to feed your crowd!
Appetizer & Starter
For the Creamy Jalapeno Cranberry Dip (serves 10):
8 ounces light cream cheese
6 ounces fresh or frozen cranberries
1 jalapeno pepper
juice of 1 lime
handful of cilantro
3 green onions
1/4 cup sugar
celery or pita chips for dipping
For the Roasted Butternut Squash and Shallot Soup (serves 6):
4 cups (1-inch) cubed peeled butternut squash (about 1 1/2 pounds)
1 tablespoon olive oil
4 large shallots
1 (1/2-inch) piece peeled fresh ginger
2  1/2 cups fat-free, less-sodium chicken broth
2 tablespoons fresh chives
Sides
For the Mashed Sweet Potatoes:
2 large sweet potatoes
2 tablespoons light butter spread
2 tablespoons of almond milk, or regular milk
1 tablespoon brown sugar + more for sprinkling
8 walnut or pecan halves
Light & For the Tasty Green Bean Casserole:
1 pound of fresh green beans, rinsed and trimmed
8-12 ounces of button mushrooms , trimmed and sliced
4-6 ounces of french fried onions, homemade or store bought
2 Tablespoons of butter
2 cloves of garlic, minced
1/4 teaspoon of nutmeg
2 Tablespoons all-purpose flour
1 cup of mushroom or veggie broth 1 cup of almond milk
garlic powder
For the Brussels Sprouts:
1 pounds brussels sprouts
1/2 tablespoon olive oil
1/4 cup balsamic vinegar
1/4 cup water
1/8 cup dried cranberries
1/8 cup pecans
For the Roasted Rosemary Sweet Potatoes:
2 large sweet potatoes or yams
canola cooking spray
1 teaspoon brown sugar
2 teaspoons chopped fresh rosemary
1/8 teaspoon cayenne pepper
1/4 teaspoon salt
For the Apple Cranberry Stuffing (serves 10):
14 ounces whole grain bauguette
1 tablespoon olive oil
1 tablespoon butter
2 cups celery
1 cup onion
1/2 cup dried cranberries
1 apple
1 tablespoon each fresh rosemary, fresh sage and fresh thyme
1/2 teaspoon salt
3 cups lower sodium, fat free chicken broth
1 egg
For the Skinny Buttermilk Mashed Potatoes:
2 lbs (6-7 medium) yukon gold potatoes
3/4 cup + 2 tbsp low fat buttermilk
1 tbsp light butter
kosher salt to taste
dash of fresh ground pepper
1/4 cup fresh chives
For the Maple Rosemary Roasted Acorn Squash
1 acorn squash
2 tablespoons pure maple syrup
1 teaspoon olive oil
1/2 tablespoon fresh rosemary
1/8 teaspoon cayenne pepper
1/8 teaspoon salt
freshly ground pepper
Dessert:
For the Pumpkin Chocolate Torte (serves 10):
3/4 cup semisweet chocolate chips
1 tablespoon butter
1 tablespoon canola oil
3 large eggs
2 large egg whites
1 cup canned unseasoned pumpkin puree
1/2 cup sugar
1/2 cup unsweetened cocoa powder
1 teaspoon vanilla extract
3/4 teaspoon pumpkin pie spice
1/4 teaspoon salt
1/4 cup heavy cream
1 tablespoon sugar
1/2 teaspoon vanilla extract
2 tablespoons canned unseasoned pumpkin puree