Happy Sunday and welcome to Menu Plan Your Butt Off, Shrinking Kitchen's fabulous and free weekly menu plan! We are FINALLY going back to school on Wednesday (I know, LATE) and I will be needing a menu plan badly this week to maintain sanity!  Especially on Thursday. That's our ballet/swim day and we get home at 7 pm. I will be very happy to come home to BBQ Pulled Chicken!
If you're new here, we do this every week. If you scroll all the way down, there's even a printable grocery list. It's easy!
Enjoy this week's recipes!
---

---
---
---
---
Friday: Go out to dinner. You've been cooking all week. 
---
---
---
Menu Plan Your Butt Off
Grocery List
Loaded Burger Lettuce Wraps
1/2 pound lean ground beef
4 dill pickles
1 beefsteak tomato
1/4 cup sweet onion
2 tablespoons ketchup
1 tablespoon mustard
1 head romaine lettuce, taken apart – leaves intact. You'll want 8-12 intact leaves.
shredded cheddar
1 fresh melon of your choice
Chinese Chicken and Asparagus Salad
2 boneless, skinless chicken breasts
1 pound asparagus
1 yellow bell pepper
1 orange bell pepper
2 scallions, chopped
sesame seeds
1/4 cup natural peanut butter
1/4 cup apple cider vinegar
2 tablespoons low sodium soy sauce
1 1/2 tablespoons sesame oil
1/2 tablespoon honey
1 clove garlic
2 teaspoons fresh ginger
Stewed Lentils with Tomatoes
1 medium onion
2 carrots
3 garlic cloves
1 15 ounce can diced no salt added tomatoes
2/3 cup red lentils
1 teaspoon curry powder
1 teaspoon dried thyme
1/2 tablespoon balsamic vinegar
leafy salad greens and your favorite fixings
BBQ Beer Pulled Chicken
1 tbsp onion powder
1 tbsp paprika
2 cloves garlic, minced
1 cup beer
18 ounces barbecue sauce (I used Stubb's all-natural sauce)
3 pounds boneless, skinless chicken breasts
whole wheat buns
baby carrots
your favorite dip
Crockpot Beef Stroganoff
1 (1-pound) top round steak (1 inch thick)
1 cup chopped onion
2 tablespoons chopped fresh parsley
2 tablespoons Dijon mustard
1/2 teaspoon dried dill
2 cups sliced mushrooms
3 garlic cloves
1/3 cup all-purpose flour
1 cup beef broth
a few shakes of Worchestershire Sauce
1 (8-ounce) container low-fat sour cream
package egg noodles or whole wheat rotini
1 pound green beans
Chicken Fajita Toss
1 pound boneless, skinless chicken breast
2 bell peppers (whatever color you fancy)
1 yellow onion
1 teaspoon chili powder
1 teaspoon cumin
1 teaspoon garlic powder
1 lime
big handful cilantro
brown rice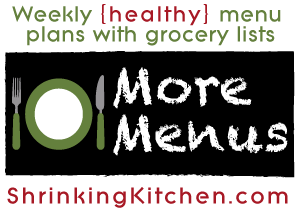 find more menu plans here!
Advertisement