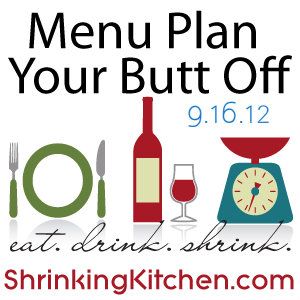 Happy Sunday! Welcome to our weekly feature, Menu Plan Your Butt Off. If you're new here, welcome! We do this every single week. That's right – a complete healthy dinner menu plan and printable grocery list for free. Yes, I said free. I'm totally serious.
It's true – we're crazy. Crazy about helping people plan and succeed at adopting a healthier diet.
Menu planning is vital for me – otherwise boxed macaroni and cheese starts to look really attractive. Or even just cold cereal. Which is okay – sometimes. Just not every other night.
So enjoy! Let us know what you think. We're always open to suggestions. Would you like to see more meals included in the plan? Would you like us to explore a plan designed to fit certain dietary restrictions? Speak up!
Have a delicious week!
Menu plan is designed to serve 4.
Monday: Zesty black bean soup.

Tuesday: Super simple fish and veggies in foil with whole wheat cous cous cooked according to package instructions.

Wednesday: Creamy cajun shrimp linguini with salad of lettuce, tomatoes and carrots.

Thursday: Spinach in peanut sauce and grilled chicken breasts.

Friday: Take a break! Eat some leftovers or pick up some healthy take out.
Saturday: Enchilada casserole in a hurry with green salad (use up any leftover veggies you have from the week – be creative!)

Sunday: Football food!! Buffalo chicken rolls, cowboy caviar and veggies with light blue cheese dip.

Grocery List
Protein
1 pound firm white fish fillets (hake, tilapia, halibut)
1 pound medium shrimp
5 boneless skinless chicken breasts
1 pound ground sirloin or lean ground beef
Dairy
butter (2 cubes)
fat free half and half
small block monterey jack cheese
crumbled blue cheese, 1 cup
Produce
zuchinni, 2
yellow squash, 2
red bell pepper, 4
grape or cherry tomatoes, 1 pint
garlic, 2 heads
lemon, 1
carrots, 5 medium
celery, small bunch
onion, 3 medium
poblano pepper, 1
1 package presliced mushrooms
flat leaf parsley, 1 bunch
romaine lettuce, 2 heads
roma tomatoes, 7
2 pounds fresh spinach
green onions, 1 large bunch
broccoli slaw, 1 small bag
lime, 1
sweet corn, 1 pound (frozen or fresh)
cilantro, 1 bunch
avocado, 1
Pantry
capers
olive oil
2 cans low sodium black beans, drained
3 cans low-sodium beef broth
chipotle chili powder
cumin
cayenne pepper
dry oregano leaves
1 bay leaf
1 can fat-free, less-sodium chicken broth
1 package linguine (whole wheat if you can find it)
package presliced mushrooms
all-purpose flour
salt free Cajun seasoning (I found mine in the bulk spices at my local supermarket)
whole wheat cous cous
crunchy peanut butter
low sodium soy sauce
honey
chili pepper
roasted peanuts, chopped
lower sodium taco seasoning
1 can no-salt-added tomato sauce
whole-wheat flour tortillas
egg roll wrappers
Frank's Red Hot Sauce
Nonstick cooking spray
light blue cheese dressing
1 15 ounce can black beans
1 15 ounce can black eyed peas