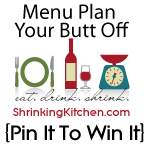 This week is Spring break for us and we are going to have lots of company, so I need quick, easy meals that won't have me in the kitchen for hours. I've tried all of these dishes, so I know they'll be delicious and definite crowd pleasers.
We have two very special features we're throwing into this week's Menu Plan Your But Off.
First, we're adding a link up below. Please see our guidelines and feel free to share your menu plan with us and our readers.
Second, we are having a giveaway! We are such huge fans of Pinterest (I don't know how I ever survived without it), we thought it would be fun to have a Pin It To Win It giveaway. We are giving away the beautiful RED Crock-Pot you see below.
Here's what you have to do: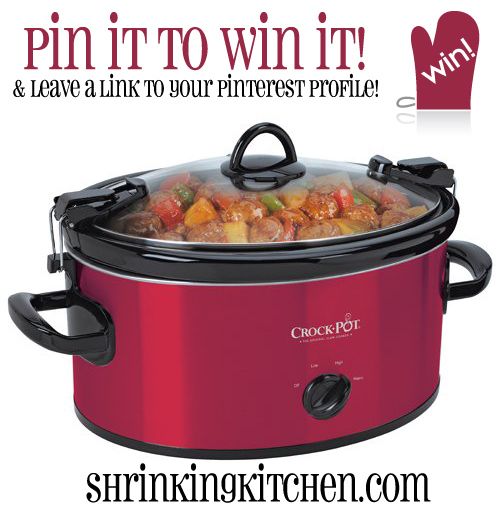 Pin this totally awesome Pin It to Win It badge.
Come back here and leave a comment with a link to your Pinterest profile.
That's it.
(There will be one winner chosen via random.org after 11:59 PST on Saturday, March 17, 2012. Winner will be announced in next week's menu plan post. Please make sure we have some way of getting in touch with you; email, twitter, etc. If you do not respond within 48 hours, you forfeit the prize. For US residents only. No purchase necessary.)
Here is your totally awesome, complete with grocery shopping list, meal plan!

Monday – Penne Alla Vodka served with a huge spinach salad.

Tuesday – Easy Mongolian Beef over brown rice with steamed broccoli.

Wednesday – Texas Chili using Wick Fowler's 2-Alarm Chili Kit – for this one, you use 2 pounds of 96% lean ground beef, 1 can (10 3/4 ounce) can rotel chili fixins, 1 14 ounce can of tomato sauce, 1 onion. Cook according to package directions, and be careful with the cayenne pepper. If you can't take a little heat, then leave it out!

It may seem like chili is one of those cook-it-all-day-long recipes, and you can certainly do it that way, but it's also something that you can have ready in 30 minutes. You can serve the chili with corn bread, or over reduced-sodium Fritos with a sprinkling of reduce-fat cheddar.

Thursday – Slow Cooker Chicken Pepperoni Marinara – my kids thought they had died and went to heaven the first time I made this. It was that good, and so incredibly easy. Serve it alone, or over whole wheat spaghetti with a side salad.

Friday – Slow Cooker Baked Potatoes with leftover chili on top and a strawberry, pineapple, grape fruit salad.

Saturday Brunch – 3 Minute Habanero Chicken Sausage Omelet. On Saturdays, we are slow to get moving in the morning, but we love breakfast! By the time I get around to cooking, it's closer to lunch, so we end up brunching. Serve this omelet with some whole wheat toast and leftover fresh fruit salad.

Sweet treats and snacks (we have lots of company this week!)

Honey Crisp Apples (the absolute best apples ever!)
Grocery List
Pantry
(you will probably already have a lot of these items)
cornstarch
canola oil
olive oil
lower-sodium soy sauce
brown sugar
dried oregano
crushed red pepper flakes
ground cinnamon
creamy peanut butter
all-purpose flour
sugar
baking powder
cooking spray
salt
vanilla extract
semi-sweet chocolate chips
dark chocolate chips
peanut butter chips
peanut butter cups
agave nectar
light brown sugar
honey
raw almonds
raw walnuts
rolled oats
plain granola (I use Back to Nature brand)
rice cereal (Rice Krispies, etc.)
brown rice
whole wheat penne
whole wheat spaghetti
low-fat or low-sodium marinara
jarred peach & mango salsa (or other fruit salsa – can be homemade)
rotel chili fixins
Wick Fowlers' 2-alarm chili kit
tomato sauce (14 oz canned)
wheat bread
Perishables
unsalted butter
reduced-fat milk
eggs
2% Greek yogurt
Parmigiano Reggiano cheese
shredded part-skim mozzarella cheese
Meat
1 1/4 lbs of flank steak
Aidells Habanero Chicken Sausage (or something comparable. I use Applegate Farms brand)
2 pounds lean ground beef
pepperoni (you can get this in the deli)
1 1/2 pounds of chicken cutlets
Vegetables and Fruit
fresh ginger
garlic
green onions
onion
russet potatoes
baby spinach
fresh basil
broccoli
pineapple
grapes
strawberries
honey crisp apples
Link up with Menu Plan Your Butt Off!
You must leave a link directly to your menu plan post, not your website. It must be a menu plan!
You must link back to us. You can grab one of our fresh, hot badges, or just leave a simple text link to the Shrinking Kitchen Menu Plan Your Butt Off.
If you don't follow our guidelines, we will remove your link!
Be sure you're subscribed so you'll receive fresh recipes, and more menu plans in your inbox daily! The subscription form is located in the left sidebar near the top!
//
//