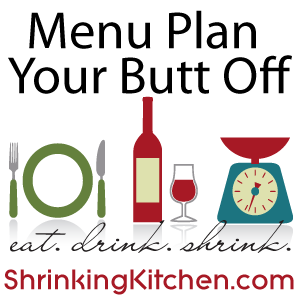 Welcome to this weeks edition of Menu Plan Your Butt Off! Hope you all are having a wonderful Mother's Day and if your a mom, I hope someone is cooking for you!
I won't keep you long…as always, here's our weekly menu plan, complete with a printable grocery list.
Have an amazing week and happy cooking!
*****
Monday: Mediterranean Veggie Pita.
Tuesday: Chinese Chicken and Asparagus Salad.
Wednesday: Pork Chops Marsala, roasted red potatoes, green salad with baby spinach or mixed greens.
Thursday: Slow Cooker Honey Sauced Chicken, brown rice, steamed broccoli.
Friday:  Finger foot night!! Spaghetti (Squash) and Meatball Bites, veggies and lowfat dip.
Saturday: Leftovers, takeout or (gasp) dinner out. Seriously. Take a night off, you've been cooking your butt off!
Sunday: Curried Yam and Red Lentil Soup, toasted whole wheat pita.
Grocery List
Protein
4 (4-ounce) boneless center-cut loin pork chops (about 1/2 inch thick)
6 boneless, skinless chicken breasts
1 pound lean ground beef
Produce
broccoli, 2 crowns
shallots (2)
1 head garlic
1 (8-ounce) package presliced mushrooms
fresh thyme
2 pounds asparagus
2 yellow bell peppers
2 orange bell pepper
2 scallions, chopped
2 teaspoons fresh ginger
onion (3)
zucchini (1)
baby spinach or mixed greens (bag)
red potatoes, 1 pound
cucumber (1)
baby carrots (1 bag)
spaghetti squash
yam (1 large)
Dairy
feta cheese
eggs
Pantry
all-purpose flour
fat-free, less-sodium chicken broth
Marsala wine or dry sherry
brown rice
sesame seeds
natural peanut butter
olive oil
apple cider vinegar
low sodium soy sauce
sesame oil
honey
whole wheat pita bread (8 pieces – 4 for Monday, then freeze the rest for Sunday)
kalamata olives
ketchup
vegetable oil
red pepper flakes
1 (14oz) can tomato sauce
dried parsley
dried basil
dried thyme
vegetable broth (1 quart)
red lentils (1 cup) – I usually find these in the bulk aisle