I've got an amazing healthy menu plan for this week…are you ready?
For this week's Menu Plan Your Butt Off, I focused on vibrant flavors…a few recipes for the grill (it's unseasonably warm here…you can cook inside if you need to), some quick fix meals, and a nice slow cooker dish for the middle of the week. You know, the night you NEVER want to cook? This weeks menu is FULL of flavor. Lots of spices – your taste buds will dance!
By the way, if you're new to these parts, we do a free healthy menu plan including a printable grocery list EVERY SINGLE GOSHDARN week. You can see a full year's (and more) worth of menu plans here. And we'll keep them coming, so keep coming back…and share with your friends!
So quick, print off the handy grocery list and head off to the store. Then kick back and enjoy your Sunday! You will have a full fridge and a week of stress free dinners at your fingertips!
Happy cooking!
*****
Monday: Mango Curry Quinoa with roasted asparagus.
Tuesday: Chicken Penne Provencal.
Wednesday: Slow Cooker Curried Pineapple Pork Chops with Steamed Broccoli
Thursday: Garlic and Lemongrass Beef Skewers with a Simple Green Salad.
Friday: Go out or get take out! Cooks night off!
Saturday: Grilled Fish Tacos with Chunky Mango Avocado Salsa
Sunday:  Coconut Chicken with Pineapple and Peppers served with brown rice and Spicy Sauteed Green Beans.
Grocery List:
for the Mango Curry Quinoa and Green Salad
1 3/4 cups low sodium vegetable broth
1 cup dry quinoa
1 teaspoon curry powder
3 tablespoons mango chutney
handful chopped flat leaf parsley or cilantro
1 pound fresh asparagus
for the Chicken Penne Provencal
2 teaspoons olive oil
3/4 pound boneless, skinless chicken breast
1 pint cherry or grape tomatoes, halved
2 tablespoons red wine vinegar
2 tablespoons capers
1 tablespoon fresh oregano or rosemary, chopped
2 cups high fiber penne
leafy green lettuce and your favorite salad fixings
for the Slow Cooker Curried Pineapple Pork Chops with Steamed Green Beans
1 (20-ounce) can pineapple chunks in juice (not syrup) (I used fresh pineapple that I chopped in a food processor)
1/4 packed brown sugar
1 tablespoon cider vinegar
1 tablespoon low-sodium soy sauce
2 teaspoons curry powder (or less if you prefer)
1/8 teaspoon ground ginger (I used fresh)
1/2 teaspoon red pepper flakes (less if you're not crazy about spicy)
6 (7-ish ounce) boneless pork loin chops, trimmed of visible fat
2 teaspoons cornstarch
2 scallions, sliced thin
1 pound fresh broccoli
 for the Garlic and Lemongrass Beef Skewers with Green Salad.
1 pound lean flat iron or flank steak
1 teaspoon honey
2 tablespoons of lemongrass paste
4 cloves garlic, minced
2 tablespoons Braggs liquid aminos
juice of 1 lime
4 wooden skewers
1 head leafy green lettuce (or maybe arugula
1 yellow pepper
bunch of radishes
your favorite salad dressing
for the Grilled Fish Tacos
1 pound white fish fillets (hake, cod or tilapia are all great)
1 teaspoon chili powder
pinch cayenne
1/8 teaspoon black pepper
1/4 teaspoon salt
1 teaspoon cumin
1 tablespoon olive oil
2 cups shredded cabbage
8 corn tortillas
1 cup diced mango (I used frozen chunks, much easier!)
1 large avocado, diced
1 cup cherry or grape tomatoes, halved and quartered
1 lime, juiced
2 tablespoons chopped shallot
1/2 cup fresh cilantro, chopped
for the Coconut Chicken with Pineapple and Peppers
1 large egg
2 cups gluten free cornflakes (or regular cornflakes)
1/2 cup shredded unsweetened coconut
1 pound boneless, skinless chicken tenders
8 oz pineapple tidbits, drained, or 1 cup diced fresh pineapple
1 red bell pepper
2 teaspoons fresh lime juice (approximately the juice of 1 lime)
brown rice
1 pound fresh green beans
2 cloves garlic, smashed and minced
generous pinch of red pepper flakes
2 teaspoons liquid aminos
1/4 cup vegetable broth or water
1/2 teaspoon black sesame seeds (optional)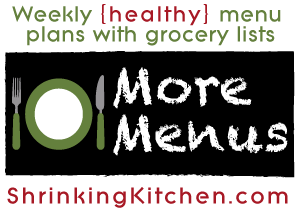 find more menu plans here!
Advertisement