Welcome to the Shrinking Kitchen! This week's free healthy Menu Plan Your Butt Off is full of healthy, hearty meals that make healthy eating fun and interesting. I especially love the jambalaya and the strawberry banana sorbet. So easy and delicious!
If you're new to Shrinking Kitchen, welcome! Menu Plan Your Butt Off is an entire week's worth of healthy dinners PLUS a printable grocery list, just for you.  That's right…a free healthy menu plan. Seriously. We take the guesswork out of dinners and give you a grocery list. And all the nutritional information is included.
Enjoy your meals this week!
---
Monday: Spaghetti and green salad.

---
---
---
Thursday: Breakfast for dinner!! Green Vegetable Frittata and a yummy fruit salad.
---
Friday: Go out to dinner. You've been cooking all week
---

---
---
Menu Plan Your Butt Off
Grocery List
Spaghetti
1 pound extra lean hamburger
1 pint crimini mushrooms
1 medium yellow onion
3 garlic cloves
1 14 ounce can tomato sauce
1 14 ounce can diced tomatoes with juice
1 teaspoon each dried basil, oregano, thyme
package spaghetti noodles (whole wheat or your fave)
salad greens and your favorite fixings
Grilled Fish Tacos
1 pound white fish fillets (hake, cod or tilapia are all great)
1 teaspoon chili powder
pinch cayenne
1 teaspoon cumin
2 cups shredded cabbage
8 corn tortillas
Chunky Mango Avocado Salsa
Guacamole
Dijon Chicken Penne
2 boneless, skinless chicken breasts
6 ounces dry penne
3 cloves garlic
1/2 small onion
1 bell pepper, any color (I used 4 mini bell peppers)
1 tablespoon grainy dijon mustard
1 cup chicken broth
1/3 cup half and half
1 teaspoon chopped rosemary
1 pound broccoli florets
Green Vegetable Frittata
9 eggs
1 leek
3 scallions
1 head of pak choy
3 stalks of dinosaur kale
¾ pound of fresh asparagus, cut into small pieces
1 garlic clove
1 teaspoon of fresh, minced ginger
assorted fruit for a fruit salad
Light & Simple Jambalaya
1 large onion, diced
2 bell peppers
3 cloves garlic
1 teaspoon smoked paprika
1/2 teaspoon dried oregano
1/2 teaspoon dried thyme
1 bay leaf
1/4 teaspoon cayenne pepper
1 chicken adouille sausage
1 1/2 cups low sodium chicken broth
1 (14 1/2-ounce) can no-salt added diced tomatoes
1 cup uncooked long-grain white rice
1 pound peeled and deveined medium shrimp
Garlic Lemongrass Beef Skewers
1 pound lean flat iron or flank steak
1 teaspoon honey
2 tablespoons of lemongrass paste
4 cloves garlic
2 tablespoons Braggs liquid aminos
juice of 1 lime
1 tablespoon vegetable oil
4 wooden skewers
leafy greens and salad fixings
Strawberry Banana Sorbet
2 frozen bananas
10 frozen strawberries
2 tablespoons unsweetened plain almond milk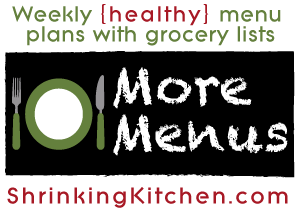 find more menu plans here!
Advertisement