Welcome to the Shrinking Kitchen! This week's free healthy Menu Plan Your Butt Off is full of healthy, hearty meals that will satisfy everyone in your family. A simple no-cook tuna salad, delicious penne with chicken, an easy shrimp and sausage boil are on deck for this week, to mention a few. Yum!
If you're new to Shrinking Kitchen, welcome! Menu Plan Your Butt Off is an entire week's worth of healthy dinners PLUS a printable grocery list, just for you.  That's right…a free healthy menu plan. Seriously. We take the guesswork out of dinners and give you a grocery list. And all the nutritional information is included.
Enjoy your meals this week!
---

---
Tuesday: Harissa Salmon Cakes with quinoa and roasted broccoli.

---
---
---
Friday: Go out to dinner. You've been cooking all week, for goodness sake!
---
---
---
Dessert:  Almond Joy Faux Soft Serve
Menu Plan Your Butt Off
Grocery List
Chicken Italiano
4 boneless skinles chicken breasts (butterflied)
4 light mozzarella string cheese sticks
1/2 C. baby spinach
1/2 C. roasted red bell peppers
1/3 C. Red Bell Pepper Vinaigrette [Kraft] (or favorite light Italian style dressing)
salad greens and your favorite fixings
Harissa Salmon Cakes
14 ounces canned Sockeye (or Red) Salmon
2 eggs
4 green onions
2 teaspoons harissa spice blend (ground spices, not paste)
1/2 teaspoon red pepper flakes
2 Tablespoons coconut flour (regular flour works too)
2 Tablespoons ghee or coconut oil
quinoa
1 pound broccoli florets
Chicken Penne Provencal
3/4 pound boneless, skinless chicken breast
1 pint cherry or grape tomatoes
2 tablespoons red wine vinegar
2 tablespoons capers
1 tablespoon fresh oregano or rosemary
2 cups high fiber penne
Spicy Avocado Tuna Salad Wraps
1 can albacore tuna, drained
1 ripe California Avocado
1/3 cup diced red bell pepper
1/3 cup California hot mix pickled vegetables or giardiniera (but that won't be spicy)
4 large leaves of red or green leaf lettuce – bibb also works well
assorted fruit for a fruit salad
Simple Enchilada Stacks
1 pound lean ground turkey
1 can refried black beans (or lowfat refried pinto beans)
1 small onion, diced
2 cloves garlic, smashed and minced
2 teaspoons cumin
1 teaspoon chili powder
12 small corn tortillas
1 can of your favorite red enchilada sauce
1 pint cherry tomatoes
fresh cilantro
4 ounces shredded cheddar
1 cup basmati rice
1 roma tomato
1/3 of an onion
2 garlic cloves
3 teaspoons Knorr's Caldo de Pollo
Shrimp & Sausage Boil
¼ cup Old Bay seasoning
2 lemons
2 large cloves of garlic, smashed and peeled
1 lbs. small potatoes
1 lbs. smoked chicken sausage
2 ears of fresh corn
1 lbs. uncooked, deveined shrimp
parsley for garnish if you like
¾ cup ketchup
1 teaspoon horseradish (more if you like more of a kick)
1 teaspoon lemon juice
1 teaspoon Worcestershire sauce
Couple shakes of hot sauce, like Tabasco
leafy greens and salad fixings
Almond Joy Faux Soft Serve
2 frozen bananas (cut them into chunks before you freeze)
2 tablespoons cocoa powder
2-3 tablespoons unsweetened plain almond milk
2 tablespoons unsweetened shredded coconut, divided
2 tablespoons dry roasted almonds, chopped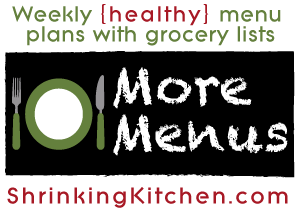 find more menu plans here!
Advertisement