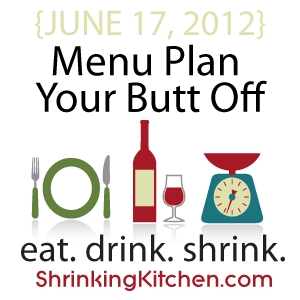 Good morning, friends! Another week, another menu to plan. Never fear -Shrinking Kitchen is here, with an all-new menu plan to get you through your week! Complete with a printable grocery list! You're welcome!
MONDAY: Tzatziki Chicken Salad… Try it with these Pita Chips!
TUESDAY: Hearty Taco Casserole.

WEDNESDAY: Aromatic Noodles with Lime Peanut Sauce.

THURSDAY: Cheesy Chicken and Rice Bake.

FRIDAY: Date Night! Going out to Dinner.

SATURDAY: Brown Rice Spaghetti w/Chicken Sausage and Fresh Spinach.

SUNDAY: Quick and Easy Taco Soup.

SNACKS/DESSERTS: Pineapple-Mango Yogurt Pops, 90-calorie Snickerdoodles
Shrinking Grocery List
PRODUCE
fresh lime juice, 4 Tbsp
scallion, 1
broccoli florets
snow peas, 2 C
sugar snap peas, 2 C
fresh ginger, finely grated, 3/4 inch
lettuce, shredded, 2 C
tomatoes, 2
cilantro, 1/2 C
garlic cloves, 9
cucumber, 1
green pepper, 1/2 C chopped
onion, 1/2 C chopped
baby spinach, 1 bag fresh
fresh dill, 2 tsp
lemon juice, 1 Tbsp
red onion, 1/4 C
pineapple, 1 cup diced, fresh
mango, 1 cup fresh, diced
PANTRY
all-purpose flour
cream of tartar
olive oil
black pepper
kosher salt
baking soda
baking powder
sea salt
salt
sugar
ground cinnamon
Italian seasoning
brown sugar
red pepper flakes
rice vinegar, 2 Tbsp
low-sodium soy sauce, 1/4 C
natural peanut butter, creamy, 1/2 C
Ro-Tel diced tomatoes, 2 cans
kidney beans, 1 can
black-eyed peas, 1 can
taco seasoning packet, 2
Hidden Valley Ranch dry mix, 1/2 packet
green chiles, 4.5-oz can, diced
black beans, 15-oz can
FROZEN
corn, 3/4 C
DAIRY/EGGS
butter or margarine, 1 C
butter, 2 Tbsp
eggs, 4
cheese to top taco soup, optional
fat-free sour cream, 1/2 C
reduced-fat cheddar cheese, 1 C
monterey jack cheese, reduced-fat 8 oz
greek yogurt, plain, 2 2/3 C
BREADS and PASTA
spinach linguine or whole-wheat spaghetti, 12 oz
brown rice, 2 2/3 C uncooked
brown rice spaghetti, 1/2 lb
pita bread pockets, 8 (I used Joseph's Flax, Oat Bran, & Whole Wheat Pita Bread)
MEAT
ground beef, 1 1/2 lbs
chicken breasts, 2 boneless, skinless
chicken sausage, 1 pkg
rotisserie chicken breast, 2 cups shredded, skinless, boneless
MISC
salsa, 1 1/2 C
banana pepper rings, optional
dry roasted peanuts, 1/2 C
pita chips, multigrain, 3 oz
orange juice, 2 Tbsp, optional
honey, 2 Tbsp