It's Sunday, and that means it's time for a brand new, healthy AND FREE menu plan. That's right! We plan, you print out the grocery list, shop and you're set with a full week of healthy dinners!
Disclaimer: You still have to cook. Sorry about that!
If you're new to Shrinking Kitchen, first of all, welcome! We're glad you're here! Second – we share a new Menu Plan Your Butt Off every single week. I know! Awesome!
If this menu plan isn't full of stuff you love, head on over to our archives where we've got over a year's worth of healthy menu plans! You're sure to meet your perfect menu match.
With that, have a beautiful day and happy cooking (and eating)!
Monday: Shrimp Zoy over whole wheat spaghetti with a big green salad.

Friday: GO OUT!!!
/
GROCERY LIST
Shrimp Zoy
3 tablespoons unsalted butter
1 ½ pounds peeled/deveined shrimp
2 tablespoons minced shallots
1 clove minced garlic
¼ cup chicken stock
2 tablespoons lemon juice
1 tablespoon Dijon mustard
½ cup white wine
¼ cup heavy cream
1 tablespoon chopped fresh flat leaf parsley
package whole wheat spaghetti
head of your favorite leafy green and salad fixings
 Slow Cooker Salsa Verde Chicken
6 boneless chicken breasts (4 oz each)
1 medium onion sliced
2 cloves garlic, minced
1 tsp cumin
1 tsp oregano
1 Tbs lime juice
1 16 oz jar salsa verde (whatever brand you like, I've used Herdez and Trader Joe's)
1 can white beans(I like great northern beans)
1 1/2 cup low fat or fat free sour cream ( you can also sub in plain fat free yogurt)
brown rice (either traditional or fast cooking)
Kale Smashed Potatoes with Chicken Sausage
4 lowfat chicken sausages
4 yukon gold potatoes
8 ounces kale, roughly chopped, or use frozen kale
2 green onions, diced
2 ounces lowfat shredded cheddar
1 ounce light cream cheese
1/3 cup lowfat milk
1 pound fresh green beans
Garlic & Lemongrass Beef Skewers
1 pound lean flat iron or flank steak
1 teaspoon honey
2 tablespoons of lemongrass paste
4 cloves garlic, minced
2 tablespoons Braggs liquid aminos
juice of 1 lime
1 tablespoon vegetable oil
4 wooden skewers
brown rice
1 pound fresh asparagus
Cheesy Chicken and Rice Bake 
Chicken Breasts, 2 boneless & skinless
Brown Rice, 4 Cups, Cooked
Greek Yogurt, Plain, 1 cup
Monterey Jack cheese, reduced-fat, 8 oz
Frozen Corn, 3/4 C
Black Beans, 15-oz can
Diced Green Chiles, 4.5-oz can
Chunky Salsa, 3/4 C
Cilantro, for garnish
leafy green lettuce and your choice of fresh veggies for your salad
Mediterranean Pasta Toss
2 small zucchini
10 small sweet bell peppers
1 cup grape or cherry tomatoes
1/2 yellow onion,
2 cloves garlic
1 tablespoon dried Italian herbs
1 15 ounce artichoke hearts in water, drained and sliced in half
1/4 cup sundried tomatoes in oil
1/3 cup balsamic vinegar
1 1/2 cups dry whole wheat penne
1/3 cup crumbled feta cheese
Caramelized Fruit Topping with Greek Yogurt
any combination of fruit works, this recipe used;
1 peach skin removed and roughly chopped
1 apple skin removed, cored and roughly chopped
4 fresh figs cleaned and quartered
1 tablespoon butter
1 tablespoon brown sugar or cane sugar
½ teaspoon cinnamon
large container low fat or fat free Greek Yogurt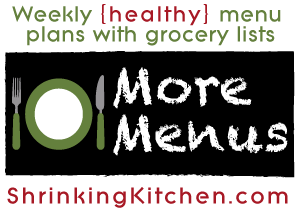 find more menu plans here!
Advertisement