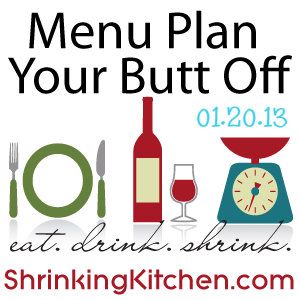 Ah Sunday. Day of rest? Or day of panicked preparation for the upcoming week? You've got laundry to finish, a house to tidy up, football to watch. You've probably got to hit the grocery store to stock up. But what to buy…what to make?
Here's your answer. A free, healthy dinner plan. With a printable grocery list. How easy is that? Yes, you still have to cook it…but you don't have to THINK about it. Which for me, is usually my problem. Around 4:30 pm, my kids start acting like maniacs and I realize…food. They need food.
Clearly, meal planning is a necessary part of my life!
If you're new around here, we do this every week. In fact, we're nearly up to a years worth of menu plans. That's right folks. I think we're currently at 48 weeks. YOU ARE WELCOME.
We always love feedback and if there's any kind of dishes you'd like to see included in our meal plans, speak up!
Now, off you go…have a wonderful week. Happy cooking!
*****
Monday: Quick and Savory Minestrone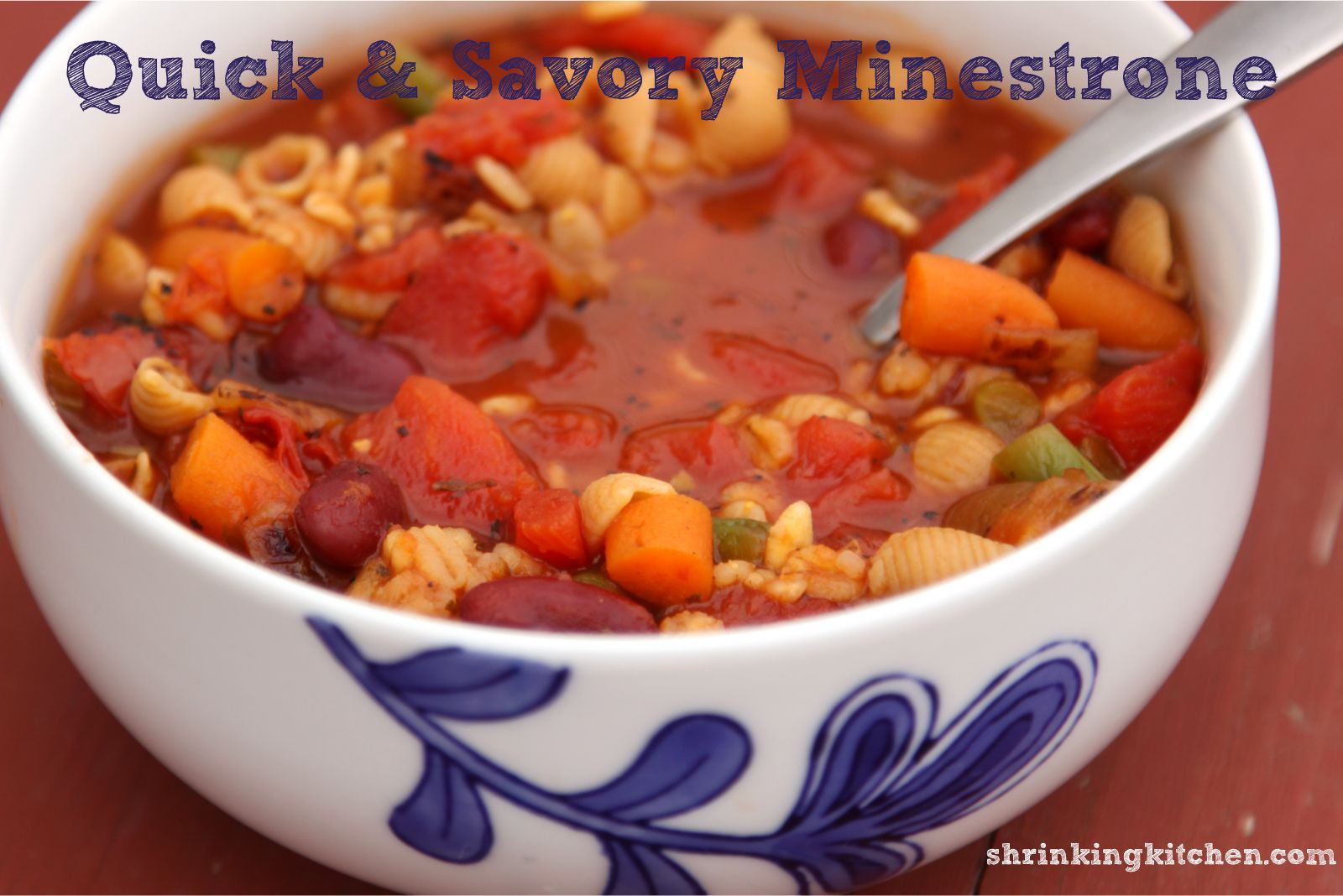 Tuesday: Chicken with Spring Vegetables and Herbs, served with brown rice.
Wednesday: Lightened Up Crock Pot Beef Stroganoff with No Yolks Egg Noodles
Thursday: Hearty Taco Casserole
Friday: Date night, take out night or eat some yummy leftovers night!
Saturday: Lightened Up Peanut Noodles with Tofu
Sunday: Creamy Cajun Shrimp Linguini
Snack: Whole Grain Lemony Blueberry Muffins
Printable Grocery List!
For the Quick and Savory Minestrone
1 1/2 Tbsp extra-virgin olive oil
1 large onion, diced
4 cloves garlic, minced
2 stalks celery, diced
3/4 cup carrots, diced
1/3 pound green beans, trimmed and cut into small pieces, about 1/2 inch (this will be about 1 1/2 cups)
1 tsp dried oregano
1 tsp dried basil
1 28-oz can of no-salt-added diced tomatoes
1 14-oz can crushed tomatoes
3 Tbsp vegetable base such as Better Than Bouillon
1 15-oz low-sodium kidney beans, drained/rinsed
1 cup whole-wheat shell pasta
1 cup barley
For the Chicken With Spring Vegeteables and Herbs
1.5 cups reduced-sodium chicken broth
1 teaspoon Dijon mustard
3 tablespoons flour
1 pound thin-sliced chicken breast cutlets
1 tablespoon extra-virgin olive oil
8 ounces sugar snap peas (2 cups)
1 14-ounce can quartered artichoke hearts
1 cup sliced mushrooms
3 tablespoons minced fresh herbs such as flat leaf parsley, dill, chives – whatever you like
brown rice
For the Lightened Up Crock Pot Beef Stroganoff
1 (1-pound) top round steak
1 cup chopped onion
2 tablespoons chopped fresh parsley
2 tablespoons Dijon mustard
1/2 teaspoon dried dill
2 cups sliced mushrooms
3 garlic cloves
1/3 cup all-purpose flour
1 cup beef broth
a few shakes of Worchestershire Sauce
1 (8-ounce) container low-fat sour cream
1 package No Yolk egg noodles
For the Hearty Taco Casserole
2/3 cup uncooked brown rice
3/4 cup all-purpose flour
3/4 teaspoon baking powder
1/8 teaspoon salt
2 tablespoons cold butter
1/2 pound lean ground beef (90% lean)
1/2 cup chopped onion
1/2 cup chopped green pepper
2 garlic cloves, minced
1 envelope taco seasoning
2 eggs
1/4 cup fresh cilantro
1 cup (4 ounces) shredded reduced-fat cheddar cheese
2 cups shredded lettuce
2 medium tomatoes
3/4 cup salsa
1/2 cup fat-free sour cream
Lightened Up Peanut Noodles with Tofu
6 tablespoons PB2, natural peanut butter or Better 'n Peanut Butter
8 ounces low sodium chicken broth
1/2 tablespoon sriracha hot sauce
1 1/2 tablespoons honey
1 1/2 tablespoons low sodium soy sauce
1 teaspoon freshly grated ginger
4 teaspoons cornstarch
4 ounces uncooked whole wheat spaghetti
1 tablespoon olive oil
8 ounces extra firm tofu
2 cups broccoli slaw
1 cup julienned red pepper
1 cup sugar snap peas
5 green onions
1/4 cup chopped cilantro
For the Creamy Cajun Shrimp Linguini
1 (14-ounce) can fat-free, less-sodium chicken broth
6 ounces uncooked linguine
1 pound medium shrimp, peeled and deveined
1 1/2 tablespoons butter
1 (8-ounce) package presliced mushrooms
1 large red bell pepper
2 teaspoons all-purpose flour
1 teaspoon salt free Cajun seasoning (I found mine in the bulk spices at my local supermarket)
2/3 cup fat free half-and-half
1/4 cup fresh flat-leaf parsley
For the Whole Grain Lemony Blueberry Muffins
3/4 cups low fat milk
4 ounces (1/2 cup) Fage plain 2% Greek yogurt
1 egg
1/4 teaspoon vanilla
3/4 teaspoon lemon extract (you could add more)
1 tablespoon lemon zest
1/4 cup corn meal
1 cup white whole wheat flour (could use regular whole wheat)
1/2 cup oatmeal
1/2 cup + 2 tablespoons brown sugar
3 teaspoon baking powder
1/2 teaspoon salt
1 cup of fresh or frozen blueberries