My family has been following the Feingold Diet for about 2 years, and we've recently decided to tighten up and go back to Stage 1, which is pretty strict. We basically eliminate all artificial food coloring and flavoring, and a lot of additives and preservatives. Stage 1 also includes the elimination of several fruits and vegetables know to contain naturally high levels of salicylates.
Since we're going back to Stage 1, I had to pull out the Foodlist and search through all of my recipes, and I thought I might as well post it and share it with you! Even if you don't follow the Feingold Diet, this week's menu plan has plenty to fill the tummies of your family. Just look at it as extra-clean eating!
If you'd like to know why we choose to follow the Feingold Diet, you can read more about it here!
We also have a Feingold Stage 2 Menu Plan!
Feingold Stage 1 Menu Plan
MONDAY: Makeover Shepherd's Pie 
TUESDAY: Light Cheesy Potato Soup (omit red pepper), served with a green salad
WEDNESDAY: Juicy Parmesan Crusted Baked Chicken with steamed frozen peas and wild rice
THURSDAY: Easy Peasy Pea Soup with crusty bread
FRIDAY: Leftovers!!!
SATURDAY: Garlicky Breadcrumb Pasta with sautéed asparagus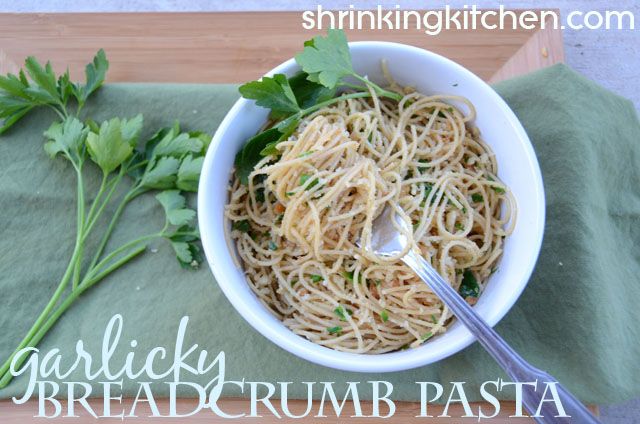 SUNDAY: Pork Roast – Feingold Stage 1 Recipe and Lemon Basil Rice with Paremsan
DESSERT: Guilt Free Chocolate Chip Cookies
BREAKFAST: Healthy Banana Chocolate Shake
Advertisement:
Menu Plan Your Butt Off Feingold Stage 1 Grocery List
Produce
yellow onion, 3 small
garlic
bananas, 2
carrots, 3
celery, 2 stalks
lemon, 2
Italian leaf parsley
red potatoes, 1 pound
russet potatoes, 3 small
green onions
crimini or button mushrooms, 10
cauliflower
green beans, 3 cups
asparagus
basil
Dairy/Meat
trans fat free soft tub margarine spread, 3/4 cup
large eggs
fat-free greek yogurt, 1/2 cup
butter
low-fat milk
light cream cheese
light butter or butter spread
low fat cheddar cheese, shredded, 3/4 cup
93/7 ground beef, 1/2 pound
4 boneless skinless chicken breasts, about 1 1/4 pounds
Pork Loin Roast
Parmesan cheese, 1/4 cup grated
Pantry
extra virgin olive oil
canola oil
3/4 cup breadcrumbs
fat-free, lower sodium chicken broth, 4 3/4 cup
beef broth, 1 1/4 cup
brown sugar, 3/4 cup
vanilla extract
chickpeas, 1 15 ounce can
semisweet chocolate chips
all-purpose flour
whole wheat flour
rolled oats, 1 cup
raw honey, 1 tablespoon
natural peanut butter, 1 tablespoon
baking soda
cocoa powder
1 lb bag of split peas
bay leaf
oregano
sage
8 ounces whole grain thin spaghetti
basmati rice, 1 cup
wild rice, 1 cup
salt & pepper
French or sourdough bread loaf
Frozen
frozen peas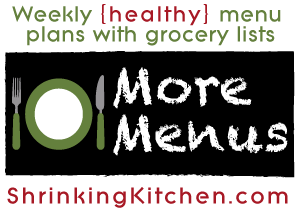 find more menu plans here!