A new week is upon us…and a new menu plan! This coming week is a BIG week in food. Fat Tuesday, Valentines Day, the first Friday of Lent – and we've got you covered…except for on Valentines Day. I'm telling you that you should go out…but if you don't, I'm sure we'll have some great ideas coming your way later on this week!
Personally, I'm pretty stoked about the menu plan this week. Lots of tried and trues and a new recipe to try – Christy's Coconut Lime Thai Curry…yum! And the salmon cakes on Friday are one of my personal favorites.
Are you new to Shrinking Kitchen? If so, welcome! Did you know we do this whole menu plan thingy EVERY SINGLE WEEK? True story. And each week, it comes with a printable grocery list. Healthy eating doesn't get much simpler than this, people.
I bet you're ready and raring to go to the market, but before you do, did you know we've got a fabulous giveaway going on right now? It's our Cookiversary month and we're giving away a Cuisinart Smart Stick Immersion Blender. It's one of my very favorite kitchen gadgets and I can't wait to give it away to one of our lucky readers! Go enter!
Monday: Hmmm. Let's go meatless and serve our Quinoa Bake with Spinach and Mushrooms.
Tuesday: Skinny Cajun Chicken Penne – it is Fat Tuesday, after all! Laissez les bons temps rouler! Serve with a big green salad.
Wednesday:  Spice up the mid-week doldrums and whip up some Coconut Lime Thai Curry paired with brown rice.
Thursday: It's Valentines Day! Or Singles Awareness Day. Either way, treat yourself. Go out to dinner with your sweetheart or a gaggle of girlfriends, or take yourself out. You deserve it!!
Friday: It's the first Friday of Lent – let's have some fish! Even if you don't participate in Lent, have some Spicy Salmon Cakes with Cool Broccoli Slaw!
Saturday: Time for some cozy comfort food – Lightened Up Spinach Lasagna!
Sunday: Sunday supper worthy Pork Chops Marsala, served with steamed green beans and Crash Hot Potatoes.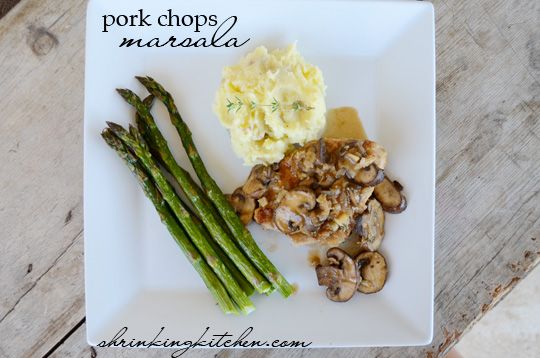 Snacks: Whip up some of these delicious Healthy Chocolate Blueberry Muffins for a quick breakfast or satifying snack.
Printable Grocery List
For the Quinoa Bake with Spinach and Mushrooms
3/4 cup whole wheat flour
3/4 teaspoon baking powder
2 tablespoons butter
1 tablespoons olive oil
1/2 onion
2 cloves garlic
2 cups mushrooms (I like portobello)
6 oz fresh baby spinach
2 teaspoons fresh thyme, roughly chopped
1/2 teaspoon freshly grated nutmeg
1 1/2 cups cooked quinoa
2 eggs
For the Skinny Cajun Chicken Penne
1 pound chicken breast tenderloins
1 tablespoon Tony Chachere's Lite Creole seasoning
6 ounces of whole grain penne pasta
1-1/2 tablespoons butter
1 teaspoon olive oil
1 tablespoon flour
3/4 cup of skim milk
1/4 cup California Sun Dried Tomato Paste Spread (if you can't find this, regular tomato paste is fine)
2 green onions
1 clove of garlic
1/4 teaspoon dried basil
1/2 teaspoon dried parsley
1/4 cup freshly grated Parmesan
1 head leafy green lettuce
2 tomatoes
1 large carrot
1 cucumber
For the Coconut Lime Thai Curry
15 ounces light coconut milk
3 tablespoons red curry paste
1 pound chicken breast
1 red bell pepper
cilantro sprigs
3 medium russet potatoes
1 lime
1 tablespoon fish sauce
brown rice
For the Spicy Salmon Cakes with Broccoli Slaw
2 14.75 oz can of salmon (I prefer sockeye)
1 1/2 cups panko bread crumbs
2 eggs
2 green onions
1 red bell pepper
1/2 teaspoon Old Bay Seasoning
1 Tablespoon hot sauce (I used Franks)
1 lemon
1/2 teaspoon cayenne pepper (add more if you like it spicy!)
1 12 oz bag of broccoli slaw (you can find this by the bagged salads in the market)
1/4 cup diced red bell pepper
plain, fat free greek yogurt
low fat mayonnaise
apple cider vinegar
For the Lightened Up Spinach Lasagna
8 whole wheat lasagna noodles
8 ounces part skim ricotta cheese
8 ounces part skim mozzarella cheese
1/2 cup shredded parmesan
1 package frozen spinach
1/8 teaspoon freshly grated nutmeg
1 medium onion
4 cloves garlic
1 egg
1 15 ounce can low sodium diced tomatoes
1 15 ounce can low sodium tomato sauce
2 tablespoons dried Italian herbs
For the Pork Chops Marsala and Crash Hot Potatoes
6 tablespoons all-purpose flour, divided
4 (4-ounce) boneless center-cut loin pork chops (about 1/2 inch thick)
2 shallots
2 garlic cloves
1 (8-ounce) package presliced mushrooms
2 teaspoons chopped fresh thyme
1 cup fat-free, less-sodium chicken broth
1/4 cup Marsala wine or dry sherry
12 medium red new potatoes (2 1/2″ – 3 1/4″ diameter)
Rosemary, Garlic, or other fragrant herbs
1 pound fresh green beans
For the Healthy Chocolate Blueberry Muffins
2 C White Whole Wheat Flour
1/3 C Raw Honey
5 tsp Baking Powder
1 tsp Baking Soda
1 Egg
Plain Nonfat Greek Yogurt
unsweetened applesauce
vanilla Extract
3/4 C blueberries
1/2 C Ghirardelli 60% cacao chips