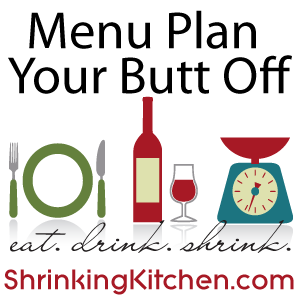 Happy Sunday!
Are you planning your weekly grocery trip? Searching for some healthy, easy meals? Look no further. We've taken all the guesswork out of menu planning. All you have to do is print the grocery list below, head to the store and get ready for some family pleasing (and healthy, of course) grub.
Menu Plan Your Butt Off is a weekly feature here at Shrinking Kitchen, so make sure to check back every Sunday for more mouth watering ideas. Better yet, subscribe here to make sure you don't miss any of our menus!
Have a delicious week!
*****
All dinner recipes are designed to serve four, unless noted.
Monday: Garlicky Breadcrumb Pasta with steamed broccoli.
Tuesday:  Slow Cooker Salsa Verde Chicken with brown rice. This makes around eight servings, so you will definitely have leftovers for lunch on Wednesday!
Wednesday: Apple Cider Sauced Pork Loin Chops served with couscous and roasted brussels sprouts (lightly toss sprouts in evoo, sprinkle with salt and pepper and roast at 400F till crispy on the edges, about 35 minutes).
Thursday: Cheeseburger Pasta with green salad.
Friday: Baja Fish Tacos with Chipotle Lime Slaw.
Saturday: Saturday Smorgasbord – perfect for a movie night with the fam or entertaining.  Corny Dogs,  veggies and Red Pepper Hummus, and fresh fruit with Honey Yogurt Dip (sub fat free Greek Yogurt with a dash of vanilla extract for the vanilla yogurt). Everybody makes their own plate!
Sunday: Easy Peasy Pea Soup (sub vegetable broth for chicken broth for fewer groceries) with your choice of bread or roll. This recipe makes around six servings. Make a double batch and you'll have a few easy lunches for later in the week.
Snacks: Have you tried Kale Chips? Well, you should. They are surprisingly addictive, and kale is chock full of vitamin goodness.
Dessert: Sneaky brownies. Why are they sneaky? They are hiding some pureed spinach and carrots. I won't tell if you won't!
Grocery List
(Yes, I know this list is long, but I bet you already have half of the pantry items!)
Protein:
Boneless, Skinless Chicken Breasts (6, about 4 ounces each)
Thin cut lean pork loin chops (4, about 4 ounces each)
Lean ground beef (3/4 lb)
Firm white fish – tilapia, halibut or walleye (1 1/2 lbs)
Reduced fat hot dogs (1 package) – we like Hebrew National or Applegate Farms
Ham steak (get this at the deli counter, ask them to cut a 1/2 pound hunk of ham) – smokey variety, not sweet
Produce:
Garlic (2 heads)
Lemon (2)
Limes (2)
Italian Flat Leaf Parsley (bunch)
Broccoli (1 head)
Onions (3)
Apples (2)
Brussels sprouts (1 lb)
Green onions (1 bunch)
Lettuce, leafy green (1 head)
Cabbage (1 head)
Cilantro (1 bunch)
Red bell peppers (2)
Celery (1 bunch)
Carrots (7 or 8)
Russet potato (1)
Assorted fresh fruit for dipping (apples, pears, berries)
Kale (1 bunch) – go for the frilly, curly variety
Baby Spinach (1 bag)
Dairy:
Low fat or fat free sour cream (small container)
Fat free Greek yogurt (16 ounces)
Low fat cheddar cheese (3/4 cup)
Buttermilk (or make your own buttermilk with white vinegar and fat free milk)
Eggs (1 dozen)
Butter or low cal margarine spread
Pantry:
Whole grain pasta, spaghetti or linguini (1 box)
Whole wheat penne pasta (1 box)
2 Tablespoons extra virgin olive oil
Breadcrumbs (plain or seasoned, your choice)
Salsa verde (16 oz jar)
Cumin
Oregano
White beans (1 can)
Whole wheat couscous
Brown rice
Apple juice (unsweetened)
Sage
Olive oil
Apple cider vinegar
Dried onion flakes
Maple syrup (or sub brown sugar)
Worchestershire sauce
Diced Tomatoes (1 can, no salt added)
Dill pickle relish
Ketchup
Yellow mustard
Steak seasoning
Flour tortillas (we like La Tortilla Factory or Smart & Delicious)
Chili powder
Cayenne
Cinnamon
Chipotle in adobo
Sugar
Cornmeal
White wheat flour
Baking soda
Baking powder
Unsweetened applesauce
Chickpeas (2 cans)
Sesame seeds
Vegetable broth (5 cups)
Soy sauce
Honey
Split peas (1 lb)
Bay leaf
Chocolate chips
Brown sugar
Cocoa powder
Vanilla extract