Hello friends! Welcome to this weeks edition of Menu Plan Your Butt Off!
If you're new to Shrinking Kitchen, check it out: we've got an entire week's worth of healthy dinners PLUS a printable grocery list.  All for free. Every gosh darn single week.
Is this week's plan not your cup of tea? No worries. We've got eleventy million more over here. Okay, slight exaggeration. But still, there are so many you're sure to find a plan that's right for you!
So on with the yummy menu plan for this week!
*****
Monday: Light and Creamy Orzo Primavera with served with a big leafy green salad. 
Tuesday: Lightened Up Crock Pot Beef Stroganoff with steamed green beans.
Wednesday: Lightened Up Chicken Parm with polenta and steamed broccoli.
Thursday:Slow Cooker Curried Pineapple Pork Chops with brown rice and a big green salad.

Friday: Leftovers or Dine out!
Saturday: Quinoa and Beef Stuffed Bell Peppers.

Sunday: Easy Peasy Pea Soup
Snacks and Breakfast: Whole Wheat Chocolate Cherry Muffins
Healthy Menu Plan Printable Grocery List
Light & Creamy Orzo Primavera
1 cup uncooked orzo
1 tablespoon butter
2 cloves garlic, minced
1 tablespoon flour
3/4 cup lowfat milk
1/3 cup shredded Parmesan cheese
1 cup frozen peas
2 cups broccoli florets, fresh or frozen
1 cup carrots, sliced, fresh or frozen
head of leafy green lettuce and your favorite salad veggies
Lightened Up Crock Pot Beef Stroganoff 
1 (1-pound) top round steak (1 inch thick)
1 cup chopped onion
2 tablespoons chopped fresh parsley
2 tablespoons Dijon mustard
1/2 teaspoon dried dill
2 cups sliced mushrooms
3 garlic cloves
1/3 cup all-purpose flour
1 cup beef broth
a few shakes of Worchestershire Sauce
1 (8-ounce) container low-fat sour cream
package light egg noodles or whole wheat rotini
1 pound fresh green beans
Lightened Up Chicken Parm
4 chicken breast halves, trimmed of fat
1/2 cup seasoned, whole wheat bread crumbs
1/4 cup grated Parmesan cheese
1/2 cup of your favorite jarred marinara
Additional grated Parmesan cheese (for garnish, if desired)
polenta, prepared to package instructions
1 bunch broccoli
Slow Cooker Curried Pineapple Pork Chops
1 (20-ounce) can pineapple chunks in juice (not syrup) (I used fresh pineapple that I chopped in a food processor)
1/4 packed brown sugar
1 tablespoon cider vinegar
1 tablespoon low-sodium soy sauce
2 teaspoons curry powder (or less if you prefer)
1/8 teaspoon ground ginger (I used fresh)
1/2 teaspoon red pepper flakes (less if you're not crazy about spicy)
6 (7-ish ounce) boneless pork loin chops
2 teaspoons cornstarch
2 scallions, sliced thin
head of leafy green lettuce and your favorite salad veggies
package of brown rice
Quinoa & Beef Stuffed Bell Peppers
1 cup of raw quinoa, cooked according to package
1/2 pound of lean ground beef
4 green bell peppers
1/2 yellow onion
2 carrots
1 teaspoon of dried basil
1 teaspoon of dried oregano
1 15 ounce can of tomato sauce
Easy Peasy Pea Soup
1 Tbsp olive oil
1 small yellow onion
2 cloves of garlic
1/4 pound black forest ham – have the deli slice off a 1/4 pound chunk, then dice it up at home
2 carrots
2 stalks of celery
1 russet potato, peeled and diced
4 cups fat free, low sodium chicken broth
1 lb bag of split peas
1 bay leaf
Chocolate Chip Cherry Muffins
2 cups whole wheat flour
1/3 cup sugar
4 teaspoons baking powder
1/2 teaspoon baking soda
1 large egg
3 tablespoons coconut oil, melted
1/2 cup lowfat sour cream
3/4 cup nonfat milk (I used plain, unsweetened almond milk)
1 teaspoon almond extract
1 cup frozen, unsweetened cherries
1/3 cup semisweet chocolate chips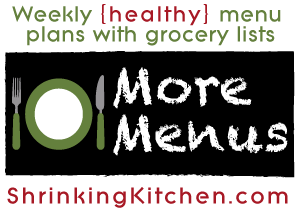 find more menu plans here!
Advertisement