Can you believe that tomorrow is New Year's Eve? So crazy. This year has just blown by – I can't quite get my head around it, to be quite honest!
What can I get my head around? The fact that I need a fresh start. I need to start treating my body better and eating right. This week's menu is full of simple, clean food. A perfect start to the new year!
As always, this menu plan is free and comes with a printable grocery list. So fire up the printer and get ready to stock your fridge to whip up some delicious and healthful meals!
Happy cooking AND happy new year!
*****
Monday: New Years Eve! Light and Simple Cioppino, crusty bread, green salad and something bubbly!
Tuesday: Light and Creamy Orzo Primavera.
Wednesday: Slow Cooker Salsa Verde Chicken with brown rice
Thursday: Crispy Quinoa Patties over salad greens with avocado and salsa.
Friday: Day off! Leftovers, takeout or out to dinner!
Saturday: Creamy Potato & Ham Soup
Sunday: Light & Tasty Chicken Piccata with Pasta, green salad.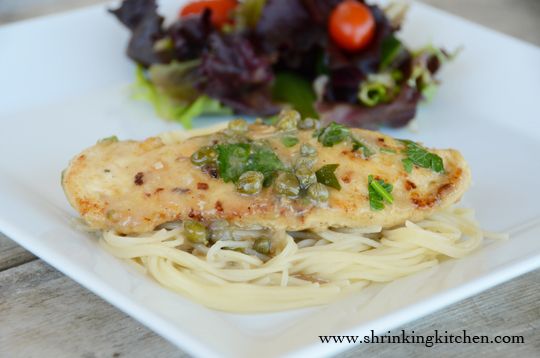 Snacks/treats: Crispy Edamame Two Ways
Printable Grocery List
This menu is designed to serve 4-6 people. Alter your amounts to suit your crowd!
Olive oil, salt and pepper are in most of these recipes but I didn't list them. So if you're out, pick some up!
For Light & Simple Cioppino:
1 large onion (2 1/2 cups), coarsely chopped
1 medium bulb fennel, trimmed and thinly sliced lengthwise
6 cloves garlic, minced
2 1/2 teaspoons fresh thyme (dried would work just fine)
2 teaspoons dried oregano
1/2 teaspoon crushed red-pepper flakes (more if you like a little spice)
1 dried bay leaf
2 cans crushed or diced tomatoes
1 1/4 cups dry white wine
1 cup bottled clam juice
1 pound mussels, scrubbed well and debearded
1 pound skinless firm white fish fillets, such as halibut, cut into 1 1/2-inch pieces
1 pound salmon fillet, skin off and cut into 1 1/2 inch pieces
1 1/4 pounds large shrimp, peeled and deveined
salad greens and veggies of your choice
1 whole grain baguette
For the Light & Creamy Orzo Primavera:
1 cup uncooked orzo
1 tablespoon butter
2 cloves garlic, minced
1 tablespoon flour
3/4 cup lowfat milk
1/3 cup shredded parmesan cheese
1 cup frozen peas
2 cups broccoli florets, fresh or frozen
1 cup carrots, sliced, fresh or frozen
For the Slow Cooker Salsa Verde Chicken with Brown Rice:6 boneless chicken breasts (4 oz each)
1 medium onion sliced
2 cloves garlic, minced
1 tsp cumin
1 tsp oregano
1 Tbs lime juice
1 16 oz jar salsa verde
1 can white beans, drained and rinsed
1 1/2 cup low fat or fat free sour cream ( you can also sub in plain fat free yogurt)
Brown rice or quinoa
For the Crispy Quinoa Patties:
1/2 cup dry quinoa
1 cup canned low sodium black beans
1 cup panko bread crumbs
1 egg
1/3 cup salsa
1 teaspoon cumin
1/2 teaspoon chipotle powder
Bagged baby greens
1 ripe avocado
jarred salsa of your choice
For the Creamy Ham & Potato Soup:
4 ounces leftover ham, chopped
2 medium russet potatoes, peeled and diced
1 cup cauliflower, chopped
2 stalks celery, diced
1/2 medium onion, diced
1- 15 ounce can low sodium chicken broth
1/2 tablespoon dried rosemary
For the Light & Tasty Chicken Piccata with Pasta:
4 tablespoons wheat flour
1 tablespoon shallot
16 ounces Boneless Skinless Chicken Breast Cutlets
1 cup reduced-sodium chicken broth
1/3 cup white wine
1 tablespoon light butter
3 tablespoons lemon juice
3 tablespoons capers
2 tablespoons parsley, chopped
6 ounces Whole Wheat Angel Hair Pasta
salad greens and veggies of your choice
For the Crispy Edamame Two Ways:
1 1/2 cups shelled frozen edamame, thawed
For Asian Spice
1 teaspoon sesame oil
1/2 teaspoon garlic powder
1/2 teaspoon Chinese 5 spice powder
1/8 teaspoon cayenne powder
For Tex Mex Spice
1/2 teaspoon garlic powder
1/4 teaspoon chili powder
1/4 teaspoon dried oregano
1/2 teaspoon ground cumin