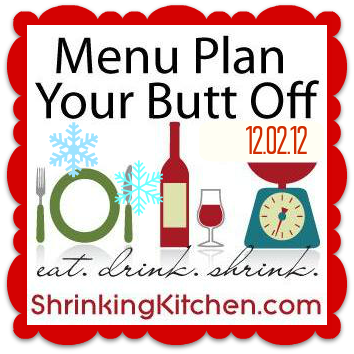 The Holiday crazies are settling in…or is it just me? My brain is just muddled.
For instance, this week I made chocolate chip cookies for my family, but forgot to take the waxed paper off of the butter when I started the mixer. In fact, I didn't realize I'd left the paper on until I tested a cookie and nearly choked on the little bits of paper.
Nice.
I also bought a take and bake pizza this week and while I was buckling my kids in the car (safety first!) I set the pizza on top of my car. Then I got in the car and drove home, only to realize I'd never retrieved the pizza from the roof.
Not my finest moment (and the kids were THRILLED to have scrambled eggs – NOT).
Clearly, I need menu planning to keep my head on straight – and lucky you – I'm sharing! Okay, we share every week, but I think during the holiday season this may be a pretty sweet gift to you all!
Another gift? Our super sweet Shrinking Kitchen Gift Guide. Have you checked it out? You should, especially because we're giving away a $250 AMEX gift card!
(Seriously, go ENTER! The contest runs through Monday evening.)
Remember, we put together a nifty little menu plan and printable grocery list FOR FREE every single week. So come back, and bring your friends! Follow and share us on Facebook and Pinterest. We'd be ever so thankful!
Happy Cooking!
*****
Monday: Light & Creamy Orzo Primavera.
Tuesday: Kung Pao Chicken Tacos with fresh melon slices.
Wednesday: wheReuben All My Life Sandwich served with baked potato chips and veggies/dip.
Thursday: Light and Simple Jambalaya.
Friday: Out to dinner/order in/yummy leftover night! You've worked hard all week!
Saturday: Easy Peasy Pea Soup with green salad.
Sunday: Cooking Light's Creamy Spinach Lasagna with green salad.
Snack/Dessert: White Chocolate Cranberry Bread.
Printable Grocery List
Protein
1 pound peeled and deveined medium shrimp
1 chicken adouille sausage (you'll probably have to buy a package – throw the rest in the freezer!)
4 ounces lower-sodium corned beef, thinly sliced (such as Boar's Head corned beef, top round, cap-off)
1/4 pound black forest ham – have the deli slice off a 1/4 pound chunk, then dice it up at home
6 skinless, boneless chicken thighs
Produce
1 package fresh cranberries
4 medium onions
1 head garlic
3 bell peppers (any color)
8 carrots
1 bunch of celery
1 russet potato
1 lime
1 bunch green onions
2 broccoli crowns
2 heads leafy green lettuce of your choice
1 melon of your choice
Frozen
1 (16-ounce) package frozen chopped spinach
small package frozen peas
Dairy
butter
eggs
6 ounces part skim shredded mozzerella
quart 2% milk
3 ounces Swiss cheese, shaved (about 3/4 cup)
shredded parmesan cheese
light veggie dip
Pantry
whole wheat flour
all purpose flour
wheat germ
brown sugar
baking powder
baking soda
plain almond milk
small container unsweetened apple sauce
white chocolate chips
ground red pepper
1 (26-ounce) jar marinara sauce
12 cooked whole wheat lasagna noodles
long grain white rice
smoked paprika
dried oregano
dried thyme
1 bay leaf
3 cans low sodium chicken broth
1 (14 1/2-ounce) can no-salt added diced tomatoes
8 (3/4-ounce) slices rye bread
sauerkraut, drained well
canola mayonnaise
chili sauce (like Shriracha)
dill pickles
Worcestershire sauce
1 lb bag of split peas
lower-sodium soy sauce, divided
cornstarch, divided
canola oil
honey
dark sesame oil
rice vinegar
sambal oelek (ground fresh chile paste)
3 tablespoons coarsely chopped dry-roasted peanuts
8 (6-inch) corn tortillas
1 package orzo
baked potato chips