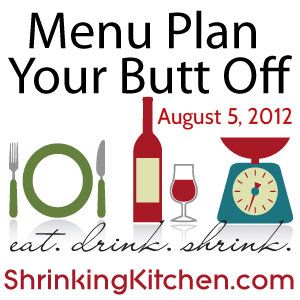 It's Sunday, and that means we've got a brand new menu plan and printable grocery list. If you're new around here, welcome! We do this every single week – a free, healthy menu plan.
It's true! No strings attached. We just love you all that much! So go ahead, give it a try. Print up the grocery list, head to the store and get ready for a weeks worth of scrumptious AND waistline friendly meals.
One last thing before I send you on your way – did you notice our new feature at Shrinking Kitchen called Cook and Tell? It's your chance to blog about YOUR favorite healthy recipes and link up for the world to see – check it out!
Have a delicious week!
******
(Meatless) Monday: It's appetizer for dinner night! Cowboy Caviar served with baked tortilla chips, strawberries and nectarines with Honeyed Yogurt Dip.
Tuesday: Chinese Chicken and Asparagus Salad.
Wednesday: Spicy Salmon Cakes with Cool Broccoli Slaw.
Thursday: Lightened Up Crockpot Beef Stronganoff, steamed green beans.
Friday: No cooking tonight! Eat some yummy leftovers or get some healthy takeout and head to the park for a picnic!
Saturday: Seared Chicken with Avocado, brown rice with cilantro and lime juice mixed in, simple green salad of leaf lettuce and tomato.
Sunday: Pork Chops Marsala with roasted red potatoes and steamed broccoli.
Desserts: Single Serve Peach Crumble
Grocery List
Protein:
6 boneless, skinless chicken breasts
2 14.75 oz can of salmon
1 pound top round steak
4 (4-ounce) boneless center-cut loin pork chops (about 1/2 inch thick)
Produce:
1 head garlic
1 onion
2 shallots
4 limes
1 lemon
sweet corn (16 ounces frozen or fresh)
1 pound fresh green beans
2 bunches green onions
2 bunches cilantro
1 avocado
2 tomatoes
pint strawberries
2 nectarines
1 pound asparagus
1 orange bell pepper
1 yellow bell pepper
1 red bell pepper
fresh ginger
1 12 oz bag of broccoli slaw
1 avocado
1 jalapeno
1 head green leaf lettuce
bunch flat
4 peaches
mushrooms, two 8 ounces packages, sliced
fresh thyme
1 pound red potatoes
1 broccoli crown
Dairy:
light cream cheese
plain, fat free Greek yogurt
dozen eggs
1 container low fat sour cream
butter
Pantry:
olive oil
cumin
15 ounce can black beans
15 ounce can black eyed peas
baked tortilla chips
honey
cinnamon
vanilla extract
sesame seeds
natural peanut butter
apple cider vinegar
low sodium soy sauce
sesame oil
panko bread crumbs
Old Bay Seasoning
hot sauce
cayenne pepper
low fat mayonnaise
seasoning salt
blackened seasoning
brown rice
Dijon mustard
dried dill
all-purpose flour
1 can low sodium beef broth
Worchestershire Sauce
1 box high fiber pasta (fusilli) or bag egg noodles
rolled oats
pumpkin pie spice
1 can fat-free, less-sodium chicken broth
Marsala wine or dry sherry