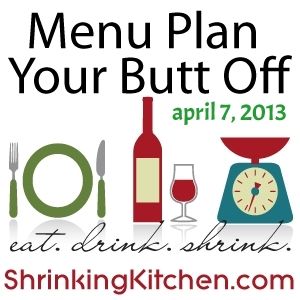 We're just coming off of Spring Break here, and I've got to get back into a routine. You know, things like cooking dinner.
Menu planning is saving my sanity. And my waistline. And our budget. Seriously. When I do the big grocery shop on Sunday, I feel like I'm spending a lot, but in reality, we would spend SO much more on takeout if we went that route.
Lucky for you…and you…and you – we like to share around here! So below, you'll find my dinner menu plan for the week and a handy printable grocery list. I KNOW…easy peasy!
This week, I focused on hearty and warming foods. The April showers are in full effect here in Western Washington, and I'm ready for some lightened up comfort food.
So, let's get to it…fire up your printer and get ready to shop – and eat! Happy cooking!
*******
This menu plan is designed to serve four.
Monday: Pumpkin Pasta Bake with Sage and Parmesan, green salad.
Tuesday: Slow Cooker Salsa Verde Chicken with brown rice.
Wednesday: Homemade Tomato Basil Soup with grilled cheese on whole wheat or whole grain bread (use low fat cheddar and drizzle pan with a little olive oil instead of slathering the bread with butter before frying).
Thursday: Easy Mongolian Beef with brown rice and steamed broccoli
Friday: Put your feet up – it's takeout/leftover/go out to dinner night!
Saturday: Pizza Night! Homemade pizza dough topped with marinara, lowfat mozzerella, ham and pineapple…or whatever floats your boat! Serve with a big green salad of romaine, tomatoes and carrots.
Sunday: Apple Cider Sauced Pork Loin Chops with whole wheat cous cous and steamed broccoli.

Snacks: Creamy White Bean dip with veggies or pita chips.
Super Awesome Printable Grocery List
Protein:
low sodium canadian bacon/ham
1 1/4 lbs of flank steak
6 boneless chicken breasts (4 oz each)
4 lean pork loin chops, thin cut (about 4 oz each)
Produce:
fresh ginger root
1 head garlic
1 bunch green onions
1 lemon
1 lime
fresh rosemary
small bunch flat leaf parsley
2 medium onions
1 shallot
fresh sage (use in the pork chops instead of dried sage, as well as in the pasta bake)
2 apples
1 head romaine
1 head leaf lettuce
4 roma tomatoes
4 carrots
Dairy:
1 bag low fat shredded mozzerella
small container fat free Greek yogurt
small container fat free or lowfat sour cream
small block reduced fat cheddar cheese
1 pint fat free half and half
small container lowfat milk (or use the fat free half and half in the pasta bake instead)
shredded parmesan
butter
Pantry:
1 small can pineapple
1 jar pizza sauce or marinara
1 packet active dry yeast
all purpose white wheat flour
cake flour
cornstarch
canola oil
low sodium soy sauce
brown sugar
red pepper flakes
1 15 ounce can cannelini beans, drained
1 15 ounce can Great Northern Beans
red wine vinegar
olive oil
cumin
oregano
1 16 oz jar salsa verde
2- 28 ounce cans diced tomatoes, no salt (undrained)
1 can low sodium vegetable broth
1 loaf whole wheat or whole grain bread
1 can pumpkin puree
2 cups dry penne
grated nutmeg
panko breadcrumbs
chopped pecans (check the bulk foods section and buy a very small amount)
unsweetened apple juice (small container)
apple cider vinegar
maple syrup (or sub brown sugar)
dried onions flakes
Worchestershire sauce
whole wheat cous cous
brown rice