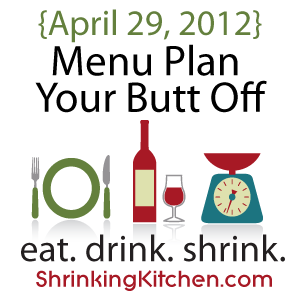 Ahhh. It's Saturday night and here I am, menu planning. What a life, eh?
The good thing is, I can go to bed tonight knowing what I'm feeding my family for the next week. And lucky for you, I'm sharing. Just peruse the menu and print out the grocery list. Easy peasy.
I'm pretty excited for this week's menu. There's lots of diversity, so no one will get bored. And, as always, it's healthy.
Have a great Sunday and an even better week!
*****
Monday:  Zesty Black Bean Soup  (if you're doing Meatless Monday, use veggie broth instead of beef) with warmed corn tortillas and melon slices and grapes.
Tuesday: Creamy Cajun Shrimp Linguini, green salad with carrots and apple.
Wednesday: Slow Cooker Char Siu with brown rice and quick stir fry of peppers and broccoli – garnish with green onion. Don't forget to marinate the pork overnight!
Thursday: Tarragon Chicken Salad  and fresh baby spinach served in whole wheat wraps.
Friday:  Hearty Taco Casserole. This recipe is the most popular on Shrinking Kitchen. Why? Cause it's awesome.
Saturday: Out to dinner, takeout or leftovers!
Sunday: Parmesan Crusted Chicken with Lemon Basil Rice with Parmesan and sliced tomatoes.
Dessert: Cocoa Oat Truffles
Snack: Skinny Pimento Cheese with celery and carrots for dipping.
Menu plan is for 4 people, adjust accordingly. Also, I realize this is a long grocery list, but I'm positive you'll find a lot of things already in your pantry!
Grocery List
Protein:
1 pound medium shrimp, peeled and deveined
boneless skinless chicken breasts (6)
1/2 pound lean ground beef
2 pounds boneless pork shoulder
Dairy:
butter
fat free half and half
fat free plain Greek yogurt
light sour cream
dozen eggs
reduced fat shredded cheddar cheese
Parmesan cheese
Produce:
red bell pepper (2)
mushrooms (8 oz)
flat leaf parsley (bunch)
lemon (1)
celery (bunch)
fresh tarragon
green grapes (small bunch)
green onion (bunch)
apple (2)
onions (2)
poblano pepper (1)
green pepper (1)
garlic (1 large head)
tomato (3)
lettuce (1 head leafy green)
cilantro (bunch)
fresh basil (enough for 1/4 cup, chopped)
carrots (6 medium)
baby spinach (1 bag)
broccoli (1 crown)
melon of your choice
ginger root
Pantry:
1 (14-ounce) can fat-free, less-sodium chicken broth
linguine
all-purpose flour
salt free Cajun seasoning (I found mine in the bulk spices at my local supermarket)
light mayonnaise
dry roasted almonds (enough for 1/4 cup)
brown rice
baking powder
Italian seasoned breadcrumbs
taco seasoning (1 envelope)
salsa
basmati rice
olive oil
corn tortillas
whole wheat wraps (I like Flat Out)
olive oil
2 cans low sodium black beans
2 cans low-sodium beef broth (you could easily sub vegetable broth to make this vegetarian/vegan)
chipotle chili powder
cumin
cayenne
dry oregano leaves
bay leaf
low-sodium soy sauce
hoisin sauce
ketchup
honey
sesame oil
five-spice powder
1 can less-sodium chicken broth
cornstarch
pimentos (1 jar)
rolled oats
pitted dates
unsweetened cocoa powder
almond butter
pure vanilla extract
ground nutmeg
ground cinnamon