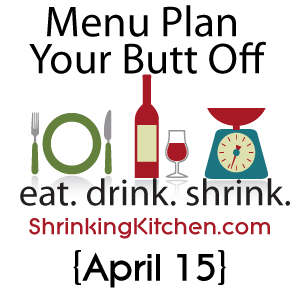 Happy Sunday! Menu Plan Your Butt Off is a weekly feature running each Sunday. Join us as we plan out our weekly menus, share delicious recipes and even provide you with a grocery list. I know! We pretty much rock. Click here to subscribe so you don't miss a thing! Weeks and weeks worth of menu plans can be found on this tasty page!
MONDAY:  Veggie gyros.
TUESDAY:  Slow cooker creamy ranch chicken. Ranch + Chicken… How can this be wrong?
WEDNESDAY:  Quinoa-Crusted Chicken Fingers. My kids will loooove these!
THURSDAY:  Tex-Mex Rice Bowls. We North Dakotans love our Tex-Mex.
FRIDAY: Pizza Night. This week let's try the Stir-Fry Vegetable Pizza.
SATURDAY: Take.Momma.Out. Add a glass of beer. The.End.
SUNDAY: Grilled Chicken & Spinach Salad w/Balsamic Vinaigrette.
SNACKS: Puffed-Up Chocolate Chip Cookies.
In celebration of this, our 100th post, I will be making Frozen Chocolate-Covered Bananas. 100 calories a pop! Mmmmm!
For your shopping pleasure, a printable grocery list for all the recipes listed above!
PRODUCE
pico de gallo, fresh 1 c
jalapeño pepper, 1
cilantro, fresh
baby spinach, 7 oz
basil leaves, 1/4 c
shallots
bananas, 4 ripe
garlic
lemon juice, 2 Tbsp fresh-squeezed
carrot, 1
grape tomatoes, 1 1/2 c
red bell pepper
red onion
tomato, small
avocado
onion, 1 small
MEAT
ground sirloin, 8 oz
chicken tenders or skinless boneless breasts, 5 lbs
BREADS & PANTRY
white balsamic vinegar, 3 Tbsp
falafel balls, 6 (you could also use seitan, tempeh or veggie burgers)
white or wheat round flat-bread, 2 pieces
seasoned rice, 1/4 c
paprika
dill pickles, 2
harissa or non-spicy option
tahini sauce
chicken broth, 1/2 cup, organic or low-sodium
Simply Organic ranch dip mix, 1 packet
all-purpose flour
cornstarch
vanilla
applesauce, 1/2 c
brown sugar, 1 c
baking powder
cooking spray
chocolate chips
precooked brown rice, 1 pouch 8.8 oz
taco seasoning, less sodium
whole-kernel corn, frozen, 1/2 c
Tortilla chips
organic black beans, 15 oz can
salt
kosher salt
garlic
oregano
garlic powder
freshly ground black pepper
paprika
red or white quinoa, 2 cups
whole wheat or seasoned breadcrumbs, 1/2 cup
olive oil
semisweet or bittersweet chocolate chips, 3/4 c
shredded coconut, 1/4 c
DAIRY
eggs, 3
butter, 1/2 c
half & half (could use fat free), 1/3 c
reduced-fat cream cheese, 3 oz

We try to keep our recipes on the healthy side, but if you want to get in some extra exercise, join us in training for the virtual 5K/10K we are sponsoring! We have awesome tees and even finisher's medals to celebrate your accomplishment! Register here by April 20th:
For more tasty menus, go here:
See you next week! Happy cooking!