Who out there is doing a Whole 30 or considering it? Christy and I have been following the Whole 30 plan (okay, on and off) for the last three or so months and I think I can speak for her when I say we both love it. Well, love/hate. I'm not going to lie, it's work. But it's doable work. To quote the creators of Whole 30:
"It is not hard. Don't you dare tell us this is hard. Quitting heroin is hard. Beating cancer is hard. Drinking your coffee black. Is. Not. Hard. You won't get any coddling, and you won't get any sympathy for your 'struggles'."
And it's true. It's not always fun, but the way we feel – more energy, less bloating, better skin, even better sleep – makes it all worth it.
For me, the challenge is that I get stuck in a rut, eating identical meals each day. It works, but it's boring. And when I get bored, I daydream about donuts and buttered toast.
I thought it'd be fun and helpful to create a Menu Plan Your Butt Off that's totally Whole 30 compliant. Of course, you can use this menu if you're not doing Whole 30. The recipes are some of my favorite, on or off plan.
If you've got questions about the Whole 30, definitely check out It Starts With Food to get a good feel for the program. It's a quick read and full of good information.
Enjoy this week's recipes!
Full disclosure: This post includes links to products. If you buy any of those products, we get a little money. 
---

---
---
---
Thursday: Loaded Vegetable Frittata (leave the cheese off) with a green salad.
---
Friday: Go out to dinner. You've been cooking all week. Have a bunless burger with all the (sugar, dairy and grain free) fixings. Or head to Chipotle. It's pretty easy to put together a complaint salad. (Yes, we know guac is extra)
---

---
---
Menu Plan Your Butt Off
Grocery List
Creamy Cauliflower Soup
1 large head of cauliflower
1 tablespoon coconut oil
1 medium onion
2 large carrots
2 cloves garlic
2 vegetable broth
1 can full fat coconut milk (I use this in place of the drinkable coconut milk)
salad greens and your favorite fixings that are Whole 30 compliant
Coconut Lime Chicken Curry
15 ounces coconut milk (use full fat if you're doing Whole 30)
3 tablespoons red curry paste (we like Thai Kitchen)
1 pound chicken breast
1 red bell pepper
cilantro sprigs
3 medium russet potatoes
1 lime
1 tablespoon fish sauce (use a compliant one, like Red Boat)
Spicy Avocado Tuna Lettuce Wrps
Please note I doubled the ingredients for this recipe to serve 4.
2 cans albacore tuna
2 ripe California Avocados
1 red bell pepper
2/3 cup California hot mix pickled vegetables or giardiniera (but that won't be spicy)
8 large leaves of red or green leaf lettue – bibb also works well
Loaded Vegetable Frittata
Leave the cheese out of the recipe to be Whole 30 compliant
6 eggs
2 green onions
1 cup zucchini
10 kalamata olives
2 cups fresh spinach
1 cup sliced mushrooms
1 medium tomato
leafy greens and your favorite Whole 30 compliant salad fixings
Chicken Cacciatore with Spaghetti Squash
4 boneless, skinless chicken thighs or breasts (cut into bite-size pieces)
1 medium onion
1 large red or green bell peppers
2 cloves garlic
1 cup Whole 30 compliant chicken stock (check ingredients to make sure there's no hidden sugar)
1 28 ounce can diced tomato (check for sugar)
1 8 ounce can tomato sauce (check for sugar)
1/2 teaspoon dried oregano
½ teaspoon dried thyme
1 teaspoon dried basil
1 yellow squash
1 small spaghetti squash
Cod with Green Chile Salsa
1 pound of True or Black Cod
Pasilla, Anaheim and Jalapeno peppers
¼ cup of combined, chopped cilantro and Italian parsley
1 very juicy lime
1 avocado
1 garlic clove
1 small shallot
1 teaspoon of capers
leafy green lettuce and your favorite salad fixings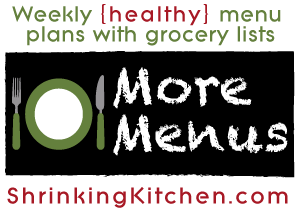 find more menu plans here!
Advertisement