As summer draws to a close, it seems like I have less and less time to spend in the kitchen. Trying to make the most of those fleeting summer evenings, splashing in the pool, chasing fireflies, and playing hide-and-go-seek are my priority right now. Not cooking. So this week I'm rerunning this fantastic 30-minutes and less healthy menu plan, because I need fast and easy so I can enjoy the rest of summer!
This week's healthy menu plan features 6 meals + 1 breakfast + snacks and sides that you can have on the table in 30 minutes or less.
Enjoy all the extra time you WON'T be spending in the kitchen this week.
Monday: Garlicky Meatballs and Pasta. Can't go wrong there! This recipe sounds DIVINE, and I can't wait to try it. I plan to make a double batch of meatballs and so we can have meatball sandwiches later this week. Serve with a super-fresh Strawberry-Basil Salad.
From MyRecipes.com Garlicky Meatball PastaPhoto: José Picayo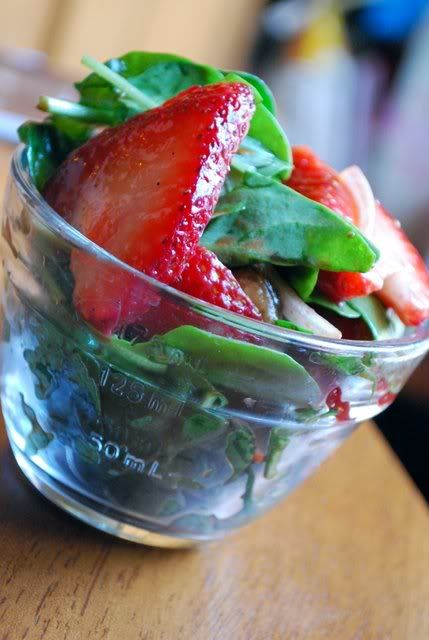 Tuesday: Fish Cakes with Broccoli Slaw – quick, easy, and a little out of the ordinary!
Wednesday: Meatball Sandwiches! Stuff those extra meatballs you made on Monday into some hoagie rolls, top with grated Parmesan cheese and thinly sliced onion, and bake until warmed through. Whip up a batch of Baked 'Fried' Pickles for your side dish!
Thursday: Skinny Cajun Chicken Penne  with a fresh spinach salad with balsamic vinegar and olive oil dressing and some freshly shaved Parmesan cheese. If you have any leftover hoagie rolls, you can heat them and serve sliced with a little olive oil sprinkled freshly ground pepper/dried basil/red pepper flakes for dipping.
Friday: GO OUT TO DINNER! You've had a long week.
Saturday Breakfast: Migas served with refried beans and warm whole wheat flour tortillas.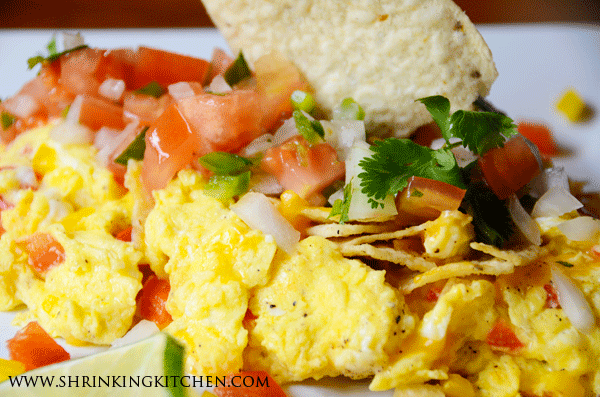 Saturday Dinner: This Quick and Easy Taco Soup is a total pantry raider, and ready in record time. Sprinkle on some shredded Mexican cheese, and serve it with tortilla chips
Sunday: Juicy Parmesan Crusted Baked Chicken served with roasted red peppers and steamed peas. To roast the red peppers, cut top and bottom off peppers, pull out the inside seeds, then stand on end and slice in half, then into vertical strips. Put in a 400˚ preheated oven for about 20-25 minutes or until edges start to blacken a bit. This meal will taste like a meal you spent WAY more than 30 minutes on!
Snacks & Extras:
Moist Fudgy Brownies  – while they take a little more than 30 minutes, they're totally worth a little extra work!
Menu Plan Your Butt Off Grocery Shopping List – Dinner in 30 Minutes or Less
Produce
romaine lettuce (8 cups, torn)
1 12 oz bag of broccoli slaw (you can find this by the bagged salads in the market)
1 small bag of spinach
strawberries (2 pounds)
Vidalia or other sweet onion (1 medium)
yellow onion (small)
garlic
green onions
lemon
(4) red bell pepper
(1) yellow bell pepper
dill, a few "sprigs"
fresh basil (2/3 cup)
fresh salsa (or cilantro/onion/jalapeño/tomato for fresh pico)
Dairy
butter (1/4 cup)
eggs (1 dozen)
half & half (small container)
2% shredded Mexican cheese blend
fat-free greek yogurt (large container)
Parmesan cheese (block)
9 ounces refrigerated fettuccine
skim milk
Breads
whole wheat tortillas
hoagie rolls
Meat
4 boneless, skinless chicken breasts (about 1 1/4 pounds)
2 lb 12 oz lean ground beef
1 pound chicken breast tenderloins
Frozen
frozen peas
Pantry
2 jars (2-1/2 ounces each) prune baby food
canola oil
olive oil
balsamic vinegar
vanilla extract
pecans (1/3 cup chopped)
confectioners sugar
all-purpose flour (3 cups)
baking cocoa
baking soda
baking powder
semisweet chocolate chips (1-1/4 cups)
unsweetened applesauce (1/2 cup)
salt
black pepper
Italian seasoned dry bread crumbs (1/4 cup)
Panko bread crumbs (3 cups)
2 jars lower-sodium marinara sauce
6 ounces of whole grain penne pasta
California Sun Dried Tomato Paste Spread (found near pasta sauce)
2 –  14.75 oz cans of salmon (I prefer sockeye)
Old Bay Seasoning
hot sauce (like Franks or Tabasco)
cayenne pepper
low fat mayonnaise (1/4 cup)
apple cider vinegar
sugar
seasoning salt
1/4 teaspoon dried basil
1/2 teaspoon dried parsley
1 can refried beans
2 cans Ro-Tel diced tomatoes
1 can kidney beans
1 can black-eyed peas
1 packet taco seasoning
1/2 packet of Hidden Valley Ranch dry mix
Tony Chachere's Lite Creole seasoning
pickles, sandwich-style, 1 jar
shrinkingkitchen.com
We try to keep our recipes on the healthy side, but if you want to get in some extra exercise, join us in training for the virtual 5K/10K we are sponsoring! We have awesome tees and even finisher's medals to celebrate your accomplishment! Register here: