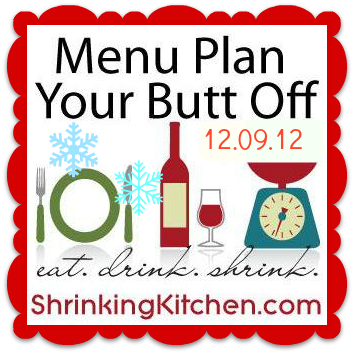 It's Sunday again and it's time to menu plan! But the best part for you? You don't HAVE to plan. I did it for you. All you have to do is print off the handy dandy grocery list at the end of this post and make your merry way to the grocery store.
I know the holidays are nuts, so I've included a few slow cooker recipes and lots of quick fix dinners. No fuss, no muss. Plus, all of these dishes make excellent leftovers, so you'll be set for lunch the next day.
Score, right?
Don't forget, we do this every single week. For free. So we'll see you next week, okay?
Happy cooking!
*****
Monday: Lightened Up Spinach Lasagna
Tuesday: Slow Cooker Moroccan Apricot Chicken with Whole Wheat Cous Cous.
Wednesday: Pampered Chef Taco Ring.
Thursday: Quinoa Bake with Spinach and Mushrooms.
Friday: Leftovers, take out or out to dinner! It's been a long week!
Saturday: Light and Speedy Chicken Cutlets with Mixed Green Salad with Parmesan.
Sunday: Crockpot Beef and Mushroom Stew from PaleOMG.
Snack: Cherry Almond Energy Balls.
Printable Grocery List
Protein:
1 lb lean 96/4 ground beef
8 chicken tenderloins
1 1/4 pounds boneless skinless chicken breasts
1.5-2lbs beef stew meat
Produce:
1 medium bell pepper
3 cups lettuce, shredded
3 medium tomatoes
3 onions
1 head garlic
1 lemon
leafy greens
1 medium red bell pepper
3 medium carrots
2 cups portobello mushrooms
6 oz fresh baby spinach
fresh thyme
1 package sliced button mushrooms
1 package whole shiitake mushrooms
2 package baby portobello mushrooms
1 sweet potato, chopped
1 cup pearl onions
Dariy:
1 cup reduced-fat shredded cheddar cheese (4 ounces)
2 (8 ounce) packages reduced-fat refrigerated crescent dinner rolls
light sour cream
1 stick butter
eggs
1 cup shredded parmesan
8 ounces part skim ricotta cheese
8 ounces part skim mozzarella cheese
Frozen:
1 package frozen spinach
Pantry:
1 (1 1/4 ounce) packages taco seasoning mix
1 cup salsa
small can pitted ripe black olives
olive oil
panko breadcrumbs
whole wheat flour
garlic powder
3/4 cup pitted dates
1 cup dried cherries
1 cup raw almonds
1/2 cup dried apricots
1 (15-ounce) can garbanzo beans
white wine vinegar or cider vinegar
paprika
curry powder
red chili flake
ground cumin
ground cinnamon
1 can 99% fat free chicken broth
whole wheat cous cous
cornstarch
8 whole wheat lasagna noodles
freshly grated nutmeg
1 15 ounce can low sodium diced tomatoes
1 15 ounce can low sodium tomato sauce
dried Italian herbs
baking powder
quinoa
1 can low sodium beef broth
balsamic vinegar
red wine vinegar
bay leaf
onion powder
dried rosemary
dried sage
dried parsley