It's Sunday, and that means it's time for a brand new, healthy AND FREE Menu Plan Your Butt Off. That's right! We plan, you print out the grocery list, shop and you're set with a full week of healthy dinners! Trust me, you'll be glad you took the time to read, check out the recipes and do a little pre-planning when Wednesday hits you smack in the face and you don't have the time or energy to plan a meal.
This last week, we've published some really wonderful recipes, which I've highlighted this week, along with some tried and true classics.  You'll get to fire up the slow cooker a few times, have breakfast for dinner (who doesnt' love that?), dig into some healthy comfort foods and even have some fudge. Yes, fudge (okay, this isn't your grandmother's fudge, but it is delish, promise!).
If this menu plan isn't full of stuff you love, head on over to our archives where we've got over a year's worth of healthy menu plans! You're sure to meet your perfect menu match.
With that, have a beautiful day and happy cooking (and eating)!
Weekly Healthy Menu Plan
Monday: Breakfast for dinner! Loaded Vegetable Frittata with sliced melon.

Tuesday: Andouille Sausage Stuffed Sweet Potato Boat with green salad.

Wednesday: Mom's Black Eyed Peas with with baked chicken breasts and steamed green beans.

Thursday: Lightened Up Crockpot Beef Stroganoff with steamed frozen peas.

Friday: GO OUT!!!
Saturday:Creamy Cauliflower Soup with a big green salad. 
Sunday: Slow Cooker BBQ Beer Chicken served on whole wheat buns with baked sweet potato fries. 

Something Sweet: Clean Apricot Almond Fudge
GROCERY LIST
Loaded Vegetable Frittata
6 eggs
1/4 teaspoon salt
freshly ground pepper
1 tablespoon olive oil
2 green onions, greens and whites, chopped
1 cup zucchini, thinly sliced
10 kalamata olives, chopped
2 cups fresh spinach, roughly chopped
1 cup sliced mushrooms
1 medium tomato, seeded and diced
1 ounce grated parmesan
1 melon of your choice
Andouille Sausage Stuffed Sweet Potato Boats
1 fully cooked Andouille sausage link
2 large sweet potatoes or yams
1 celery stalk=
1 sweet onion
½ red bell pepper
½ yellow or orange bell pepper
1 15 oz can of red kidney beans
1 16 ounce jar of salsa verde
¼ cup queso fresco cheese
1 head leafy green lettuce and your favorite salad fixings
Mom's Black-Eyed Peas
2 slices of lean smoked bacon
6 ounces ham
½ cup red onion
1 jalapeno
1 clove garlic
¼ teaspoon smoked paprika
½ teaspoon ground cumin
1 15 ounce can diced tomatoes
1 15 ounce can black-eyed peas
1 pound fresh green beans
1 pound bone in chicken breasts, skin removed
Crockpot Beef Stroganoff
1 (1-pound) top round steak (1 inch thick), trimmed
1 cup chopped onion
2 tablespoons chopped fresh parsley
2 tablespoons Dijon mustard
1/2 teaspoon dried dill
2 cups sliced mushrooms
3 garlic cloves, minced
1/3 cup all-purpose flour
1 cup beef broth
a few shakes of Worchestershire Sauce
1 (8-ounce) container low-fat sour cream
package whole wheat rotini or egg noodles
package of frozen peas
Creamy Cauliflower Soup
1 large head of cauliflower
1 tablespoon coconut oil
1 medium onion
2 large carrots
2 cloves garlic
2 cups water or vegetable broth
1/2 cup coconut milk (unsweetened)
1 head leafy green lettuce and salad fixings of your choice
Slow Cooker BBQ Beer Chicken
1 tbsp onion powder
1 tbsp paprika
2 cloves garlic
1 cup beer
18 ounces barbecue sauce (I used Stubb's all-natural sauce)
3 pounds boneless, skinless chicken breasts
package whole wheat hamburger buns
package frozen sweet potato fries
Clean Apricot Almond Fudge
1/2 cup coconut oil
1/2 cup cacao powder (you could also use cocoa powder)
1/4 cup raw honey
1/2 cup chopped dry roasted almonds
1/2 cup dried apricots, chopped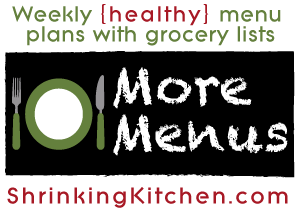 find more menu plans here!
Advertisement