Welcome to the Shrinking Kitchen! This week's Menu Plan Your Butt Off is full of healthy, hearty meals that will satisfy everyone in your family. A little Asian, a little Italian, some curry, and even breakfast for dinner. I'm pretty sure that just about covers all the bases.
If you're new to Shrinking Kitchen, welcome!! Menu Plan Your Butt Off is an entire week's worth of healthy dinners PLUS a printable grocery list, just for you.  All for free. Seriously. We take the guesswork out of dinners and give you a grocery list. And all the nutritional information is included. Even Weight Watchers Points Plus!
Enjoy your meals this week, and don't worry about being eternally grateful to us. We enjoy planning, and we hope to see you back next week.
Monday: Spicy Peanut Soup with a spinach salad and fresh bread
Tuesday: Slow Cooker Chicken Pepperoni Marinara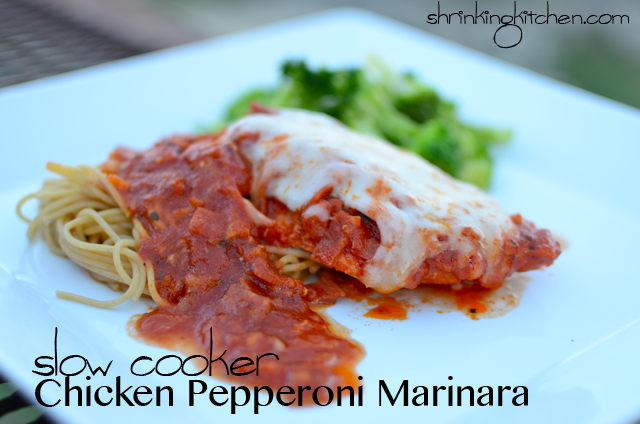 Wednesday: Tim's Grilled Curried Chicken Salad
Thursday: Breakfast for dinner!! Baked Egg, Spinach, and Feta Wraps and a yummy fruit salad
Friday: Go out to dinner. You've been cooking all week!
Saturday: Showy Cowboy Steak with Avocado and Tomato Salad
Sunday: Blackened Tilapia Tacos with Kiwi-Lime Salsa
Breakfast: Whatever Is In Your Cupboard Cereal Bars
Grocery List
Spicy Peanut Soup
1 tablespoon coconut oil
2 cups chopped onions
1 cup diced celery
2 tablespoons peeled and grated fresh ginger
1 tablespoon Sriracha or Tobasco
4 cups peeled chopped sweet potatoes
3 cups water
1 can diced tomatoes (low sodium)
3 cups low sodium vegetable broth
1 cup smooth peanut butter
1 cup roughly chopped cilantro plus a little extra for serving
bag spinach
sesame lime dressing
baguette bread
Slow Cooker Chicken Pepperoni Marinara
Cooking Spray
2-4 cloves of minced garlic
16 slices of pepperoni, coarsely chopped*
1/4 teaspoon of dried oregano
1 1/2 cups of lower-sodium marinara sauce
2 tablespoons of chopped fresh basil (or 1/2 tsp of dried)
2 teaspoons olive oil
1 1/2 pounds of chicken cutlets
1/4 teaspoon freshly ground black pepper
1 cup shredded part skim mozzarella cheese
whole wheat pasta
Tim's Grilled Chicken Curry Salad
For the Salad
1 1/2 teaspoon curry powder
1/2 teaspoon salt
1/4 teaspoon sugar
1/4 teaspoon ground cumin
1/8 teaspoon black pepper
1 pound boneless, skinless chicken breasts, tenderized
2 cups brown rice
1 ripe mango, peeled, pitted and diced
1/4 cup raisins (if desired)
3 green onions, sliced
1/4 cup sliced almonds, toasted (if desired)
Dressing:
1 tablespoon lemon juice
1 tablespoon key lime juice
1 teaspoon honey
1/4 teaspoon salt
1/8 teaspoon curry powder
1/8 teaspoon black pepper
3 tablespoons olive oil
Baked Egg, Spinach, and Feta Wraps
2 whole eggs
6 egg whites
1 teaspoon olive oil
4 ounces fresh baby spinach
1 1/2 cups sliced mushrooms
2 green onions, sliced thin
2 tablespoons sun dried tomatoes packed in oil
6 whole wheat tortillas (I used La Tortilla Factory)
1 ounce feta cheese, crumbled
olive oil spray
assorted fruit for a fruit salad
 Showy Cowboy Steak
2 ea. 2-lb sirloin steaks
2 small French baguettes, fresh, cut into 1/4″ slices
Spreadable butter substitute, to taste
Garlic salt, to taste
For the chimichurri-style sauce
1/2 cup fresh Italian flat leaf parsley, minced
1/2 cup fresh cilantro, minced
1/4 cup fresh oregano, minced
3 cloves minced fresh garlic
1 cup extra virgin olive oil
Salt and fresh ground black pepper, to taste
For the steak baste
2 Tbsp cayenne pepper
1 Tbsp salt
1 tsp garlic powder
1 cup hot water
Avocado and Tomato Salad
1 pint of grape or cherry tomatoes, halved
1 large avocado, peeled, pitted and chopped
1/2 small purple onion, diced
large handful of cilantro, roughly chopped
1 small lime, juiced
1 tablespoon olive oil
salt and pepper to taste
Blackened Tilapia Tacos with Kiwi-Lime Salsa
For the Salsa
5 kiwi(s), diced
1 green tomato, finely diced
1/2 red onion, finely diced
1/2 bunch cilantro, chopped
1/2 jalapeno, finely diced
2 limes, juiced
1/4 tablespoon sugar
salt to taste
For the Blackened Seasoning
1 tablespoon cumin
1 tablespoon fresh cracked pepper
1 tablespoon chile powder
1 tablespoon garlic powder
1/2 tablespoon salt
For the Tacos
1 tablespoon oil (I used avocado, feel free to use whatever)
1 1/2 lbs tilapia, thawed if frozen
10 small street taco sized corn tortillas
2 avocados, sliced
3 cups shredded green cabbage
Cereal Bars
4 cups cereal of your choice (for nutrition info, I used whole grain cheerios)
1 cup rolled oats
1/2 teaspoon baking soda
1/2 cup oat flour (oat flour recipe below)
1 teaspoon vanilla extract
2 tablespoons coconut oil (optional)
1/2 cup agave
3 tablespoons applesauce