Hello wonderful people! Thanks for stopping by for yet another edition of Menu Plan Your Butt Off, our weekly FREE menu plan (healthy menu plan, at that), with a printable grocery list!
This week's menu plan is full of things I love. Veggies, a warming soup,  a healthed-up version of sloppy joes, a lovely slow cooker recipe and one of my favorite one pan recipes – goulash! Yum. And so incredibly easy. I've also included a delish muffin recipe – Lemon Blueberry…yum. Make a batch (or even double it) and freeze single muffins in sandwich bags. They're a quick grab and go breakfast – pull it out, defrost it for a few seconds and enjoy with a nice cup of coffee or tea.
Sound good? Well, it's your lucky day. Just print the grocery list, hit the market and you're set for a week's worth of dinners. Simple and healthy!
If this menu plan isn't full of stuff you love, head on over to our archives where we've got over a year and a half's worth of menu plans! You're sure to meet your perfect menu match.
With that, have a beautiful day and happy cooking (and eating)!
Weekly Healthy Menu Plan
Monday: Mediterranean Veggie Pita

Tuesday: Lightened Up Cream of Broccoli Soup with crusty wheat baugette.

Wednesday: Slow Cooker Creamy Ranch Chicken with steamed asparagus.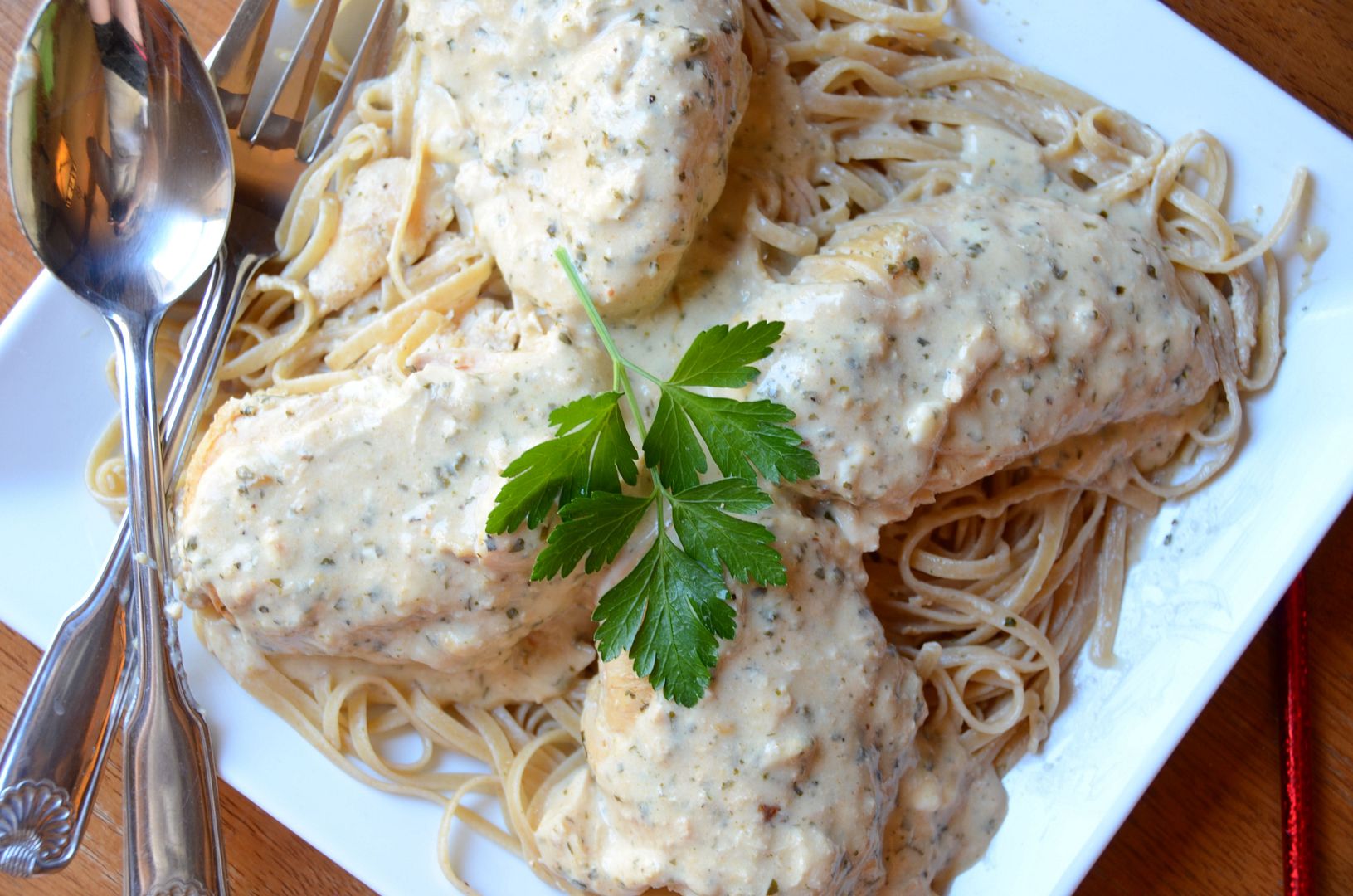 Thursday: Sweet & Sour Sloppy Joes topped with broccoli slaw tossed in a few teaspoons sesame oil.
Friday: GO OUT!!!
Saturday: One Pan Goulash with simple tossed green salad.

Sunday: Easy Cutlets with Pan Sauce, served with steamed green beans and quinoa.

For Breakfast: Lemon Blueberry Muffins

GROCERY LIST
Mediterranean Veggie Pita (this recipe serves 3, adjust accordingly)
whole wheat pita bread, 3 slices
red, orange, or yellow pepper, 1 pepper
kalamata olives, 12 cut in halves
onion, 1/2 cup
asparagus, 8 spears
zucchini (or cucumbers if you prefer), half a regular-sized vegetable, with slices halved
baby spinach or mixed greens, 1 cup
feta cheese, 2 Tbsp
1 tsp olive oil
Lightened Up Cream of Broccoli Soup
1 medium yellow onion
2 stalks celery
1 medium carrot
1 clove garlic
2 broccoli crowns
4 cups vegetable broth
4 ounces light cream cheese
1/2 cup whole milk
whole wheat baguette (seal tightly or freeze on Sunday till ready to use)
Slow Cooker Creamy Ranch Chicken
cooking spray
1/4 teaspoon paprika
2 pounds of chicken breasts (or thighs) – approximately 6 chicken breasts
1 packet of Simply Organic ranch dip. mix (the powdered stuff)
1/2 cup low-sodium (or organic) chicken broth
salt & pepper for sprinkling
1/2 teaspoon oregano
1/3 cup half & half (could use fat free)
2 teaspoons cornstarch
3 ounces reduced-fat cream cheese
package of whole wheat spaghetti
1 pound of asparagus
Sweet & Sour Sloppy Joes
2 tablespoons olive oil
4 scallions, chopped
1/2 red bell pepper, diced
1 tablespoon grated fresh ginger
pinch of red pepper flakes
1 pound 99% fat free ground turkey
1/4 cup low sodium soy sauce
3 tablespoons honey
1/4 cup tomato paste
3/4 cup water
4 whole wheat hamburger buns, split
bag of broccoli slaw
2 teaspoons sesame oil
One Pan Goulash
1 pound lean ground beef
1 medium onion, diced
4 cloves garlic, minced
1 zucchini, shredded
1 can diced tomatoes (do not drain), no salt added
2 cups low sodium beef broth
4 tablespoons tomato paste
2 tablespoons dried Italian herbs (basil, rosemary, oregano)
1 cup uncooked whole wheat elbow macaroni
1 cup mushrooms
head of green, leafy lettuce
pint of cherry tomatoes
oil and vinegar for dressing
Easy Cutlets with Pan Sauce
4 chicken or pork cutlets
salt and pepper to taste
2 tablespoons whole wheat flour
¾ cup broth or white wine
1 tablespoon lemon juice
1 teaspoon lemon zest
1 tablespoon capers
1 package of quinoa
1 pound fresh green beans
Lemon Blueberry Muffins
Please note, this recipe only makes 6, so you may want to double it!
1/4 cup old-fashioned oats
1/4 cup freshly squeezed lemon juice
1 flax egg (1 Tablespoon flax meal & 3 Tablespoons water, mix, place in fridge for 15 minutes)
1 tablespoon coconut oil, melted
1/2 cup all-purpose flour
2 tablespoons raw sugar
1/8 teaspoon baking powder
1/8 teaspoon baking soda
1/3 cup fresh blueberries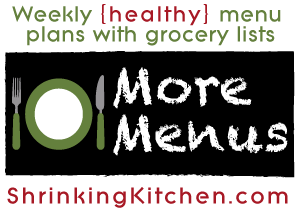 find more menu plans here!
Advertisement