Hello friends! Welcome to this weeks edition of Menu Plan Your Butt Off!
If you're new to Shrinking Kitchen, check it out: we've got an entire week's worth of healthy dinners PLUS a printable grocery list.  All for free. Every single week!
This week is all about comfort and ease. And for those of us in the United States, Thanksgiving is Thursday. I surrounded that indulgent day by some lighter meals. And threw in a refreshing seasonal smoothie – a nice, light but filling breakfast before you head out shopping next weekend!
Is this week's plan not your cup of tea? No worries. We've got so many more more over here. There are so many you're sure to find a plan that's right for you!
So on with the yummy menu plan for this week!
*****
Monday: Light and Creamy Orzo Primavera with served with a big leafy green salad. 
Tuesday: Lightened Up Crock Pot Beef Stroganoff with steamed green beans.
Wednesday: Easy Weeknight Lo Mein. 
Thursday: THANKSGIVING!
Friday: Slow Cooker Gluten Free Minestrone.

Saturday: Quinoa and Beef Stuffed Bell Peppers.

Sunday: Easy Peasy Pea Soup
Snacks and Breakfast: Whole Wheat Chocolate Cherry Muffins & Cranberry Ginger Smoothie
Healthy Menu Plan Printable Grocery List
Light & Creamy Orzo Primavera
1 cup uncooked orzo
1 tablespoon butter
2 cloves garlic, minced
1 tablespoon flour
3/4 cup lowfat milk
1/3 cup shredded Parmesan cheese
1 cup frozen peas
2 cups broccoli florets, fresh or frozen
1 cup carrots, sliced, fresh or frozen
head of leafy green lettuce and your favorite salad veggies
Lightened Up Crock Pot Beef Stroganoff 
1 (1-pound) top round steak (1 inch thick)
1 cup chopped onion
2 tablespoons chopped fresh parsley
2 tablespoons Dijon mustard
1/2 teaspoon dried dill
2 cups sliced mushrooms
3 garlic cloves
1/3 cup all-purpose flour
1 cup beef broth
a few shakes of Worchestershire Sauce
1 (8-ounce) container low-fat sour cream
package light egg noodles or whole wheat rotini
1 pound fresh green beans
Easy Weeknight Lo Mein
2 tablespoons soy sauce
1 tablespoon rice wine vinegar
2 tablespoons raw honey
1 teaspoon toasted sesame oil
2 teaspoons grated fresh ginger
2 cloves garlic
1/2 teaspoon hot chili sauce
1 teaspoon cornstarch
8 ounces grilled chicken breast, cut into bite sized pieces (or use rotisserie chicken)
8 ounces dry whole wheat spaghetti
2 large carrots
4 cups cabbage
2 green onions
Slow Cooker Gluten Free Minestrone
4 cups vegetable stock (low-sodium, if using store bought)
1 lb lean ground turkey
1 tablespoon oregano
2 large carrots
1 stalk celery
2 cloves garlic
1 small yellow onion
2 15-oz cans organic Great Northern beans
1 6-oz can organic tomato paste
Quinoa & Beef Stuffed Bell Peppers
1 cup of raw quinoa, cooked according to package
1/2 pound of lean ground beef
4 green bell peppers
1/2 yellow onion
2 carrots
1 teaspoon of dried basil
1 teaspoon of dried oregano
1 15 ounce can of tomato sauce
Easy Peasy Pea Soup
1 Tbsp olive oil
1 small yellow onion
2 cloves of garlic
1/4 pound black forest ham – have the deli slice off a 1/4 pound chunk, then dice it up at home
2 carrots
2 stalks of celery
1 russet potato, peeled and diced
4 cups fat free, low sodium chicken broth
1 lb bag of split peas
1 bay leaf
Chocolate Chip Cherry Muffins
2 cups whole wheat flour
1/3 cup sugar
4 teaspoons baking powder
1/2 teaspoon baking soda
1 large egg
3 tablespoons coconut oil, melted
1/2 cup lowfat sour cream
3/4 cup nonfat milk (I used plain, unsweetened almond milk)
1 teaspoon almond extract
1 cup frozen, unsweetened cherries
1/3 cup semisweet chocolate chips
Cranberry Ginger Smoothie
½ cup frozen cranberries
1 cup pomegranate (or other berry-flavored) lowfat kefir
20g crystallized ginger
½ teaspoon orange zest
½ frozen banana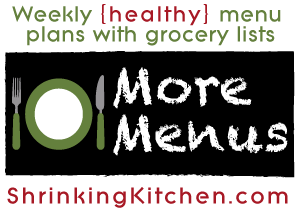 find more menu plans here!
Advertisement