Happy New Year everyone! I can't believe 2015 is here!
No, really. I just had to retype 2015 into the title of this post. Don't worry. I'll have it down by July…
If you're new to Shrinking Kitchen, first of all, welcome! We're glad you're here! Second – we share a new free Menu Plan Your Butt Off every single week. We do our best to put together interesting and delicious menu plans so you can easily stay on track.  Kind of awesome, right?
Just browse through the pictures (and drool). Print the handy grocery list at the end of the post and head to the market. With one shopping trip, you'll be set up for dinner time success all week long.
The new year usually brings with it all kinds of resolutions. We hope that if healthy eating is one of yours, that you'll come back and visit often! And if this menu plan isn't full of stuff you love, head on over to our archives where we've got over a year's worth of healthy menu plans! You're sure to meet your perfect menu match.
Have a beautiful start to 2015, friends!
Weekly Healthy Menu Plan
Monday: Slow Cooker Creamy Ranch Chicken with a big green salad.

Tuesday: Creamy Cauliflower Soup with whole grain rolls.
Wednesday: Garlicky Breadcrumb Pasta served with steamed green beans

Thursday: Juicy Parmesan Crusted Chicken with a side of brown rice and steamed broccoli.

Friday: Head out for a healthy meal or eat some leftovers!
Saturday: One Pan Goulash with a big green salad.

Sunday: Spicy Salmon Cakes with Cool Broccoli Slaw

For Dessert: Chocolate Coconut Chia Pudding

 For Breakfast: Chocolately Pumpkin Oatmeal Smoothie
GROCERY LIST
Slow Cooker Creamy Ranch Chicken
1/4 teaspoon paprika
2 pounds of chicken breasts (or thighs)
1 packet of Simply Organic ranch dip. mix (the powdered stuff)
1/2 cup low-sodium (or organic) chicken broth
1/2 teaspoon oregano
1/3 cup half & half (could use fat free)
2 teaspoons cornstarch
3 ounces reduced-fat cream cheese
head of your favorite leafy green and salad fixings
 Creamy Cauliflower Soup
1 large head of cauliflower
1 tablespoon coconut oil
1 medium onion
2 large carrots
2 cloves garlic
2 cups water or vegetable broth
1/2 cup coconut milk (unsweetened)
package of whole grain rolls
Garlicky Breadcrumb Pasta
8 ounces whole grain pasta like Barilla thin spaghetti
6 cloves of garlic
olive oil
1/2 cup breadcrumbs*
juice of one lemon
1/4 cup fresh Italian leaf parsley
1 pound fresh green beans
Juicy Parmesan Crusted Chicken
4 boneless skinless chicken breasts, about 1 1/4 pounds
1/2 cup fat free greek yogurt
1/4 cup grated Parmesan cheese
1/4 cup Italian seasoned dry bread crumbs
brown rice
1 pound broccoli florets
One Pan Goulash
1 pound lean ground beef
1 medium onion
4 cloves garlic
1 zucchini
1 can diced tomatoes (do not drain), no salt added
2 cups low sodium beef broth
4 tablespoons tomato paste
2 tablespoons dried Italian herbs (basil, rosemary, oregano)
1 cup uncooked whole wheat elbow macaroni
1 cup mushrooms
green leafy lettuce and your favorite healthy salad fixings
Spicy Salmon Cakes with Cool Broccoli Slaw
2 14.75 oz cans of salmon (I prefer sockeye)
1 1/2 cups panko bread crumbs
2 eggs
2 green onion
1/2 cup red bell pepper, diced
1/2 teaspoon Old Bay Seasoning
1 Tablespoon hot sauce (like Franks)
juice and zest of 1/2 lemon
1/2 teaspoon cayenne pepper (add more if you like it spicy!)
1 12 oz bag of broccoli slaw (you can find this by the bagged salads in the market)
red bell pepper
plain, fat free greek yogurt
low fat mayonnaise
apple cider vinegar
sugar
seasoning salt
Chocolate Coconut Chia Pudding
1 cup plain coconut or almond milk
1 teaspoon cocoa
1 teaspoon raw honey
1 tablespoon unsweetened shredded coconut
2 tablespoons chia seeds
Chocolately Pumpkin Oatmeal Smoothie
(please note the recipe is for 1 serving – I've quadrupled the ingredients here so you can serve 4)
2 cup canned pumpkin
1 cup rolled oats (uncooked)
8 tablespoons unsweetened cocoa powder
4 tablespoon honey
4 cups unsweetened almond milk
1/2 teaspoon cinnamon (optional)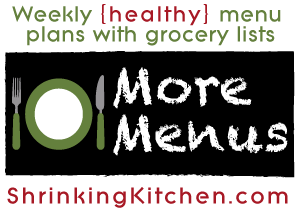 find more menu plans here!
Advertisement