Hello lovely readers! How are you this fine Sunday?
Me? Great! Thanks for asking. I survived Christmas in one piece, though my eating habits have been far from angelic…time to get back on track.
Want to join me? Check out my plan for this week! I think this week's meals look incredible, if I do say so myself. Lots of great, familiar comfort food, but also a few meals that may stretch your taste buds – deliciously. Personally, I like to make it a point to try something new every week. A new fruit, veggie, spice – or a completely new recipe.  I encourage you all to give it a go!
If you're new to Shrinking Kitchen, first of all, welcome! We're glad you're here! Second – we share a new free Menu Plan Your Butt Off every single week.
If this menu plan isn't full of stuff you love, head on over to our archives where we've got over a year's worth of healthy menu plans! You're sure to meet your perfect menu match.
With that, have a beautiful day and happy cooking (and eating)!
Weekly Healthy Menu Plan
Monday: Light & Creamy Dijon Chicken Penne with a big green salad.

Tuesday: Easy Mongolian Beef over brown rice with steamed broccoli.
Wednesday: Kale Smashed Potatoes with Chicken Sausage served with steamed green beans

Thursday: Gingery Pork & Lettuce Wraps with a side of brown rice (if desired).

Friday: GO OUT!!!
Saturday: Mexi-Cobb Salad

Sunday: Mediterranean Pasta Toss.

For Dessert: Guilt Free Chocolate Chip Cookies

 For Breakfast: Orange You Glad Smoothie
GROCERY LIST
Light & Creamy Dijon Chicken Penne
2 boneless, skinless chicken breasts,
6 ounces dry penne
3 cloves garlic
1/2 small onion
1 bell pepper
1 tablespoon grainy dijon mustard
1 cup chicken broth
1/3 cup half and half
1 teaspoon chopped rosemary
head of your favorite leafy green and salad fixings
 Easy Mongolian Beef
1 1/4 lbs of flank steak
1/4 cup of cornstarch
1/2 teaspoon of grated ginger
1 tablespoon of chopped garlic
1/2 cup of soy sauce
1/2 cup brown sugar
1/2 teaspoon of red pepper flakes
3 large green onions
1 pound broccoli florets
brown rice (either traditional or fast cooking)
Kale Smashed Potatoes with Chicken Sausage
4 lowfat chicken sausages
4 yukon gold potatoes
8 ounces kale, roughly chopped, or use frozen kale
2 green onions, diced
2 ounces lowfat shredded cheddar
1 ounce light cream cheese
1/3 cup lowfat milk
1 pound fresh green beans
Gingery Pork & Lettuce Wraps
2 teaspoons sesame oil
1/2 pound ground pork
1 cup mushrooms
1 red bell pepper
1/2 yellow onion
3 cloves garlic
4 ounces water chestnuts
1 cup bagged coleslaw mix (shredded cabbage and carrots)
1/2 cup hoisin sauce
2 teaspoons freshly grated ginger (buy a knob of ginger in the store, keep any unused ginger in the freezer in a tightly sealed bag)
1 Tablespoon rice wine vinegar
2 teaspoons soy sauce
small pinch of red pepper flakes (more or less depending on your palate)
bibb or romaine lettuce leaves, for serving
sesame seeds
green onions
brown rice
Mexi-Cobb Salad
8 ounce bag or container of spring mix lettuce with spinach
1 cup canned kidney beans
15 ounces canned corn, drained (or 2 cups frozen, thawed; or 3 fresh cobbs)
1 avocado, diced
1 red bell pepper
2 1/4 ounce can of sliced black olives
1/2 pound, lean ground beef
1 tbsp dry mix taco seasoning
1 cup cherry tomatoes, sliced in half
1/2 cup salsa
2 tablespoons light sour cream
Mediterranean Pasta Toss
2 small zucchini
10 small sweet bell peppers
1 cup grape or cherry tomatoes
1/2 yellow onion,
2 cloves garlic
1 tablespoon dried Italian herbs
1 15 ounce artichoke hearts in water, drained and sliced in half
1/4 cup sundried tomatoes in oil
1/3 cup balsamic vinegar
1 1/2 cups dry whole wheat penne
1/3 cup crumbled feta cheese
Guilt Free Chocolate Chip Cookies
3/4 cup packed brown sugar
3/4 cup trans fat free soft tub margarine spread
2 large egg whites
2 teaspoons vanilla extract
1 15 ounce can chickpeas
1 cup semisweet chocolate chips
1 cup all purpose flour
1 cup whole wheat flour
1/2 cup rolled oats
1 teaspoon baking soda
Orange You Glad Smoothie
(please note the recipe is for 1 serving – I've quadrupled the ingredients here so you can serve 4)
4 medium orange, peeled
4 serving vanilla protein powder
16 ounces almond milk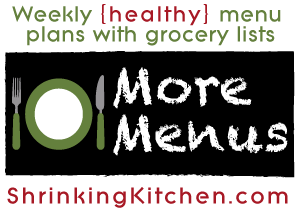 find more menu plans here!
Advertisement