A most glorious Sunday to you all! Welcome to Menu Plan Your Butt Off. If it is your first time visiting Shrinking Kitchen, welcome! We do a brand new, healthy and delicious dinner menu plan weekly. It's free and includes a printable grocery list. Pretty rad, if I do say so myself!
This week we're featuring some fall ingredients – spaghetti squash, pears, apples and sweet potatoes. You'll also find some delicious, family friendly comfort food (HELLO GOULASH!) and a nice riff on pulled pork – in the crock pot and with Asian flavors!
So if you haven't hit the market yet, do yourself a favor and print out the grocery list below…all the guesswork for dinner this week? GONE. Enjoy!
**************
Monday: Spaghetti squash with roasted peppers and tomatoes and a big green salad.
Tuesday: Slow Cooker Char Siu Pulled Pork served with brown rice and steamed broccoli.
Wednesday: Tex Mex Goulash and frozen green beans, steamed until just done.
Thursday: Cheesy Chicken and Rice Bake! Serve with sliced tomatoes with a squeeze of lime juice and a sprinkle of salt.
Friday: You've been busy in the kitchen this week…have leftovers, get some healthy takeout, or go out for dinner!
Saturday: Grilled Fish Tacos with Mango Avocado Salsa
Sunday: Apple Sweet Potato Soup and green salad.
Snack/Breakfast: Perfect Pear Almond Muffins
Printable Grocery List
Spaghetti Squash with Roasted Peppers and Tomatoes
1 spaghetti squash
6 plum or roma tomatoes
2 bell peppers (I used yellow)
4 cloves garlic
1/2 teaspoon dry oregano
1/2 teaspoon dry basil
1/2 cup shredded parmesan cheese
salad greens and your favorite healthy salad fixings
Slow Cooker Char Siu
1/4 cup low-sodium soy sauce
1/4 cup hoisin sauce
3 tablespoons ketchup
3 tablespoons honey
1 clove garlic
small piece fresh ginger
1 teaspoon sesame oil
1/2 teaspoon five-spice powder
2 pounds boneless pork shoulder, trimmed
1/2 cup fat-free, less-sodium chicken broth
2 tablespoons cornstarch
brown rice
1 pound fresh broccoli florets
Tex-Mex Goulash
1 pound lean ground beef
1 small onion
3 medium russet potatoes
2 teaspoons cumin
1 1/2 teaspoons chili powder
1/2 teaspoons oregano
15 ounce can diced tomatoes, no salt added
15 ounce can Whole Kernel Corn, No Salt Added
1 pound bag frozen green beans
Cheesy Chicken and Rice Bake
2 boneless, skinless chicken breasts
4 cups cooked brown rice
1 cup Plain Greek Yogurt
8 ounces reduced fat Monterey Jack cheese
3/4 cup frozen corn
1 15-ounce can reduced sodium black beans
4.5-oz can diced green chiles
3/4 cup chunky salsa
Cilantro, for garnish
4 ripe tomatoes
1 lime
Grilled Fish Tacos with Mango Avocado Salsa
1 pound white fish fillets (hake, cod or tilapia are all great)
1 teaspoon chili powder
pinch cayenne
1 teaspoon cumin
2 cups shredded cabbage
8 corn tortillas
1 cup diced mango (I used frozen chunks, much easier!)
1 large avocado
1 cup cherry or grape tomatoes
1 lime
2 tablespoons chopped shallot
1/2 cup fresh cilantro, chopped
Apple Sweet Potato Soup
1/2 cup diced onion
2 cloves garlic
1 1/2 pounds sweet potatoes
3/4 pound Idaho potatoess
2 Gala apples
2 cups 99% fat free, low-sodium chicken broth
2 tablespoons maple syrup (optional)
leafy greens and your favorite healthy salad fixings
Perfect Pear Almond Muffins
2-3 large pears
1 tablespoon lemon juice
1 1/2 cups whole wheat flour
1/2 cup flax meal
2 teaspoons baking powder
1 teaspoon pumpkin pie spice
2 eggs
1/3 cup pure maple syrup
2 tablespoons coconut oil
1/2 cup slivered almonds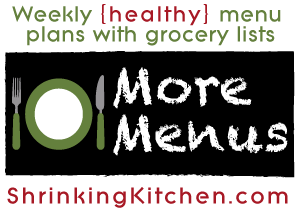 find more menu plans here!
Advertisement