Leaves are turning brilliant colors and piling up in the yard. It's dark when you leave the house and it's dark when you come home.The buzz of Halloween is palpable and you're probably freezing your behind off at the final soccer or football games of the season.
Yup, the autumn chill is here and it's time to eat some cozy food!
For this week's Menu Plan Your Butt Off, I've pulled some of my favorite comforting recipes. Two slow cooker recipes that are perfect for those nights you're rolling in late from an exhausting day. Chili and soup to warm you from the inside out. Pasta, a comfort food favorite – but lightened up, so you can feel good about tucking in. All sorts of homey goodness.
If you're new to Shrinking Kitchen, welcome to Menu Plan Your Butt Off! We've got an entire week's worth of healthy dinners PLUS a printable grocery list.  All for free. Every gosh darn single week.
Is this week's plan not your cup of tea? No worries. We've got many, many more over here! Don't be shy! They're there for the taking – and to make your life a little easier.
*****
Monday: Light & Creamy Dijon Chicken Penne with served with a big leafy green salad. 
Tuesday: Crock Pot Savory Asian Meatballs with steamed green beans.
Wednesday: Creamy Tortilla Soup
Thursday:Slow Cooker Curried Pineapple Pork Chops with brown rice and a big green salad.

Friday: Leftovers or Dine out!
Saturday: Chicken Parmesan Casserole with a big green salad.
Sunday: Pumpkin Chili
Snacks and Breakfast: Chocolate Yogurt Bread
Healthy Menu Plan Printable Grocery List
Light & Creamy Dijon Chicken Penne
2 boneless, skinless chicken breasts, cut into chunks
6 ounces dry penne
3 cloves garlic
1/2 small onion
1 bell pepper
1 tablespoon grainy dijon mustard
1 cup chicken broth
1/3 cup half and half
1 teaspoon chopped rosemary
head of leafy green lettuce and your favorite salad veggies
Crock Pot Savory Asian Meatballs 
1 1/2 lbs lean ground beef or pork
3/4 cup panko bread crumbs
2 eggs, lightly beaten
3 green onions, sliced, plus more for serving
2 tbsp finely chopped fresh ginger root
1 tbsp diced onion
1 tsp Chinese five-spice powder
1 tbsp reduced-sodium soy sauce
1 cup low-sodium beef or chicken broth
1/2 cup ketchup
1 8-oz can tomato sauce
3 tbsp rice vinegar
3 cups cooked brown rice
1 pound fresh green beans
Creamy Tortilla Soup
1 carrot
1 small red onion
1 jalapeno
1 zucchini or yellow squash
2 cloves garlic
1 4 oz. can diced green chilies, mild or hot depending on your taste
1 teaspoon ground cumin
1 teaspoon chili powder
¼ teaspoon chipotle chili powder
1 quart chicken stock
1 14.5 oz. can diced tomatoes
A handful of cilantro
1 pound rotisserie chicken breast
Garnish (optional): Tortilla chips, avocado, sour cream, cheese, green onion, cilantro, lime
Slow Cooker Curried Pineapple Pork Chops
1 (20-ounce) can pineapple chunks in juice (not syrup) (I used fresh pineapple that I chopped in a food processor)
1/4 packed brown sugar
1 tablespoon cider vinegar
1 tablespoon low-sodium soy sauce
2 teaspoons curry powder (or less if you prefer)
1/8 teaspoon ground ginger (I used fresh)
1/2 teaspoon red pepper flakes (less if you're not crazy about spicy)
6 (7-ish ounce) boneless pork loin chops
2 teaspoons cornstarch
2 scallions, sliced thin
head of leafy green lettuce and your favorite salad veggies
package of brown rice
Chicken Parmesan Casserole
2 yellow squash
1 cup diced red bell pepper
1 cup diced yellow onion
1 large or 2 small cloves minced garlic (about 1.5 teaspoons)
2 shredded chicken breasts (rotisserie is super easy)
1 jar pasta sauce (I like marinara for this recipe.)
4 ounces grated Parmesan
4 ounces shredded mozzarella
1/3 cup Italian panko bread crumbs
Fresh basil for garnish
head of leafy green lettuce and your favorite salad veggies
Pumpkin Chili
1 pound lean ground beef (could use turkey, or no meat at all)
1/2 large sweet yellow onion
1/2 green bell pepper
2 large cloves of garlic
14.5 ounce can of diced tomatoes, no salt added
14.5 ounce can of tomato sauce, no salt added
1 can pumpkin puree (not pumpkin pie)
1/2 cup dry lentils
2 cups beef stock (sub water, chicken, vegetable broth)
1 tablespoon pumpkin pie spice (combo of ginger, cinnamon, allspice and cloves)
1 tablespoon of chili powder, or to taste
dash of cayenne pepper
14.5 ounce can of chickepeas, drained and rinsed (you could use black or kidney beans as well)
Chocolate Yogurt Bread
1 1/4 cup all-purpose flour
1/2 cup unsweetened cocoa powder
1 teaspoon baking powder
1/2 teaspoon baking soda
1/4 teaspoon salt
2 large eggs
1 teaspoon vanilla extract
1 cup plain fat-free Greek yogurt
1 tablespoon vegetable oil
2 tablespoons unsweetened applesauce
1 cup Stevia in the Raw (or your sweetener of choice)
1/4 cup reduced fat milk
1/2 cup semisweet chocolate chips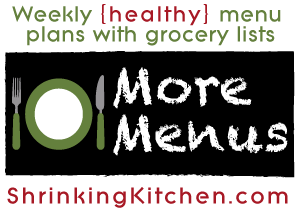 find more menu plans here!
Advertisement