It's Sunday, and that means it's time for a brand new, healthy AND FREE Menu Plan Your Butt Off. That's right! We plan, you print out the grocery list, shop and you're set with a full week of healthy dinners! Trust me, you'll be glad you took the time to read, check out the recipes and do a little pre-planning when Wednesday hits you smack in the face and you don't have the time or energy to plan a meal.
A little personal note, menu planning is saving my sanity right now. I am so crazy busy. No one told me how nuts it gets when your kids start school. I thought I'd be awash in free time with a kid in full time Kindergarten. BUT NO. Oh, no. Between drop off, volunteering, working from home, school pick up, and my two year old, I've barely got time to breathe, let alone plot out a meal every single night. Menu planning, quite simply, is the only way I can get myself organized enough to have a healthy meal on the table, night after night.
Menu Plan Your Butt Off helps me, and I hope it's helping you, too!  If you're new to Shrinking Kitchen, first of all, welcome! We're glad you're here! Second – we share a new Menu Plan Your Butt Off every single week. I know! Awesome!
If this menu plan isn't full of stuff you love, head on over to our archives where we've got over a year's worth of healthy menu plans! You're sure to meet your perfect menu match.
With that, have a beautiful day and happy cooking (and eating)!
Weekly Healthy Menu Plan
Monday: Spicy Peanut Soup with a green salad.

Tuesday: Crock Pot Savory Asian Meatballs with brown rice and steamed asparagus.

Wednesday: Slow Cooker Sausage, Sauerkraut and Potatoes with a big green salad.

Thursday: Garlic & Lemongrass Beef Skewers served with brown rice and green beans

Friday: GO OUT!!!
Saturday: Chicken Tagine with Potatoes & Peas
Sunday: Mediterranean Pasta Toss.

/
For Dessert: Almond Joy Faux Soft Serve
For Breakfast: Whole Grain Lemony Blueberry Muffins
GROCERY LIST
Spicy Peanut Soup
1 tablespoon coconut oil
2 cups chopped onions
1 cup diced celery
2 tablespoons peeled and grated fresh ginger
1 tablespoon Sriracha or Tabasco
4 cups peeled chopped sweet potatoes (2 medium sized sweet potatoes or yams)
1 can diced tomatoes (low sodium)
3 cups low sodium vegetable broth
1 cup smooth peanut butter
1 cup roughly chopped cilantro plus a little extra for serving
head of leafy green lettuce and salad fixings of your choice
Crock Pot Savory Asian Meatballs
1 1/2 lbs lean ground beef or pork
3/4 cup panko bread crumbs
2 eggs, lightly beaten
3 green onions, sliced, plus more for serving
2 tablespoons finely chopped fresh ginger root
1 tablespoon diced onion
1 teaspoon Chinese five-spice powder
1 tablespoon reduced-sodium soy sauce
1 cup low-sodium beef or chicken broth
1/2 cup ketchup
1 8-oz can tomato sauce
3 tablespoons rice vinegar
brown rice
1 pound fresh asparagus spears
Slow Cooker Sausage with Sauerkraut and Potatoes
1 1/2 pounds red new potatoes (about 18), halved if large
2 cups sauerkraut
1 small onion
1/2 cup low-sodium chicken broth
1/4 cup dry white wine, or dark beer, or more chicken broth
1 teaspoon caraway seeds
1 1/2 pounds bratwurst, kielbasa, or other sausage links
1/4 cup chopped fresh flat-leaf parsley (optional)
1 head leafy green lettuce and your choice of fresh veggies for your salad
Garlic & Lemongrass Beef Skewers
1 pound lean flat iron or flank steak
1 teaspoon honey
2 tablespoons of lemongrass paste
4 cloves garlic, minced
2 tablespoons Braggs liquid aminos
juice of 1 lime
1 tablespoon vegetable oil
4 wooden skewers
brown rice
1 pound fresh asparagus
Chicken Tagine with Potatoes & Peas
1 medium onion chopped finely
2 cloves of fresh garlic, minced
½ teaspoon fresh grated ginger
2 tablespoons vegetable oil
palmful of flat-leaf parsley, finely chopped
1 teaspoon black pepper
2 teaspoon cumin
½ teaspoon salt
8-10 threads of saffron, crushed
1 teaspoon turmeric
Fingerling potatoes, cut in half – enough to fill bottom of the pot
3-4 chicken breasts skin removed
1/2 preserved lemon (if you don't have a preserved lemon, increase the salt by ¼ tsp, and use the juice of a ½ fresh lemon)
1/2 cup shelled fresh green peas
Mediterranean Pasta Toss
2 small zucchini
10 small sweet bell peppers
1 cup grape or cherry tomatoes
1/2 yellow onion,
2 cloves garlic
1 tablespoon dried Italian herbs
1 15 ounce artichoke hearts in water, drained and sliced in half
1/4 cup sundried tomatoes in oil
1/3 cup balsamic vinegar
1 1/2 cups dry whole wheat penne
1/3 cup crumbled feta cheese
Almond Joy Faux Soft Serve
2 frozen bananas (cut them into chunks before you freeze)
2 tablespoons cocoa powder
2-3 tablespoons unsweetened plain almond milk
2 tablespoons unsweetened shredded coconut, divided
2 tablespoons dry roasted almonds, chopped
Whole Grain Lemony Blueberry Muffins
3/4 cups low fat milk
4 ounces (1/2 cup) Fage plain 2% Greek yogurt
1 egg
1/4 teaspoon vanilla
3/4 teaspoon lemon extract (you could add more)
1 tablespoon lemon zest
1/4 cup corn meal
1 cup white whole wheat flour (could use regular whole wheat)
1/2 cup oatmeal
1/2 cup + 2 tablespoons brown sugar
3 teaspoon baking powder
1 cup of fresh or frozen blueberries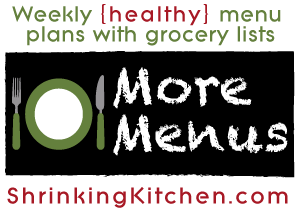 find more menu plans here!
Advertisement