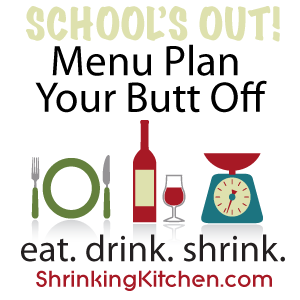 Hi there! I hope you are enjoying your holiday weekend!  I want everyone to have a beautiful, relaxing week, so I'm going to do your menu plan FOR you. You're welcome. Now use that extra time and spend it doing something you love!  I'm even going to write your grocery list for you! I accept gifts of food, cash and jewelry.
You know what? We do this each and every week. You can subscribe up over there <——- to have delicious, fresh meal plans delivered to your inbox every Sunday. To see recipes from other week's meal plans, click the "more menus" button below. VOILA!
MONDAY:  A Healthier Sloppy Joe.
TUESDAY: Quick and Savory Minestrone.
WEDNESDAY: Family Favorite Cheeseburger Pasta.
THURSDAY: Tortellini Primavera.
FRIDAY:  Mama's Night Off.
SATURDAY: Weight Watchers Spaghetti Bolognese.
SUNDAY:  Light buffalo chicken wraps.
SNACKS/DESSERTS:  Southern "Fried" Hand Pies, Red, White and Blueberry Cheesecake Cupcakes
Now, because I am just this type of person, I'm going to write your grocery list for you. All you have to do? Pay the bill and cook the food. I know. Shrinking Kitchen is awesome like that. This list seems very long and intimidating, but believe me, you will find that you have a lot of these items in your cupboards already!
Shrinking Grocery List
PRODUCE
celery, 6 stalks
arugula
dried peaches, 8 oz
strawberries, 8 oz
blueberries, 8 oz
onion, 3
garlic, 13 cloves
carrots, 3/4 cup
carrot, 1 large
mushrooms, fresh, 3/4 cup
green beans, 1 1/2 cups
4 cups chopped vegetables, such as broccoli, carrots and snap peas, or 16-ounce bag frozen mixed vegetables
jalapeno pepper, 1
bell pepper, 1 red
green onions, optional
PANTRY
extra virgin olive oil
dill pickle relish
ketchup
mustard
steak seasoning
seasoned salt
vinegar
Frank's Red Hot Sauce
pinto beans, 1 can 15.5 oz
oregano
basil
kosher salt
black pepper
no-salt-added diced tomatoes, 3 cans
tomato sauce, no-salt-added, 1 1/2 cups
crushed tomatoes, 14 oz
vegetable base (I use Better Than Bouillon), 3 Tbsp
low-sodium kidney beans, 15 oz
whole-wheat shell pasta, 1 cup uncooked
whole-wheat penne pasta, 1 1/2 cups uncooked
vegetable broth or reduced-sodium chicken broth, 14 oz
diced tomatoes, 14.5 oz
barley, 1 cup
all-purpose flour
tomato paste, 3 tbsp
red wine vinegar
unsulfured molasses
worcestershire sauce
dry mustard
salt
sugar
vodka
cooking spray
1 tablespoon chopped fresh tarragon, dill or chives or 1 teaspoon dried tarragon
cinnamon
vanilla wafers, reduced-fat, 12
vanilla
whole wheat spaghetti, 8 oz
DAIRY/EGGS
cream cheese, reduced-fat, 10 oz
Greek yogurt, plain, 1/4 c
Greek yogurt, vanilla, ff, 6 oz
blue cheese, 2 oz
unsalted butter, 9 Tbsp
milk, fat-free
egg, 3
1 cup shredded fontina cheese or 3/4 cup shredded Parmesan cheese
shredded reduced-fat cheddar cheese, 3/4 cup
BREADS
whole-grain, high-fiber tortillas (we used la tortilla factory)
whole-wheat burger buns, 8
MEAT
chicken breasts, 1
ground beef, lean, 2 1/2 lbs
MISC
frozen cheese tortellini, 16 oz
orange juice, 1/2 c