Welcome to Menu Plan Your Butt Off! We're glad you've found us! It's Sunday…the day of rest. So the last thing you probably want to do today is plan your dinners for the week then venture out to the market.  Am I right? Well, I can help. Not with the actual shopping or cooking. But with the planning. Yeah, I can totally help with that. Welcome to Menu Plan Your Butt Off, where we take the guesswork out of planning healthful meals! Each week we painstakingly plot out a healthy menu plan of dinners and a bonus dessert (because we all need at LEAST one dessert a week) so you don't have to!  Even better? There's a printable grocery list. So all you have to do is print up the list, trot off to the store and you're set. So what are you waiting for? Have a look at all the deliciousness! If this menu isn't your thing, we have a huge archive of  healthy menu plans over here, so you're sure to find something to suit your palate. With that, I bid you adieu…and happy cooking! See you next week!
*****
Weekly Healthy Menu Plan
Monday: Portobello Lime Breakfast Tacos – breakfast for dinner! Serve with fresh melon.
Tuesday: Slow Cooker Char Siu with brown rice and Spicy Sautéed Green Beans.
Wednesday: Curry Yogurt Grilled Chicken on a pita with a smear of store bought hummus, fresh cucumbers, tomato and lettuce. 
Thursday: Slow Cooker Italian Turkey Meatballs with whole wheat spaghetti and steamed broccoli.
Friday: GO OUT!!! Saturday:Dijon Chicken Penne with a big green salad.
Sunday: Crispy Quinoa Patties over a bed of leafy greens with avocado, tomatoes, shredded cheese and your favorite salsa. /
For Dessert: Chocolate Coconut Chia Pudding
GROCERY LIST
Portobello Lime Breakfast Tacos
8 small taco sized tortillas (we used corn)
2 portobello mushrooms
1 red bell pepper
1 yellow onion
2 cloves garlic
1 avocado
2 limes
4 eggs
1 tablespoon of dried oregano/ 1/2 tablespoon if using fresh
1 tablespoon unflavored milk – any milk you like – almond, hemp, cow
1 melon of your choice
 Slow Cooker Char Siu & Spicy Sautéed Green Beans
1/4 cup low-sodium soy sauce
1/4 cup hoisin sauce
3 tablespoons ketchup
3 tablespoons honey
2 teaspoons minced garlic
2 teaspoons grated peeled fresh ginger
1 teaspoon sesame oil
1/2 teaspoon five-spice powder
2 pounds boneless pork shoulder, trimmed
1/2 cup fat-free, less-sodium chicken broth
2 tablespoons cornstarch
brown rice
1 pound fresh green beans
1 tablespoon olive oil
2 cloves garlic, smashed and minced
generous pinch of red pepper flakes
2 teaspoons liquid aminos
1/4 cup vegetable broth or water 1/2 teaspoon
black sesame seeds (optional)
Curry-Yogurt Grilled Chicken
1 pound chicken breasts
1 cup fat free plain Greek yogurt
1 garlic clove, finely minced
1/2 tablespoon of grated fresh ginger
1 tablespoon curry powder
1/4 teaspoon cayenne pepper
juice of 1 lemon
package of whole wheat pita bread
container of plain hummus
1 english cucumber
1 pint cherry or grape tomatoes
leafy green lettuce of your choice
Slow Cooker Italian Turkey Meatballs
20 oz (1.3 lb) ground turkey breast 93% lean
1/4 cup whole wheat seasoned breadcrumbs
1/4 cup Parmigiano Reggiano cheese, grated
1/4 cup parsley
1 egg
1 large clove garlic
4 cloves garlic
28 oz cans crushed tomatoes
1 bay leaf
1/4 cup fresh chopped basil or parsley
1 large head broccoli
1 package whole what spaghetti
Light & Creamy Dijon Chicken Penne
2 boneless, skinless chicken breasts
6 ounces dry penne
3 cloves garlic
1/2 small onion
1 bell pepper, any color (I used 4 mini bell peppers)
1 tablespoon grainy dijon mustard
1 cup chicken broth
1/3 cup half and half
1 teaspoon chopped rosemary
head of green leafy lettuce and your favorite salad fixings
Crispy Quinoa Patties
1/2 cup dry quinoa
1 cup canned low sodium black beans
1 cup panko bread crumbs
1 egg
1/3 cup salsa
1 teaspoon cumin
1/2 teaspoon chipotle powder
bunch or bag of your favorite leafy greens (arugula or baby greens are perfect)
pint of cherry tomatoes
1 avocado
1/2 cup shredded cheddar
jar of your favorite salsa
Chocolate Coconut Chia Pudding
Please note this is for one serving only, adjust accordingly
1 cup plain coconut or almond milk
1 teaspoon cocoa
1 teaspoon raw honey
1 tablespoon unsweetened shredded coconut
2 tablespoons chia seeds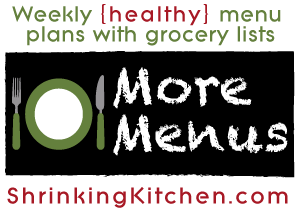 find more menu plans here!