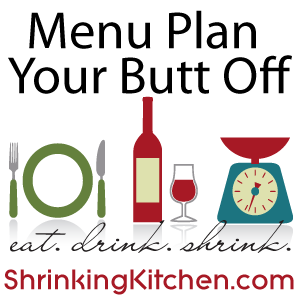 Welcome to this week's Menu Plan Your Butt Off! If you're new to our site, we do this every. single. week.  Make sure you sign up to receive our feed so you don't miss any menus!
If you're just about to head out the door to grocery shop, never fear…we have a handy dandy printable grocery list for your convenience. So really, you have no excuse not to menu plan. Cause we've done it for you.
Have a wonderful, healthy week!
******
(Meatless) Monday: Stewed Lentils with Tomatoes, green salad with leaf lettuce, carrot, tomato and bell pepper.
Tuesday: Chicken Crock Pot Stroganoff with egg noodles, steamed broccoli.
Wednesday: Three Bean Turkey Chili with baked tortilla chips.
Thursday: Grilled lean pork loin chops, quinoa and Spring Green Bean Salad.
Friday: Cook's night off! Leftovers, takeout, whatever. You've worked hard this week!
Saturday: Light and Simple Jambalaya.
Sunday: Oven Fried Chicken, Guilt Free Picnic Potato Salad, grape and melon skewers.
Grocery List
Protein:
4 medium sized skinless chicken breasts and 4 skinless chicken thighs (about 3 1/2 pounds chicken)
ground turkey, 1 pound
frozen boneless, skinless chicken breasts, 1 pound
lean pork loin chops, about 1 pound
1 chicken adouille sausage (you'll probably have to buy a pack – but not to worry, they're a great quick lunch or dinner on the grill!)
1 pound peeled and deveined shrimp
Dairy:
eggs, 1 dozen
plain, fat free Greek yogurt
fat free sour cream
Produce:
25 ounces fingerling pototes, assorted variety
celery. 1 bunch
green onions, 1 bunch
onion, 3 medium
carrots, 3
garlic, 2 head
bell pepper (your choice of color), 4
poblano pepper, 1
fresh green beans, 1 pound
grape tomatoes, 1.5 pound
shallot, 1 large
canteloupe, 1
green grapes, 1 pound
broccoli, 1 head
green leaf lettuce, 1 head
Pantry:
whole-grain salted crackers
corn cereal flakes
sesame seeds
cayenne pepper
garlic powder
dijon mustard
olive oil cooking spray
dill pickles
dried dill
prepared yellow mustard
light mayonnaise
olive oil
3 – 15 ounce can diced no salt added tomatoes
red lentils
curry powder
dried thyme
balsamic vinegar
1 can 98% fat free cream of mushroom soup
1 envelope of  onion soup mix
bag of egg noodles
1 – 15.5 ounce can low sodium black beans
1 – 15.5 ounce can low sodium kidney beans
1 – 15.5 ounce can low sodium pinto beans
cumin
chipotle chili powder
baked tortilla chips
apple cider vinegar
quinoa
smoked paprika
dried oregano
dried thyme
bay leaf
long grain white rice
1 – 15 ounce can low sodium chicken broth