You guys. THREE MORE DAYS OF SCHOOL. I am so ready for a slower pace. Not rushing to get ready in the morning and driving back and forth twice daily for pickup and dropoff. Of course, ask me a few weeks into summer vacation how I feel. And I'll probably be ready for school to start up again!
This last week of crazy calls for a meal plan, don't you think? I'll be needing this pre-planning to make it through!
If you're new to Shrinking Kitchen, welcome to Menu Plan Your Butt Off! We've got an entire week's worth of healthy dinners PLUS a printable grocery list.  All for free. Every gosh darn single week.
Is this week's plan not your cup of tea? No worries. We've got eleventy million more over here. Okay, slight exaggeration. But still, there are so many you're sure to find a plan that's right for you!
So on with the yummy menu plan for this week!
*****
Monday: Light and Creamy Orzo Primavera with served with a big leafy green salad. 
Tuesday: Crock Pot Savory Asian Meatballs with steamed green beans.
Wednesday: Skinny Cajun Chicken Penne with steamed broccoli.
Thursday:Slow Cooker Curried Pineapple Pork Chops with brown rice and a big green salad.

Friday: Leftovers or Dine out!
Saturday: Mandarin Orange Chicken with a quinoa and a steamed green beans.
Sunday: Chicken Mango Crunch Salad
Snacks and Breakfast: Whole Wheat Chocolate Cherry Muffins
Healthy Menu Plan Printable Grocery List
Light & Creamy Orzo Primavera
1 cup uncooked orzo
1 tablespoon butter
2 cloves garlic, minced
1 tablespoon flour
3/4 cup lowfat milk
1/3 cup shredded Parmesan cheese
1 cup frozen peas
2 cups broccoli florets, fresh or frozen
1 cup carrots, sliced, fresh or frozen
head of leafy green lettuce and your favorite salad veggies
Crock Pot Savory Asian Meatballs 
1 1/2 lbs lean ground beef or pork
3/4 cup panko bread crumbs
2 eggs, lightly beaten
3 green onions, sliced, plus more for serving
2 tbsp finely chopped fresh ginger root
1 tbsp diced onion
1 tsp Chinese five-spice powder
1 tbsp reduced-sodium soy sauce
1 cup low-sodium beef or chicken broth
1/2 cup ketchup
1 8-oz can tomato sauce
3 tbsp rice vinegar
3 cups cooked brown rice
1 pound fresh green beans
Skinny Cajun Chicken Penne
1 pound chicken breast tenderloins, diced
1 tablespoon Tony Chachere's Lite Creole seasoning
6 ounces of whole grain penne pasta (uncooked)
1-1/2 tablespoons butter
3/4 cup of skim milk
1/4 cup California Sun Dried Tomato Paste Spread
2 green onions
1/8 teaspoon black pepper
1 clove of garlic
1/4 teaspoon dried basil
1/2 teaspoon dried parsley
1/4 cup freshly grated Parmesan
1 bunch broccoli
Slow Cooker Curried Pineapple Pork Chops
1 (20-ounce) can pineapple chunks in juice (not syrup) (I used fresh pineapple that I chopped in a food processor)
1/4 packed brown sugar
1 tablespoon cider vinegar
1 tablespoon low-sodium soy sauce
2 teaspoons curry powder (or less if you prefer)
1/8 teaspoon ground ginger (I used fresh)
1/2 teaspoon red pepper flakes (less if you're not crazy about spicy)
6 (7-ish ounce) boneless pork loin chops
2 teaspoons cornstarch
2 scallions, sliced thin
head of leafy green lettuce and your favorite salad veggies
package of brown rice
Mandarin Orange Chicken
3 boneless skinless chicken breasts
1 ½ cups mandarin juice
¼ cup lemon juice
1 Tablespoon butter
package of quinoa
1 pound fresh green beans
Chicken Mango Crunch Salad
3 cups finely chopped/shredded kale
2 cups finely shredded cabbage
1 cup mango chunks
1 cup chopped chicken breast (pre-cooked)
1 ripe avocado, diced
1/3 cup dry roasted cashews
1/2 English cucumber, diced
3 tablespoons citrus vinegar (if you can't find any, 1 tablespoon of orange juice and 2 tablespoons red wine or champagne vinegar will work)
pinch red pepper flakes
Perfect Pear and Almond Muffins
2 cups whole wheat flour
1/3 cup sugar
4 teaspoons baking powder
1/2 teaspoon baking soda
1 large egg
3 tablespoons coconut oil, melted
1/2 cup lowfat sour cream
3/4 cup nonfat milk (I used plain, unsweetened almond milk)
1 teaspoon almond extract
1 cup frozen, unsweetened cherries
1/3 cup semisweet chocolate chips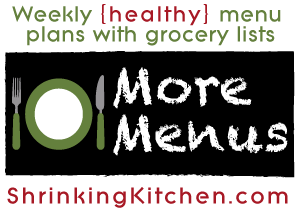 find more menu plans here!
Advertisement