It's Sunday, and that means it's time for a brand new, healthy AND FREE menu plan. That's right! We plan, you print out the grocery list, shop and you're set with a full week of healthy dinners! Hopefully this menu will come in handy with the end of the holidays craziness!
Disclaimer: You still have to cook. Sorry about that!
If you're new to Shrinking Kitchen, first of all, welcome! We're glad you're here! Second – we share a new Menu Plan Your Butt Off every single week. I know! Awesome!
If this menu plan isn't full of stuff you love, head on over to our archives where we've got over a year's worth of healthy menu plans! You're sure to meet your perfect menu match.
With that, have a beautiful day and happy cooking (and eating)!
Weekly Healthy Menu Plan
Monday: Blackened Tilapia Tacos with Kiwi Lime Salsa.

Tuesday: Easy Weeknight Lo Mein.

Wednesday: Slow Cooker Sausage, Sauerkraut and Potatoes with a big green salad.

Thursday: Garlic & Lemongrass Beef Skewers served with brown rice and steamed asparagus.

Friday: GO OUT!!!
Saturday: Citrus Chicken and Brown Rice served with a big green salad.
Sunday: Mediterranean Pasta Toss.

/
For Dessert: Almond Joy Faux Soft Serve
GROCERY LIST
Blackened Tilapia Tacos with Kiwi Lime Salsa
5 kiwi(s), diced
1 green tomato, finely diced
1/2 red onion, finely diced
1/2 bunch cilantro
1/2 jalapeno
2 limes, juiced
1 tablespoon cumin
1 tablespoon chile powder
1 tablespoon garlic powder
1 1/2 lbs tilapia, thawed if frozen
10 small street taco sized corn tortillas
2 avocados
3 cups shredded green cabbage
 Easy Weeknight Lo Mein
2 tablespoons soy sauce
1 tablespoon rice wine vinegar
2 tablespoons raw honey
1 teaspoon toasted sesame oil
2 teaspoons grated fresh ginger
2 cloves garlic, minced
1/2 teaspoon hot chili sauce
1 teaspoon cornstarch
8 ounces grilled chicken breast, cut into bite sized pieces (I had previously grilled it and it was leftover. You could use rotisserie as well)
8 ounces dry whole wheat spaghetti
2 large carrots
4 cups cabbage
2 green onions
Slow Cooker Sausage with Sauerkraut and Potatoes
1 1/2 pounds red new potatoes (about 18), halved if large
2 cups sauerkraut
1 small onion
1/2 cup low-sodium chicken broth
1/4 cup dry white wine, or dark beer, or more chicken broth
1 teaspoon caraway seeds
1 1/2 pounds bratwurst, kielbasa, or other sausage links
1/4 cup chopped fresh flat-leaf parsley (optional)
1 head leafy green lettuce and your choice of fresh veggies for your salad
Garlic & Lemongrass Beef Skewers
1 pound lean flat iron or flank steak
1 teaspoon honey
2 tablespoons of lemongrass paste
4 cloves garlic, minced
2 tablespoons Braggs liquid aminos
juice of 1 lime
1 tablespoon vegetable oil
4 wooden skewers
brown rice
1 pound fresh asparagus
Citrus Chicken with Brown Rice
1/4 cup rice vinegar
1/4 cup no-sugar-added pineapple juice
3 tbsp low-sodium soy sauce
2 tbsp honey
1 tbsp minced garlic
1 tbsp minced ginger
1/2 lb boneless, skinless chicken breast
2 cups brown rice
8 oz baby carrots
Dried mint, for garnish, if desired
leafy green lettuce and your choice of fresh veggies for your salad
Mediterranean Pasta Toss
2 small zucchini
10 small sweet bell peppers
1 cup grape or cherry tomatoes
1/2 yellow onion,
2 cloves garlic
1 tablespoon dried Italian herbs
1 15 ounce artichoke hearts in water, drained and sliced in half
1/4 cup sundried tomatoes in oil
1/3 cup balsamic vinegar
1 1/2 cups dry whole wheat penne
1/3 cup crumbled feta cheese
Almond Joy Faux Soft Serve
2 frozen bananas (cut them into chunks before you freeze)
2 tablespoons cocoa powder
2-3 tablespoons unsweetened plain almond milk
2 tablespoons unsweetened shredded coconut, divided
2 tablespoons dry roasted almonds, chopped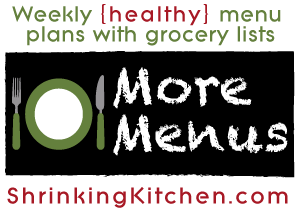 find more menu plans here!
Advertisement