Christmas week is here! It's shaping up to be busy, busy, busy!!
I packed this week's free healthy menu plan full of easy meals – and a few light and cleansing post holiday choices! I'm going to be hitting the smoothies hard after all the holiday indulgence!
If you're new to Shrinking Kitchen, welcome to Menu Plan Your Butt Off! We've got an entire week's worth of healthy dinners PLUS a printable grocery list.  All for free. A free healthy menu plan every gosh darn single week.
Is this week's plan not your cup of tea? No worries. We've got eleventy million more over here. Okay, slight exaggeration. But still, there are so many you're sure to find a plan that's right for you!
Wishing you the happiest and warmest holiday from all of us at Shrinking Kitchen!
*****
Monday: Turkey Sliders with Plum Ketchup and a big green salad.
Tuesday (Christmas Eve!): Poblano, White Bean and Chicken Soup.  Serve with crusty bread or warm corn tortillas.

Wednesday: Christmas Day! Enjoy whatever special meal you love to prepare (or have prepared for you!)
Thursday: Slow Cooker Barbacoa Beef with flour tortillas and taco fixings.

Friday:  Easy Weeknight Lo Mein. 

Saturday: Quinoa and Basil Frittata with fresh melon.
Sunday: Spicy Peanut Soup with a big green salad.
Snacks and Breakfast: Whole Wheat Chocolate Cherry Muffins
Healthy Menu Plan Printable Grocery List
Turkey Sliders with Plum Ketchup
1 pound organic ground turkey
3 tablespoons olive oil
1 teaspoon cumin
½ teaspoon coriander
1 Walla Walla sweet onion (or similar sweet onion), thinly sliced
2 medium heirloom or beef steak tomatoes, thinly sliced
¼ cup carrots, finely shredded (do not squeeze out the water)
1 bunch of gresh lettuce leaves, washed and dried with a paper towel
8 whole wheat slider buns
¼ cup ketchup
¼ cup plum jam
1 head leafy green lettuce and salad fixings of your choice
Crock Pot Savory Asian Meatballs 
1 1/2 lbs lean ground beef or pork
3/4 cup panko bread crumbs
2 eggs, lightly beaten
3 green onions, sliced, plus more for serving
2 tbsp finely chopped fresh ginger root
1 tbsp diced onion
1 tsp Chinese five-spice powder
1 tbsp reduced-sodium soy sauce
1 cup low-sodium beef or chicken broth
1/2 cup ketchup
1 8-oz can tomato sauce
3 tbsp rice vinegar
3 cups cooked brown rice
1 pound fresh green beans
Skinny Cajun Chicken Penne
1 pound chicken breast tenderloins, diced
1 tablespoon Tony Chachere's Lite Creole seasoning
6 ounces of whole grain penne pasta (uncooked)
1-1/2 tablespoons butter
3/4 cup of skim milk
1/4 cup California Sun Dried Tomato Paste Spread
2 green onions
1/8 teaspoon black pepper
1 clove of garlic
1/4 teaspoon dried basil
1/2 teaspoon dried parsley
1/4 cup freshly grated Parmesan
1 bunch broccoli
Slow Cooker Beef Barbacoa
3 pounds lean beef roast, such as eye of round or top round
2 whole onions
3 Tablespoons olive oil
8 cloves minced garlic
1 Tablespoon cumin
1-½ Tablespoon oregano
1 can small can of chipotle in adobo sauce
1 cup low sodium chicken broth
2 Tablespoons vinegar – white, red wine or rice wine all work
small soft flour tortillas
shredded lettuce
tomato
avocado
your favorite salsa
low fat sour cream
shredded cheddar
Easy Weeknight Lo Mein
2 tablespoons soy sauce
1 tablespoon rice wine vinegar
2 tablespoons raw honey
1 teaspoon toasted sesame oil
2 teaspoons grated fresh ginger
2 cloves garlic
1/2 teaspoon hot chili sauce
1 teaspoon cornstarch
8 ounces grilled chicken breast, cut into bite sized pieces (I had previously grilled it and it was leftover. You could use rotisserie as well)
8 ounces dry whole wheat spaghetti
2 large carrots, shredded
4 cups cabbage, thinly sliced
2 green onions, sliced
Quinoa and Basil Frittata
1 white onion
4 cloves garlic
1/4 cup fennel
3 carrots
6 eggs, 3 with yolks, 3 without (whites only)
1 cup quinoa
1 cup basil, chopped and loosely packed
1/4 cup nutritional yeast
your favorite healthy jarred marinara sauce
Spicy Peanut Soup
1 tablespoon coconut oil
2 cups chopped onions
1 cup diced celery
2 tablespoons peeled and grated fresh ginger
1 tablespoon Sriracha or Tobasco
4 cups peeled chopped sweet potatoes
3 cups water
1 can diced tomatoes (low sodium)
3 cups low sodium vegetable broth
1 cup smooth peanut butter
1 bunch cilantro
1 head leafy green lettuce and salad fixings
Whole Wheat Chocolate Cherry Muffins
2 cups whole wheat flour
1/3 cup sugar
4 teaspoons baking powder
1/2 teaspoon baking soda
1 large egg
3 tablespoons coconut oil, melted
1/2 cup lowfat sour cream
3/4 cup nonfat milk (I used plain, unsweetened almond milk)
1 teaspoon almond extract
1 cup frozen, unsweetened cherries
1/3 cup semisweet chocolate chips
Super Duper Smoothie
1/2 cup plain, fat-free greek yogurt or kefir
1 cup blueberries
1/2 banana
2 Tablespoons psyllium husks
1 serving vitamin c crystals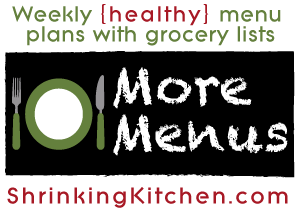 find more menu plans here!
Advertisement