School starts this week round these parts. Not just my son in elementary, but the my youngest is starting preschool. I anticipate many hours in the car and not a lot of time at home.
Slow cooker to the rescue!
It's the time of year that we dust off our slow cookers and thank God for them when we finally roll into the house around 6 and everyone is starving.
I ask you…is there anything better than opening the door and having the delicious smell of dinner waft out? I think not.
This week, I'm celebrating this most beloved small kitchen appliance and doing a menu entirely for the crock pot! AND not only do you get to save time in the kitchen, you'll also save time in the market with a printable grocery list. I KNOW!
If you haven't jumped on the bandwagon and don't yet have a slow cooker – we really love this pretty red one. It's the one I have in my kitchen and I absolutely adore it – plus, you can't beat the price!
Happy cooking and don't forget to stop by next Sunday for our newest menu plan!
___________________
Monday: Slow Cooker Salsa Verde Chicken over quinoa with a green salad.
Tuesday: Slow Cooker Gluten Free Minestrone.

Wednesday: Lightened Up Crock Pot Beef Stroganoff with light egg noodles and steamed green beans.

Thursday: Slow Cooker Sausage with Kraut and Potatoes with steamed brussels sprouts.
Friday: Honeyed Plum Garlic Chicken with brown rice and steamed broccoli.
Saturday: Spicy Slower Cooker Sweet Potato & Chicken Stew
Sunday: Slow Cooker Italian Turkey Meatballs with whole wheat spaghetti and a big salad.
Grocery List
Slow Cooker Salsa Verde Chicken
6 boneless chicken breasts (4 oz each)
1 medium onion sliced
2 cloves garlic
1 tsp cumin
1 tsp oregano
1 Tbs lime juice
1 16 oz jar salsa verde (whatever brand you like, I've used Herdez and Trader Joe's)
1 can white beans, drained and rinsed (I like great northern beans)
1 1/2 cup low fat or fat free sour cream (you can also sub in plain fat free yogurt)
package of quinoa
green leafy lettuce, your favorite salad veggies and healthy salad dressing
Slow Cooker Gluten Free Minestrone
4 cups vegetable stock (low-sodium, if using store bought)
1 lb lean ground turkey
1 tablespoon oregano
2 large carrots, sliced
1 stalk celery, sliced
2 cloves garlic, minced
1 small yellow onion, finely chopped
2 15-oz cans Great Northern beans, in juices
1 6-oz can  tomato paste
Lightened Up Crockpot Beef Stroganoff
1 (1-pound) top round steak (1 inch thick)
1 onion
fresh parsley
2 tablespoons Dijon mustard
1/2 teaspoon dried dill
2 cups sliced mushrooms
3 garlic cloves
1/3 cup all-purpose flour
1 cup beef broth
a few shakes of Worchestershire Sauce
1 (8-ounce) container low-fat sour cream
light egg noodles or whole wheat fusilli pasta
1 pound green beans
Slow Cooker Sausage Potatoes & Kraut
1 1/2 pounds red new potatoes (about 18)
2 cups sauerkraut, drained
1 small onion, thinly sliced
1/2 cup low-sodium chicken broth
1/4 cup dry white wine, or dark beer, or more chicken broth
1 teaspoon caraway seeds
1/4 teaspoon black pepper
1 1/2 pounds bratwurst, kielbasa, or other sausage links
1/4 cup chopped fresh flat-leaf parsley
1 pound brussels sprouts
Honeyed Plum Garlic Chicken
3-4 large boneless, skinless chicken breast halves
1/2 cup raw honey
1/2 cup low-sodium soy sauce
1/4 cup plum jelly (I like to use homemade, because I can control the sugar content.)
1/4 cup hoisin sauce
2 tablespoons pure olive oil
2 cloves garlic, minced
1/4 cup diced onion
Pinch crushed red pepper flakes (optional)
brown rice
1 pound broccoli crowns
Spicy Slow Cooker Sweet Potato & Chicken Stew
1 pound boneless, skinless chicken thighs
1 large sweet potato or yam
1 yellow onion
1 red pepper
1 large zucchini
2 large carrots
5 cloves garlic
1 tablespoon curry powder
1/2 tablespoon cumin
1/2 teaspoon red pepper flakes (more or less to your liking)
3 cups low sodium chicken broth
2 tablespoons corn starch
1/2 cup fat free half & half or light coconut milk
Slow Cooker Italian Turkey Meatballs
20 oz (1.3 lb) ground turkey breast 93% lean
1/4 cup whole wheat seasoned breadcrumbs
1/4 cup Parmigiano Reggiano cheese
1/4 cup parsley, finely chopped
1 egg
1 large clove garlic, crushed
4 cloves garlic
28 oz cans crushed tomatoes (I like Tuttorosso)
1 bay leaf
1/4 cup fresh chopped basil or parsley
1 package whole wheat spaghetti
salad greens, your favorite veggies and (healthy)dressing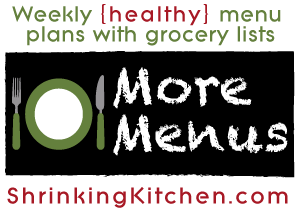 find more menu plans here!
Advertisement