It's Sunday, and that means it's time for a brand new, healthy AND FREE menu plan. That's right! We plan, you print out the grocery list, shop and you're set with a full week of healthy dinners!
Disclaimer: You still have to cook. Sorry about that!
If you're new to Shrinking Kitchen, first of all, welcome! We're glad you're here! Second – we share a new Menu Plan Your Butt Off every single week. I know! Awesome!
If this menu plan isn't full of stuff you love, head on over to our archives where we've got over a year's worth of healthy menu plans! You're sure to meet your perfect menu match.
With that, have a beautiful day and happy cooking (and eating)!
Weekly Healthy Menu Plan
Monday: Shrimp Zoy over whole wheat spaghetti with a big green salad.

Tuesday: Slow Cooker Moroccan Apricot Chicken over quinoa.

Wednesday: Kale Smashed Potatoes with Chicken Sausage served with steamed green beans

Thursday: Beef Chili with Pinto Beans.

Friday: GO OUT!!!
Saturday:  Cheesy Chicken and Rice Bake served with a big green salad.
Sunday: Simple Cioppino with crusty bread.

For Dessert:  Pumpkin Banana Bread with Pumpkin Pie Spread

GROCERY LIST
Shrimp Zoy
3 tablespoons unsalted butter
1 ½ pounds peeled/deveined shrimp
2 tablespoons minced shallots
1 clove minced garlic
¼ cup chicken stock
2 tablespoons lemon juice
1 tablespoon Dijon mustard
½ cup white wine
¼ cup heavy cream
1 tablespoon chopped fresh flat leaf parsley
package whole wheat spaghetti
head of your favorite leafy green and salad fixings
 Slow Cooker Moroccan Apricot Chicken
1/2 cup dried apricots
1 (15-ounce) can garbanzo beans
1 medium (1/2 cup) onion
1 medium red bell pepper
3 medium carrots
white wine vinegar or cider vinegar
paprika
curry powder
red chili flake
ground cumin
ground cinnamon
1 1/4 pounds boneless skinless chicken breasts
1 1/4 cups 99% fat free chicken broth
cornstarch
quinoa
Kale Smashed Potatoes with Chicken Sausage
4 lowfat chicken sausages
4 yukon gold potatoes
8 ounces kale, roughly chopped, or use frozen kale
2 green onions, diced
2 ounces lowfat shredded cheddar
1 ounce light cream cheese
1/3 cup lowfat milk
1 pound fresh green beans
Beef Chili with Pinto Beans
1 pound lean ground beef
1 medium onion
1 sweet bell pepper
1 jalapeno
1 7 ounce can mild diced green chilies
1 12 ounce can or bottle of beer
cumin
coriander
chili powder
chipotle chili powder
1 14 ounce can of diced tomatoes
1 8 ounce can of tomato sauce
2 cups low sodium chicken stock
1 can pinto beans
Cheesy Chicken and Rice Bake 
2 boneless, skinless chicken breasts
4 cups cooked brown rice
plain fat free Greek yogurt
8 ounces reduced fat Monterey Jack cheese
frozen corn
1 15 ounce can black beans
4.5 ounce can diced green chiles
3/4 cup chunky salsa
cilantro, for garnish
leafy green lettuce and your choice of fresh veggies for your salad
Simple Cioppino
1 large onion
1 medium bulb fennel
6 cloves garlic
fresh (or dry, if you can't find fresh)thyme
oregano
crushed red-pepper flakes
1 dried bay leaf
2 14 ounce cans crushed or diced tomatoes
1 1/4 cups dry white wine
1 cup bottled clam juice
1 pound mussels
1 pound skinless firm white fish fillets, such as halibut
1 pound salmon fillet
1 1/4 pounds large shrimp
crusty baguette (buy on your weekly shopping trip and throw in the freezer till ready to use!)
Pumpkin Banana Bread with Pumpkin Pie Spread
3/4 cup whole wheat flour
1/2 cup all-purpose flour
3/4 tsp baking soda
1 tsp cinnamon
1 tsp pumpkin pie spice (or 1/2 tsp cloves & 1/2 tsp nutmeg)
3 ripe medium bananas
1/2 cup pureed pumpkin
2 tbsp butter
1/2 cup light brown sugar
1 large egg white
1 large egg
1 tsp vanilla extract
1/4 cup whole pecans
8 ounces Greek yogurt cream cheese
2 teaspoon pumpkin pie spice
3 teaspoons of Truvia sweetener
1/4 cup pumpkin pie puree (not pumpkin pie filling)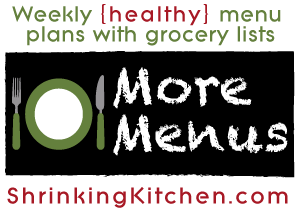 find more menu plans here!
Advertisement