Chicken piccata (yes, it's 2 Cs and 1 T as the spell check loves to remind me over and over) is one of those dishes you might order in an Italian restaurant thinking it's healthy but when it arrives, to your dismay (or not!) it's swimming in butter. Not really good for the waistline or the heart!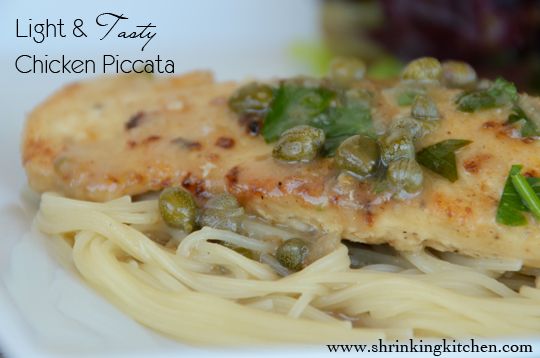 I love the sweet and tart flavors of lemon and capers, and yes even the butter, so I had to find a way to lighten up this dish without skimping on flavor. This light chicken piccata recipe turned out to be a big winner in my house and on my hips – weighing in at only 369 calories for chicken AND pasta!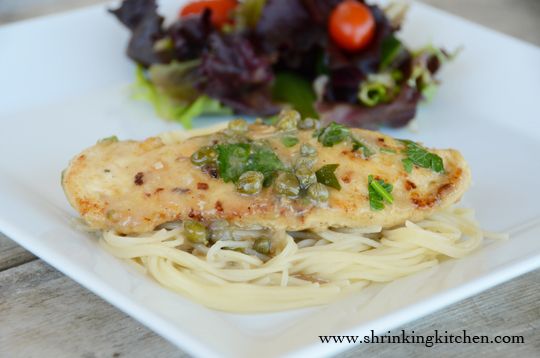 Make this light chicken piccata tonight and wow your family. They'll thank you (as they're licking their plates)!
Light & Tasty Chicken Piccata with Pasta
Gather
4 tablespoons wheat flour, divided
2 teaspoons olive oil
1/4 teaspoon pepper
1 tablespoon shallot, minced
16 ounces Boneless Skinless Chicken Breast Cutlets
1 cup reduced-sodium chicken broth
1/3 cup white wine
1 tablespoon light butter
3 tablespoons lemon juice
3 tablespoons capers
2 tablespoons parsley, chopped
6 ounces Whole Wheat Angel Hair Pasta
Step by Step
Bring a large pot of water to a boil. Add whole grain pasta and cook until just tender, according to package directions. Drain and rinse.
Whisk 2 tablespoons flour and 1 cup broth in a small bowl until smooth.
Place the remaining 2 tablespoons of flour in a shallow dish. Sprinkle chicken with 1/4 teaspoon pepper and dredge both sides in the flour, shaking to remove excess.
Heat 2 teaspoons oil in a large cast iron (or other non-stick) skillet over medium heat. Add the chicken and cook until golden-brown and no longer pink in the middle, 2 to 5 minutes per side. Transfer to a plate; cover and keep warm.
Reduce heat to medium-low and add 1 tablespoon of shallots and 1/3 cup white wine to the pan and cook until reduced by half, 1 to 2 minutes.
Stir in the reserved broth-flour mixture and 3 tablespoons of lemon juice. Bring to a simmer and cook, stirring, until the sauce is thickened, about 5 minutes.
Stir in 2 tablespoons chopped parsley, 3 tablespoons of capers, 1 tablespoon light butter.
Plate the pasta and top with the chicken and sauce, garnished with capers and parsley.
Nutrition
WW PP 9, Calories 369, Total Fat 7.9g, Saturated Fat 2.3g, Cholesterol 73mg, Sodium 488mg, Total Carbohydrates 33.9g, Dietary Fiber 5.0g, Sugars 0.7g, Protein 35.2g
http://shrinkingkitchen.com/light-chicken-piccata-with-pasta/
Copyright Sisterhood of the Shrinking Jeans LLC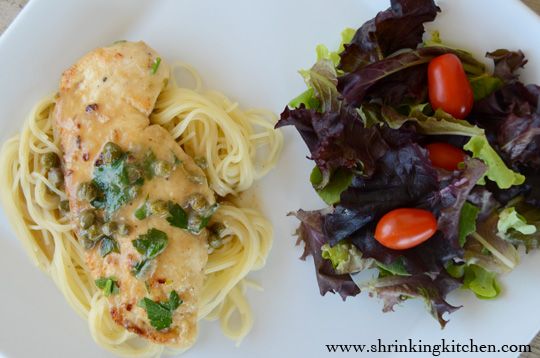 <